Main content
Pamela Uddin
Pamela was fired in week six after the board game task. After taking on the role of project manager for the first time, Lord Sugar laid the blame for the team's poor product directly at Pamela's door. Of her firing, Pamela said, "feeling gutted but I'm so proud that I've made it this far!"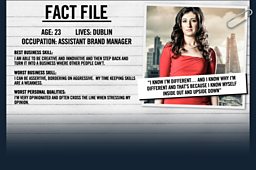 About Pamela
Assistant Brand Manager Pamela graduated from university with first class honours, and received a scholarship to complete her masters in International Business. Since leaving university, she has worked in brand marketing and is inspired by brands such as Nike, for their inspirational and motivational advertising, and Paddy Power, for their tongue in cheek communication.
She would describe herself as logical, charismatic and a good decision maker, but says she can talk too much and 'cross the line' when agressively asserting her strong opinions. Although Pamela confesses to possessing poor time keeping skills, she is confident of her ability to think of creative and innovative ideas with an eventual business in mind...