Main content
The concrete truth? Brutalism can be beautiful
26 April 2016
It's one of the most maligned and misunderstood styles of architecture, but Brutalism - once dismissed by Prince Charles as "piles of concrete" - has been enjoying a quiet revival. ELAIN HARWOOD argues that the movement was really one of innovation, ambition and social purpose.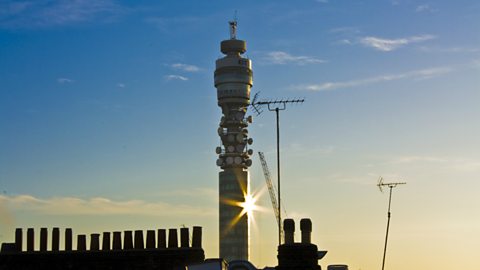 A visit to one of the London skyline's most distinctive sights. Produced by Northern Town
Should architects call their work Brutalist if they want to be popular? Perhaps not - yet when Alison and Peter Smithson coined the term in 1953, it launched their careers.
Its meaning changed and was much derided, not least by the Prince of Wales, but enthusiasm is growing again for an architecture that was socially ambitious and whose advocates were passionate in their belief that the expression of form creates a strange beauty.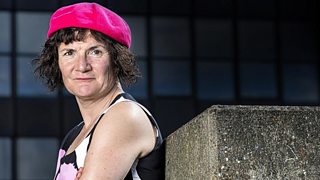 Elain Harwood
The term 'New Brutalism' was first used to describe a house the Smithsons proposed for a gap in a London terrace.
Not only were the concrete floorplates and lintels exposed as bands in the external brickwork, but the concrete, bricks and timber were to be left visible inside too.
Was 'New Brutalism' a pun on Peter's student nickname of Brutus, or a dig at the contemporary 'New Humanism', used to describe the Swedish-influenced architecture of the Festival of Britain?
The movement's chronicler, Reyner Banham, quoted a Swedish source at second-hand. It may refer to an article in The Times on the 'brutal realism' of Le Corbusier's pioneering flats, the Unité d'Habitation in Marseilles: concrete in French is béton brut and the term is redolent of Jean Dubuffet's art brut - the product of a struggle between the artist, his tools and his medium.
"Alison coined it on the john," said Peter disdainfully. The couple listed Brutalism's influences as early modernism, classical proportions, and a sensuous use of materials. This meant brick and timber as much as concrete or steel, as experienced in traditional Japanese architecture or buildings by Frank Lloyd Wright.
Many brutalist motifs can be found in Le Corbusier's work
Other architects added the mannerisms of Russian constructivism, but perhaps the closest analogy is with the punch-drunk shapes and contrasts of industrial brickwork and stone found in Victorian Gothic architecture.
Many brutalist motifs can be found in Le Corbusier's work. The bands of brick and concrete arches, projecting rainwater shutes and punched window patterns have their sources in his Maisons Jaoul or church at Ronchamp, both published around 1955.
But the Unités d'Habitation defined the brutalist image. These are big, powerful slabs of reinforced concrete supported on giant columns, dubbed pilotis, each flat or maisonette outlined by a concrete frame with brightly-coloured reveals. That the blocks also housed nurseries, sports facilities and even a rooftop theatre as well as shops suggested possibilities as local authorities and developers produced increasingly complex briefs for new buildings and town centres.
A quintessential example of the New Brutalism is the set of three blocks of flats at Ham Common by James Stirling and James Gowan. Stirling knew the Maisons Jaoul, and exposing the concrete floor beams and brick walling kept the buildings within budget.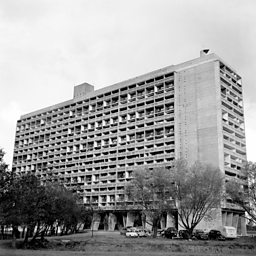 Le Corbusier's Cite radieuse in Marseille, the first of his Unité d'habitation buildings (Roger Viollet/Getty Images)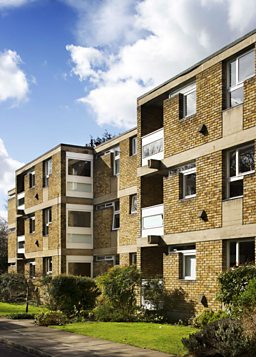 Langham House Close, Ham Common, Richmond, Surrey (James O Davies/Historic England)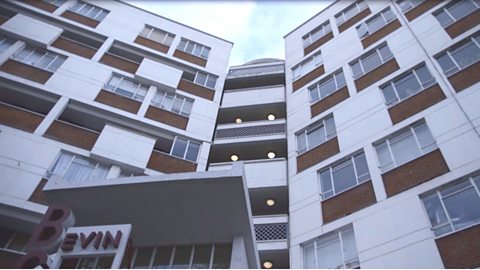 The author examines the Berthold Lubetkin-designed flats. Produced by Northern Town
The Brutalist architects were the first to seriously study architectural history; thus Stirling and Gowan's Engineering Building at Leicester University (1959-63) responded to the red-brick city and engineering traditions while taking its cranked tower and projecting lecture theatres from constructivism. It was the culminating image in Banham's 1966 book The New Brutalism.
Yet Brutalism in its broader sense was only just beginning. The style was relatively cheap for big buildings of any shape: concrete beams could span large underground car parks or support vehicles on upper levels, buildings could be infilled with panels of glass or concrete, and they were bold enough to withstand dozens of shop signs or adverts. Such was its flexibility that the design could even be revised after work had started if the brief changed or more accommodation was permitted.
Such was Brutalism's flexibility that the design could even be revised after work had started if the brief changed
The pioneer of this commercial Brutalism may have been Smallbrook Ringway by James A. Roberts, which followed the curve of Birmingham's inner ring-road – including a bridge over an intersection.
In Manchester, Piccadilly Plaza's design was revised to include monumental board-marked concrete and chunky plastics that were a statement of high fashion for its offices and hotel.
Offices, parking and a supermarket by Owen Luder and Rodney Gordon in Catford won the RIBA medal for the best London building of 1963, its slab of concrete and glass likened to Hardwick Hall shining above the surrounding terraces.
Luder and Gordon were still more radical with their shops, markets and parking at the Tricorn Centre in Portsmouth of 1961-6 and Gateshead's Treaty Centre of 1961-9, the latter a whole town centre that could be entered at different levels from the surrounding freeways, its multi-storey car park immortalised in the film Get Carter!
This was also the architecture of the space era, when planners in Liverpool boasted of a pedestrianised centre comparable with Venice, and in Newcastle T. Dan Smith attempted to create a personal Brasilia.
A clear evocation of this ambition was London's Post Office Tower - now the BT Tower - but every new inner ring road, shopping centre or tower block evoked the aim of a better lifestyle.
It was Brutalism's deliberate drama that first upset the critics. The historian Nikolaus Pevsner, a lover of functionalism, condemned its 'chunky masses' and finishes but saved his greatest wrath for the mannerism of Leicester's Engineering Building. Well respected and widely quoted, he unintentionally thrust Brutalism into the spotlight.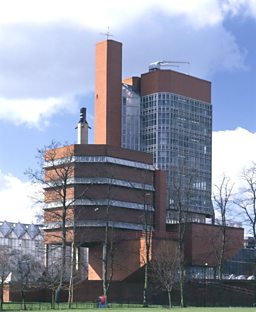 Leicester University Faculty of Engineering, by Stirling and Gowan (Arcaid/UIG/Getty Images)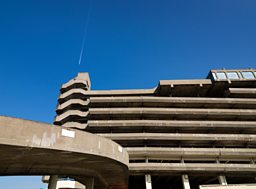 Treaty Centre, Gateshead (James O Davies/Historic England)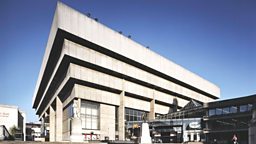 Birmingham Library(James O Davies/Historic England)
The term has never left us, and was boosted when proposals emerged in the 1990s to remodel London's South Bank, its cultural purpose expressed muscularly, in precisely finished concrete.
It is an architecture of egalitarianism, of north as much as south, and above all of ideas
Designed in 1959-60 after earlier versions failed to offer adequate accommodation or parking, even before its completion in 1968 it had been voted 'Britain's ugliest building' by Daily Mail readers, a source of pride to the fashion conscious.
So why the Brutalist revival now? By the time my book Space, Hope and Brutalism was published in 2015 the term was almost a cliché.
It is partly a reaction to the loss of icons such as the Tricorn and Treaty Centres or Birmingham Library. But more positive is a belief that the can-do optimism of the Sixties has something to offer, a counter to today's negativity, parsimony and hidebound social services.
It is an architecture of egalitarianism, of north as much as south, and above all of ideas – the best British technology and Continental imagery thrown together for a genuine social purpose.
Space, Hope and Brutalism, by Elain Harwood, is published by Yale University Press.
More architecture features