Main content
Eight amazing things we learned from Michelle Obama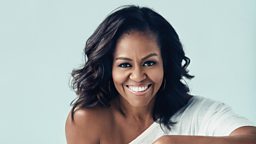 1. She was one of only a small minority of black students at Princeton – and it made her strive harder
In 1981, age seventeen, Michelle started her studies at Ivy League university Princeton. "Princeton was extremely white and very male," she recalls. Black students made up just nine percent of her freshman class. "I'd never been part of a predominantly white community before. I'd never stood out in a crowd or a classroom because of the colour of my skin. It was jarring and uncomfortable." She describes how she and the other black students were "a glaring anomaly" like "poppy seeds in a bowl of rice."
But being one of only a few minority kids gave her fire in her belly. "I took this as a mandate to over perform", she says, "to do everything I possibly could to keep up with or even plough past the more privileged people around me." At Princeton, she says, "I was representing my race", and her mantra became, "I'll show you."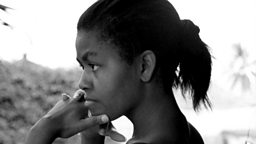 In Episode 1 of Becoming, a young woman from Chicago's South Side is on her way to Princeton.
2. She met Barack Obama when she was asked to mentor him at work
As a recently qualified associate in a law firm, Michelle was asked to mentor a young trainee called Barack. Rumour had it that he was a gifted law student, and "also cute". But she was sceptical: "I was doubtful he'd earned the hype."
However, they soon became friends and gradually, she says, "something between us… started to change." On days when their paths didn't cross, she found herself "wondering what he'd been up to." Michelle kept her feelings in check, not wanting anything to compromise her career, but at a BBQ with colleagues she watched him play basketball with the other lawyers, unable to tear her eyes away. As they drove back to the city, she felt "a freshly planted seed of longing" and when, finally, they leaned in to kiss one another, she says, "everything felt clear."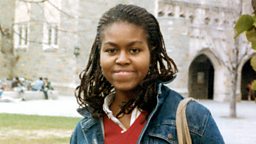 In Episode 2 of Becoming: after university, working at her new law firm, Michelle meets a certain young trainee.
3. Michelle and Barack had over 300 friends and family members at their wedding
The pair were married on a sunny October Saturday in 1992 at the Trinity United Church of Christ on the South Side. It was a big ceremony. "If we were having the wedding in Chicago", Michelle says, "there was no trimming the guest list. My roots went too deep. I had not just cousins but also cousins of cousins, and those cousins of cousins had kids."
She'd "poured" herself into the planning of the wedding, admits Michelle – the elegance of the event had mattered to her – but her overriding memory from that happy day is how they gripped each other's hands during the vows. She knew that "what really mattered, what I'd remember for ever, was the grip. It settled me like nothing else ever had."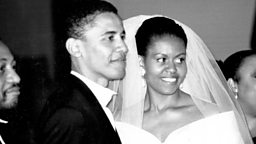 In Episode 3 of Becoming, Michelle Obama reads about a trip to Honolulu, and then marriage.
4. She didn't think it was a "great idea" for Barack to run for office
Michelle didn't appreciate politicians and "didn't relish the idea" of her husband becoming one. "My specific reasoning might have varied slightly each time the question came back around," Michelle says, "but my larger stance would hold, like a sequoia rooted in the ground." In her heart she "believed there were better ways for a good person to have an impact. Quite honestly," she says, "I thought he'd get eaten alive."
Eventually, though, she gave her support: "If Barack believed he could do something in politics," she says, "who was I to get in his way?" Politics would be a fight, but Barack was strangely suited to the tussle of lawmaking. He was elected to the Illinois Senate in 1996.
5. Barack's 2004 keynote speech changed their lives forever
In 2004, Michelle left Malia and Sasha with her mother and flew to Boston to be at Barack's side for his keynote speech at the Democratic National Convention. By the time the little-known senator had finished his address, Michelle says, "the crowd was on its feet and roaring." He was an overnight success and they all were swept up in it.
"All I could do really, was joke about it," says Michelle. "Must've been a good speech", she would say to her husband, again and again, as the family hits the campaign trail. It was a catchphrase she would use when people asked for his autograph in the street, or when Oprah turned up at the house to interview them.
That November Barack was elected to the US Senate with 70 percent of the vote – the largest majority in Illinois history. He would soon be President.
6. Michelle was "humbled and excited" to be First Lady but she also knew it wasn't going to be easy
"There is no handbook for incoming First Ladies of the United States," Michelle says, and "not for one second did I think I'd be sliding into some glamorous, easy role." ("Nobody who has the word 'first' and 'black' attached to them ever would," she adds.) She knew she needed to work hard to climb her way into favour, and there was no way to plan for the biggest transition of her life.
One thing she struggled to adjust to, along with being called "ma'am" at every turn, was the level of security they were afforded. When she first saw the presidential motorcade she realised she was now married to "the one of the most heavily guarded human beings on earth." It was "simultaneously relieving and distressing."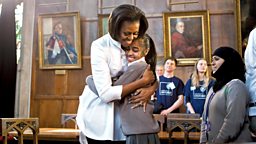 In Episode 5 of Becoming, Barack, Malia, Sasha and the author have moved to the White House.
7. Living in the White House is like living in a "fancy hotel"
When people ask Michelle what it's like to live in the White House she sometimes says, "It's a bit like what I imagine living in a fancy hotel might be like, only the fancy hotel has no other guests in it, just you and your family." She and Barack were astounded by how much furniture they had to pick out to make the grand rooms feel homely. There was a Monet painting hanging outside her bedroom, and a bronze Degas sculpture in their dining room.
As a child from the South Side, whose daughters could now custom-order their breakfast from a chef, she felt "a kind of vertigo." She made it clear to the housekeeping staff that her girls would make their own beds, just like they always had.
8. She felt "paralysis" when she met the Queen but they soon bonded over shoes
In 2009, Michelle and Barack flew to the G20 summit in London and were invited to Buckingham Palace to meet Her Majesty the Queen. "Needless to say, I had no experience meeting royalty", says Michelle, and she felt "paralysis" coming face to face with such "an honest to goodness icon." However, the Queen was "warm and personable" and Michelle "liked her immediately."
Later that day, as political leaders circulated with drinks and canapés, she turned her head to see the Queen by her side. The diminutive monarch smiled up at the First Lady: "You're so tall," she remarked. Michelle explained that her shoes gave her a "couple of inches." The queen glanced down at Michelle's Jimmy Choos and at her own pumps: "These shoes are unpleasant are they not?" Michelle confessed that her feet were hurting, and the queen did the same. "Forget that she sometimes wore a diamond crown and that I'd flown to London on the presidential jet," says Michelle, "we were just two tired ladies oppressed by our shoes."