Main content
Top Ten Sexiest Classics
From the love songs of medieval troubadours to contemporary opera, classical composers through the ages have set out to express the emotions of love and longing, and the despair of loss, through music. Beginning with a sensuous vocal duet by the 17th-century Italian composer Claudio Monteverdi, we present 10 high octane pieces of classical music.
1. "Pur ti miro" from L'Incoronazione di Poppea by Monteverdi
Monteverdi is regarded as the father of modern opera: his 'L'Orfeo' is the earliest opera to be regularly performed.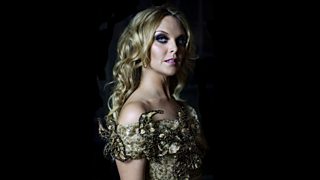 The Coronation of Poppea* charts one torrid day around 60AD during which the Emperor Nero supplants the virtuous Empress Ottavia with his mistress, Poppea.
Virtue appears to be punished and greed and ambition rewarded, turning conventional morality on its head. But the orginal audiences would know that, in real life, things would end badly for all the characters.
Instead of the usual rousing chorus, the opera ends with a passionate, sexually-charged duet as Nero and Poppea celebrate their union. Nero is usually cast as a counter-tenor or a mezzo-soprano, and Poppea as a soprano: both high voices mix and mingle sinuously as they sing, "Let me gaze upon you, let me enjoy you... Oh my life, my treasure, I am yours...". With Elin Manahan Thomas (soprano) and Robin Blaze (counter-tenor).
2. "Endless pleasure, endless love" from Semele by Handel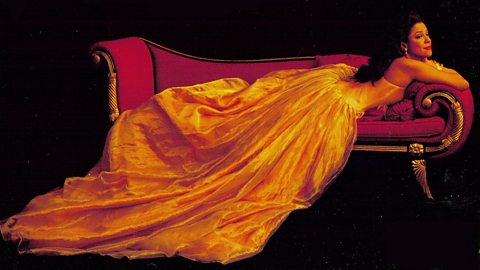 Semele (Kathleen Battle) gloats shamelessly after Jupiter installs her as his lover.
Handel's opera-oratorio Semele is a raunchy tale from Greek mythology: Semele is the beautiful mortal mistress of Jupiter, King of the Gods, who assumes the form of a mortal young man for their lovemaking. Jupiter's vengeful wife Juno disguises herself and persuades Semele that if she demands to see her lover in all his godlike form, she will achieve her coveted immortality: inevitably, poor Semele ends up burnt to a crisp.
Before everything heads south, however, Semele revels in the realisation of her desires: "Endless pleasure, endless love, Semele enjoys above. On her bosom Jove reclining, useless now his thunder lies; to her arms his bolts resigning, and his lightning to her eyes."
3. The love-death from Wagner's Tristan und Isolde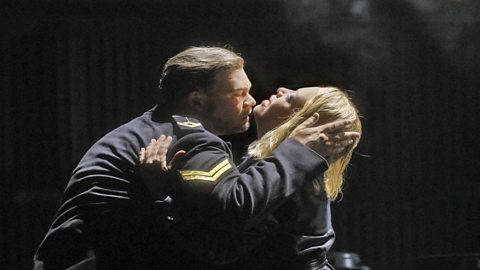 Tristan and Isolde's tragic love is consummated in death (Metropolitan Opera production).
Tristan is one of those operas in which everyone ends up dead or, at best, heartbroken. Tristan and Isolde's story is a complicated and woeful fable of erstwhile enemies condemned to an overwhelming chemically-induced passion, in the form of a love-potion which has been substituted for a poison. At the opera's climax, Tristan, who has been wounded in a fight over Isolde, dies in her arms. Over his body, she sings the "Liebestod", a vision of Tristan "rising again, star-haloed": she will join him in unconscious, utmost bliss. To the sound of emotionally supercharged music which resembles great waves of passion, Isolde dies.
4. The "Habanera" from Bizet's Carmen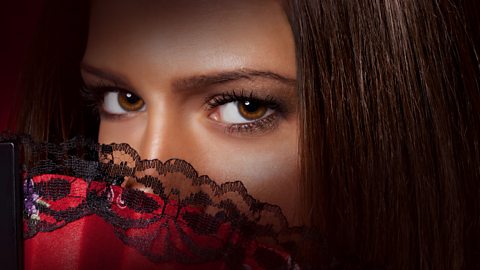 Spanish mezzo Teresa Berganza is taking no prisoners in the sexy, sinuous Habanera
Bizet's Carmen is a femme fatale – a fiercely independent woman who feels she is ruled by fate, but who is determined to follow her own desires, particularly where it concerns men: in the end, she is murdered by her jealous, rejected lover, Don José. Carmen is still one of the world's most popular operas; but audiences at the 1875 premiere were shocked by the dramatic realism of the action and a "heroine" who was determinedly pro-active about her life.
In the Habanera, Carmen sets out her stall, the tendrils of its sinuous and seductive melody enveloping and disarming the minds of her male onlookers: "Love is a rebellious bird, that none can tame... If you do not love me, I love you; but if I love you, be on your guard!"
5. Prélude à l'après-midi d'un faune by Debussy
Debussy's symphonic poem Prélude à l'après-midi d'un faune (Afternoon of a Faun) was inspired by a Stéphane Mallarmé poem and premiered in Paris in 1894. In 1912 it was taken up by Serge Diaghilev's Ballets Russes and choreographed by Vaslav Nijinsky (pictured) with sets and costumes by the painter Léon Bakst.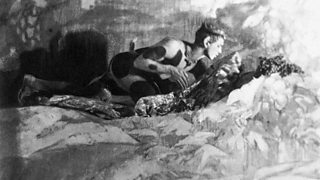 The choreographer, Nijinsky, took the part of the faun who, one balmy afternoon, meets and flirts with several nymphs before, at the climax, making love to a veil discarded by one of them.
Debussy's music brilliantly evokes a sun-dappled rustic landscape, and the lazy langour of a warm afternoon, before surging energetically as the fawn's imagination and earthy instincts are stimulated by the frolicking nymphs.
The ballet was a scandal not just because of the sexual overtones and explicit auto-eroticism, but because Nijinsky abandoned the formalities of classical ballet and choreographed his dancers, barefoot, in tableau style, suggesting an Ancient Greek vase painting. History regards it as the first modern ballet.
6. Dance of the Seven Veils from Salome by Richard Strauss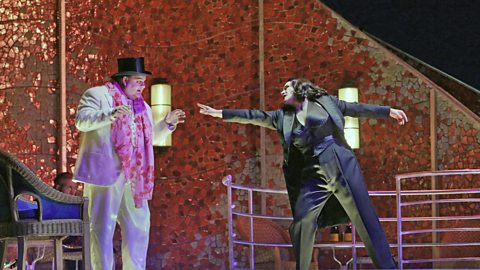 Salome uses the power of her sexuality over weak-willed Herod (Met Opera production)
In Strauss's 1905 shocker, Salome, King Herod, who holds John the Baptist prisoner, lusts after his niece (and step-daughter) Salome, who harbours an unhealthy desire for the prophet; but he will have none of her. Herod rashly promises Salome anything if she will dance for him, but is appalled to discover, after the dance, that she will accept nothing other than the prophet's head, to which, on delivery, she makes love (and is promptly killed).
Salome performs an extended "Dance of the Seven Veils" which Strauss scores in sensuous, oriental style. At the end, the frenzied rhythm of the music mirrors the physical excitement of the onlookers: when the final veil is discarded, in a few moments of charged stillness, Salome is revealed naked in the moonlight before being covered up and whisked away as Herod exclaims, "Herrlich! Wundervoll!"
7. The overture to Richard Strauss's Der Rosenkavalier
Strauss's deliciously poignant but rumbustious comedy Der Rosenkavalier (The Knight of the Rose) is set in 1740s Vienna.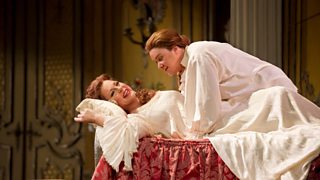 The curtain rises to reveal Marie-Therese (soprano), grass widow of Field Marshal von Werdenberg, seeking solace for her loneliness by entertaining the dashing young Count Octavian Rofrano (a "breeches" role for a mezzo-soprano) in bed.
The overture leaves nothing to the imagination, depicting the arc of physical lovemaking between an impetuous young man and an experienced older woman.
Strauss was in love with the female voice (he even married a soprano, Pauline de Ahna), and his music is full of exquisite writing for sopranos and mezzos.
For many, the concluding Trio for the Marschallin, Octavian and his eventual love-match, Sophie, is the highest expression of this.
8. Ravel's Boléro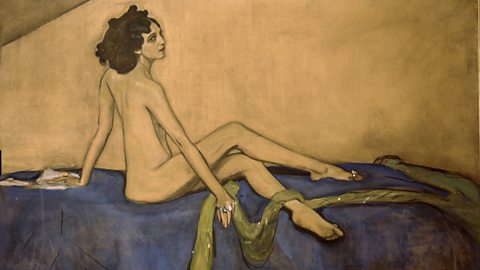 The Russian dancer, actress and art patron Ida Rubinstein, by Valentin Serov (1910)
Boléro is the most famous piece by Maurice Ravel. Composed as a ballet in response to a commission from the Russian actress and dancer Ida Rubinstein, Boléro was premiered in 1928, with choreography by Nijinsky's sister Bronislava. Ravel felt that the incessant snare-drum beat which powers the work suggested the machines in a modern factory; but the ballet's actual scenario featured an animated solo dance in a tavern...
Boléro's "sexiness" is a historical overlay for which Ravel is blameless. A US critic once wrote that "Young people know that rock has the beat of sexual intercourse. That is why Boléro is the one piece of classical music that is commonly known and liked by them." In the 1979 romantic comedy film "10", the female protagonist asks Dudley Moore's character, "Did you ever do it to Ravel's Boléro?" The fastidious Ravel would probably be revolving in his grave.
9. The Love Duet from Prokofiev's Romeo and Juliet
In Shakespeare's play, Juliet, not quite 14 years old, falls in love with Romeo and marries him in a day: the consequences are tragic for both families. Prokofiev's ballet score, which dates from the mid-1930s, fully embraces the bucolic and murderous interactions of the Montagu and Capulet families, and the intense drama of the protagonists' brief love lives, and deaths; the emotional heart of the work is the Balcony Scene duet for Romeo and Juliet: in fact, Kenneth MacMillan's famous Royal Ballet production was built out from just this scene. There is no greater depiction in all music of the yearning and burning intensity of fresh, innocent, adolescent love.
10: The Love Duet from Philip Glass's opera, Akhnaten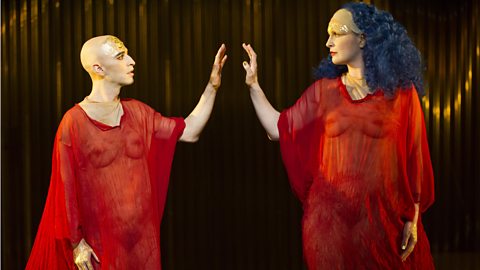 Akhnaten and Nefertiti affirm their love for each other. © ENO / Richard Hubert Smith.
In Philip Glass's 1984 opera the Pharaoh Akhnaten (Amenhotep IV) breaks with tradition by choosing to follow but one God – Aten. But his neglect of politics and the welfare of his people leads to Akhnaten and his family being killed in a rebellion. Akhnaten is often depicted as having thin arms and legs, a protruding belly and wide hips, prompting speculation that he was a hermaphrodite; but with his wife Nefertiti – known historically to be a woman of outstanding beauty – he had six daughters.
Glass casts Akhnaten as a counter-tenor – the high vocal range blends sensuously with Nefertiti's soprano in this exquisite love duet: "I breathe the sweet breath which comes forth from thy mouth. I behold thy beauty every day. It is my desire that I may be rejuvenated with life through love of thee."
*L'Incoronazione di Poppea is available in the Monteverdi Collection here.
Further listening on Radio 3
Royal Opera music director Antonio Pappano discusses one of the most intriguing chords in all music.

Carmen's story is not one of love, but of lust, betrayal and murder...

Conductor Kirill Petrenko, and historians Sarah Lenton and John Deathridge introduce Strauss's most popular opera.