Main content
6 reasons why this is the perfect Christmas music
Looking for a festive soundtrack to really get into the Christmas spirit? Try Tchaikovsky's magical music from the Nutcracker ballet.
Music from The Nutcracker features on this year's set of Ten Pieces. Ten Pieces is all about inspiring young people with classical music, but the pieces themselves provide a great introduction to the classical world for all ages, whether you're a parent, teacher, or just a big music fan.
Find out more about The Nutcracker ballet, its memorable musical moments, and why it remains a much-loved Christmas tradition.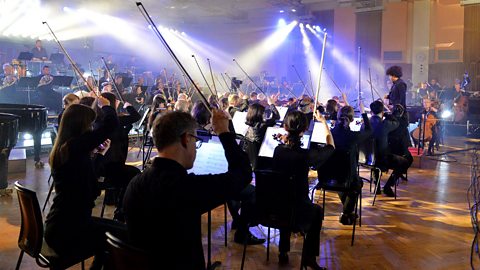 Watch the full performance of Tchaikovsky's piece by the BBC Symphony Orchestra.

1. It's instantly recognisable
First written to accompany a ballet in 1892, The Nutcracker score is one of Pyotr Ilyich Tchaikovsky's most popular and recognisable compositions, attracting universal appeal for over a century. Packed full of unforgettable melodies, excerpts have been used in adverts, films, TV shows and video games, and have been adapted into rock, jazz, and even rap versions!
If you're wrapping presents: Listen to the energetic Russian Dance or Trepak - a Cossack dance normally performed by men kicking their legs out from a squatting position. The dance uses a 2/4 time signature (two beats in a bar) and a fast tempo, which means this is music that'll make you finish those Christmas chores off quickly!
Download and listen to the Russian Dance and more exciting music from Ten Pieces as free MP3s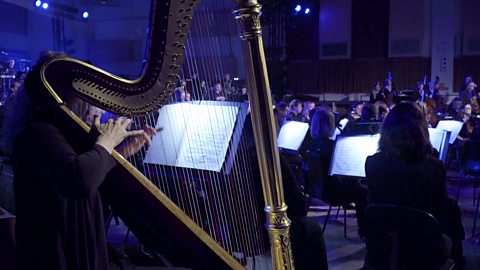 Watch the full performance of Tchaikovsky's piece by the BBC Symphony Orchestra.

2. It'll get you dancing
Every piece in the Nutcracker suite is designed to propel dancers around the stage. From leaping soldiers to twirling snowflakes and flowers, choreographers Marius Petipa and Lev Ivanov turned Tchaikovsky's toe-tapping rhythms and melodies into a range of beautiful shapes and movements that have been performed and re-interpreted ever since.
If you're feeling sluggish: Get off the sofa and try out a sneaky pirouette to the Waltz of the Flowers. This slower, graceful piece uses a 3/4 time signature, which means it has three beats per bar. It gives the waltz its distinct 'oom pah pah' feel.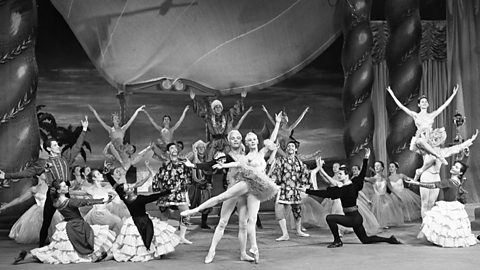 Donald Macleod reflects on the famous ballet work - The Dance of the Sugar-Plum Fairy.

3. It uses magical sounds
The Nutcracker score is written for a standard orchestra, but the use of certain instruments make some movements particularly enthralling. For the Sugar Plum Fairy's solo dance, Tchaikovsky used a new instrument he had discovered in Paris called the celesta. Similar to a piano in shape, it produces an ethereal bell-like sound. And to set the tone for a party scene, the composer asked for toy instruments to be played on stage by the child dancers!
If it's snowing: Listen to the Dance of the Sugar Plum Fairy for a wintry musical backdrop. While the Fairy's solo dance is demanding to perform, the music is delicate and calm. Tchaikovsky described the celesta's sound as 'divinely wonderful'.
Have a go at playing Tchaikovsky's music and other famous pieces with simplified arrangements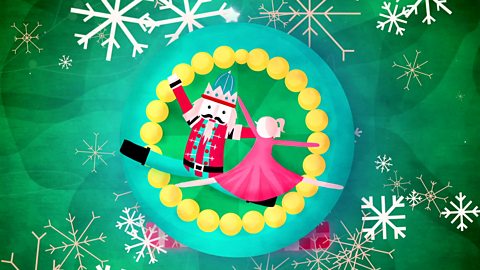 Lemn Sissay explores Tchaikovsky's music from The Nutcracker with beautiful animation.

4. It's a perfect Christmas tale
The ballet is based on a fairy tale story written by German author E.T.A Hoffman and later adapted by French writer Alexandre Dumas. Set on Christmas Eve, Act I features a classic scene of family, friends and presents around a Christmas tree. One of the children, Clara, is given a toy nutcracker that comes to life as a handsome prince and whisks her away to faraway lands. With no words said on stage, this exciting Christmas Eve adventure unfolds purely through music, dance and elaborate glittering costumes.
If you're feeling grumpy: Watch Lemn Sissay tell Clara's story using animation and footage from the BBC Symphony Orchestra.
Radio 3 explains why Tchaikovsky initially had reservations about composing for the Nutcracker story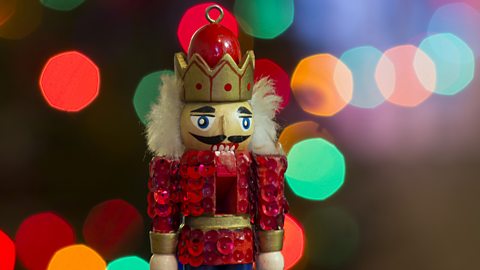 Kate Derham explores the background and music of this Tchaikovsky masterpiece.

5. It has the right ingredients
In Act II, Clara and the prince travel to the Land of Sweets - the dream destination for a Christmas adventure! Chocolate, candy canes, bonbons, marzipan - the stage is filled with a celebration of tasty and festive treats from around the world. Tchaikovsky's score represents each delicacy with its own passage of music, such as a rich Arabian tune to signify coffee.
If you're enjoying a Christmas feast: Listen to an excerpt from the Chinese Dance, which represents tea. In this clip, Radio 3's Katie Derham explains when the ballet first became popular at Christmas.
6. It's a winter tradition
Although not initially a critical success, from the mid-20th Century The Nutcracker became a standard of ballet companies across the globe, usually performed from December to January. The story has also been adapted for the big screen several times, including a new version due for release in 2018. For many families, watching the Nutcracker tale and hearing Tchaikovsky's famous score means it really feels like Christmas.
If you're feeling inspired: Watch dancers from the Royal Ballet prepare the intricate Dance of the Snowflakes to wow Christmas theatregoers.