Main content
Where does pantomime really come from?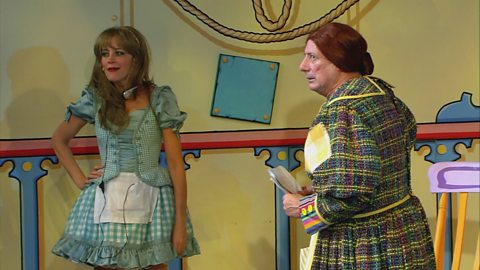 Michael Grade explores the history of the traditional theatrical character in Britain.
Pantomime is often seen as something quaint, something utterly British, but its origins lie in warmer climes. It developed from the Italian street theatre of the Commedia dell'arte in the 16th Century, with comedic moments, stock characters and great physicality.
Small companies toured in Italy and France, setting up in market places and fairgrounds to tell stories of the old man Pantalone, the clown Pierrot, and Columbine - the girl in love with the naughty servant Arlecchino.
The stories involved lovers, magic, chases and acrobatics
From the late 1600s these characters appeared in English comic plays, introduced by the theatre impresario John Rich. Taking centre stage was the acrobatic Harlequin - the English name for the Commedia dell'arte's Arlecchino - who evolved into a impish magician.
Known as Harlequinades, Rich's plays were an early form of pantomime. The stories involved lovers, magic, chases and acrobatics, with Harlequin using his 'slapstick' to hit scenery, instigating set changes. In the late 1700s actor Joseph Grimaldi took the character to new heights and the sets became more elaborate.
By the Victorian era pantomime had become typical Christmas fare. Scripts now told stories of Robinson Crusoe or Fairy tales, with a witty rhyming style that included topical content. The Principal Boy - played by a woman - also offered the Victorian gentleman the rare opportunity to look at a well turned ankle.
This period saw the rise of the music hall and the demise of the traditional Harlequinade. Stars crossed over from variety, bringing with them topical comedy and popular songs. The father of modern pantomime, Augustus Harris, encouraged lavish productions and competition between theatres across the country. The last London Harlequinade was staged at the Lyceum Theatre in 1939.
Pantomime has always had the capacity to adapt and move with the times, welcoming radio stars in the 1930s and 40s, to television and sports personalities today. Above all it has the capacity to offer a child its first magical encounter with live theatre.