Main content
Theatre and Refugees: Curated by Vicky Featherstone
Europe is in the midst of the largest humanitarian crisis since World War 2, with hundreds of thousands of refugees fleeing war-torn Syria, Afghanistan and Iraq in search of safety. Their individual stories - sometimes horrific, sometimes hopeful - are rarely told via the mainstream media. But a number of theatre projects are allowing these voices to be heard.
VICKY FEATHERSTONE, Artistic Director of London's Royal Court Theatre, has curated a special season of short films and features shining a spotlight on theatre within refugee, migrant and asylum-seeking communities. Here she introduces the season, and explains why it's so important to make this work more widely known.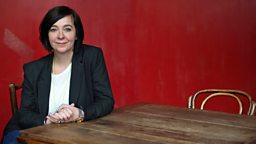 Theatre is a place of stories: stories that need to be told, and voices that need to be heard. It is a physical coming together of people to share an experience - serious or frivolous - in a communal space; a sharing of culture.
It humanises us - we feel and think things we would not otherwise have felt or thought. It has the potential for transformation and change, and it elicits that most sophisticated and necessary of human emotions: empathy.
As of June 2015 there were over 50 million refugees in the world. The only time this has ever been greater was after World War 2
One afternoon, when I was trying to bring all these thoughts together and come up with something cohesive, I had a meeting with Joe Murphy and Joe Robertson - two young writers who had emailed me asking for some support and advice.
They had been to The Jungle refugee camp in Calais as volunteers and needed help to make something happen.
From their time there they had realised there was no communal space for people to come together - no town hall, no place to build community, to tell stories, to engage creatively or imaginatively with their individual experiences.
They wanted to go back with a large tent and create a space like this for the refugees who found themselves in this situation.
A week later, with volunteers, equipment and a tent, they were back - and have created with Good Chance something extraordinary and profound.
As of June 2015 there were over 50 million refugees in the world. The only time this has ever been greater was after World War 2. It is without doubt the greatest humanitarian crisis of our time, and we do not seem to be able to find any solution for it.
The UN defines a refugee as someone who has been forced to flee his or her country because of persecution, war, or violence. A refugee has a well-founded fear of persecution for reasons of race, religion, nationality, political opinion or membership in a particular social group.
I wondered how other people involved in theatre were responding to the horrors we were being told about
I reflected on our programme at the beginning of 2015. We had three plays dealing with the need for refuge and escape, all on next to each other.
Fireworks, by Dalia Taha from our international department, who are also working with writers from Syria in Lebanese refugee camps; Liberian Girl, by Diana Nneka Atuona; and How to Hold Your Breath, by Zinnie Harris. All three playwrights were ahead of us in their need to express this plight.
I wondered how other people involved in theatre throughout the country were responding to the daily horrors we were being told about, and how individual communities were managing with those seeking asylum. So I threw open the question to colleagues and networks and was blown away by the range and integrity of work taking place across Britain.
When I asked Joe and Joe why the refugees wanted to come to England – expecting the answers much of the media have led me to believe: free this and that and a sponging off our groaning welfare state - they shocked me in their reply. They come because we have freedom of speech and respect human rights.
So because we do not collectively have the space to hear these stories, to understand these people as individuals, to show empathy for them, this is a collection of some of the work being done across the country to remind us.
And when people flee their home with nothing, what do they have but their stories, their music and their culture?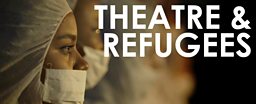 Inside Good Chance, Calais
Royal Court Theatre community producer Chris Sonnex writes about his first visit to the camp:
On one of the nights we set up a makeshift campfire made out of tea light candles and sand, then provided tea and biscuits. We had about 100 people sitting around, singing and playing guitar.
One new refugee came into the theatre, sat down and listened intently to the music that was playing. After about an hour of being there and clearly enjoying it, he shared his story.
He had left his home with the only thing that mattered to him, a music player. He lost it in the journey and hadn't heard music properly for three months. Music was his passion and he had found it really hard.
He walked into the space purely because he had heard music. We asked him to sing, and he sang incredibly beautifully in Arabic with all the mixed emotions of happiness, sadness, confusion and hope bouncing off every note he hit. He got a massive ovation.
As his smile illuminated the space, he told his attentive audience that his real music love was English music. And that he really liked Craig David. Which we immediately sang and played for him.
Sometimes theatre is simply a group of people in one space, forgetting their problems just for a moment, joining in with something they love, smiling, laughing... and of course singing early-noughties UK R&B.
More from the Royal Court