Main content
The classic novels you never got around to reading
Here's a question for the bookworms out there: have you currently got a teetering stack of tomes on your bedside table, on the floor or jammed horizontally in the inches above the other books on your shelves? There's a term for that: tsundoku, the act of acquiring books that are then left unread.
If you've got a selection of classic novels gathering dust in your tower of "to-reads", then why not listen to them instead? You can work your way through all the titles you feel you "ought to", "have been meaning to", or "have pretended to" read at times when sitting down and holding a book just isn't possible.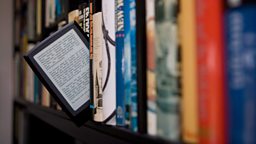 The Mill on the Floss by George Eliot
The Mill on the Floss is thought to be the most autobiographical of George Eliot's novels. It tells the story of two siblings, Maggie and Tom Tulliver, on their journey into adulthood. Maggie is sparky and intelligent and yearns for the education that is seemingly wasted on her brother. Despite their differences, Maggie is desperate for her brother's approval and love. Eliot was herself fiercely intellectual and knew all too well the struggle faced by bright women in a man's world. This new adaptation brings the story to life, transporting you to the provincial village of St Ogg's, with Motherland's Anna Maxwell Martin narrating as George Eliot.
Middlemarch by George Eliot
If you can't get enough of George Eliot's work after The Mill on the Floss, try Middlemarch. This chunky novel is considered to be Eliot's masterpiece. A whole world can be found in the fictional town of Middlemarch, with its depictions of all levels of society from the landed gentry to farm labourers. At its centre are Dorothea, a strong-willed, aspirational woman with a frightfully unsuited older husband, and Tertius, a bright-eyed doctor with a new-fangled approach to medicine. Juliet Aubrey voices George Eliot in this adaptation of a great novel, which remains relevant to this day.
Wuthering Heights by Emily Brontë
What better time to tackle the works of the Brontë sisters? Emile Brontë's Wuthering Heights is a tragic tale of love, envy and revenge, set against a backdrop of dark, stormy moors. Heathcliff is a foundling from Liverpool, who is taken in by the Earnshaw family. There is a cruel rivalry between Heathcliff and the Earnshaw's son Hindley, and a close friendship between their daughter Catherine and Heathcliff. They fall in love, but are pushed apart by their social distance and she marries Edgar Linton, with whom she has a daughter, Cathy. After Catherine's death, Heathcliff's wrath is felt by the next generation. Clue up on Emily Brontë and her only novel in this episode of In Our Time.
A Portrait of the Artist as a Young Man by James Joyce
Modernist literature, though artistic and evocative, can nonetheless be tricky to get your head around at first. This abridged version of James Joyce's autobiographical novel is beautifully narrated by Andrew Scott. Stephen Dedalus, the protagonist and Joyce's alter ego, grows up in Ireland and throughout the course of the novel becomes increasingly conscious of the world around him and the position he wishes to occupy in it. Scott's soothing tones make this modernist masterpiece an accessible and compelling listen.


Persuasion by Jane Austen
Persuasion is Jane Austen's final novel, published six months after her death. In true Austen fashion it features a cracking love story, a frustrating father, and hand wringing about social status. When the Elliot family fall on hard times, the lavish Sir Walter rents out the family estate and relocates to Bath with his eldest daughter Elizabeth. Anne, the middle daughter, stays behind to live with her younger sister Mary and Mary's in-laws, the Musgroves. In exciting news for Anne, the Elliot's home is rented out to the Crofts. Mrs Croft is the sister of her old flame, and former fiancé, Captain Wentworth who reappears on the scene…
The Shakespeare Sessions podcast