Main content
An English Kid relives his life: Mark Leckey at Liverpool Biennial
7 July 2016
This year, Turner Prize-winning artist Mark Leckey returns to his native Merseyside for the Liverpool Biennial, a summer-long festival that's fast become one of the most important art events in the world. He is presenting Dream English Kid, a film inspired by events in his life from the 1960s to the 1990s and based on the premise that everything that ever happened to you is online. WILLIAM COOK met the artist in Liverpool to talk about the autonomous spirit of the city, how technology is democratising art and his time as a football casual.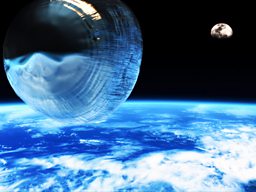 Film still / Mark Leckey, Dream English Kid, 1964 – 1999 / Photo courtesy of the artist and Cabinet London
In an old factory in what used to be the industrial heartland of Liverpool, Mark Leckey is installing his latest artwork, Dream English Kid. Like all his best artworks, it's a video montage of found footage, plundered from the Internet, which conjures up the poignant ambience of lost youth. Like a box of faded postcards, it's intensely atmospheric. As we move into the digital age, this is a foretaste of what fine art will become.
When artists started playing with the Internet, the first results were futuristic. It felt like Science Fiction, a space age medium for a brave new world. Leckey is the first artist to use the Internet as a time machine – not for travelling into the future, but back into his remembered past.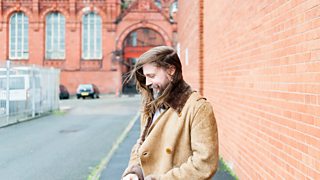 I can find everything that ever happened to me online!

Mark Leckey
Dream English Kid started with a tipsy late night trawl of YouTube. In 1979, when he was 15, at a club called Eric's, here in Liverpool, Leckey saw a gig by that seminal post-punk band, Joy Division.
That gig had a big effect on him, but for several decades it was just a memory. Then, to his amazement, he found a bootleg of it on YouTube. That was when he realised he could use the Internet to reconstruct his early life. 'I can find everything that ever happened to me online!' And that's what he set out to do.
The invention of the internet is a lot like the invention of the printing press. It's changing the world – and the art world – in ways we can only guess. The best artists have always embraced these innovations: Impressionism was a response to the invention of photography; Pop Art was a response to the commercialisation of daily life.
Leckey's videos respond to the information revolution, where everything you ever thought of – good or bad - is suddenly a mere computer mouse-click away.
'All this stuff is there, to be manipulated, to be played with, to be sculpted,' he says, when we sit down together in the bar next door, during a brief break from his installation. 'It's that availability that's allowed me to do what I'm doing.'
Leckey is one of the star turns at this year's Liverpool Biennial, a summer-long festival of contemporary art that's fast become one of the most important art events in the world. This year's Biennial is spreading out beyond the city centre, into more rundown districts, and Leckey's residency, at Liverpool's Blade Factory, epitomises this new direction.
These industrial relics are grim reminders of Liverpool's lost generation, without steady work or long term prospects. They're also great spaces for artists.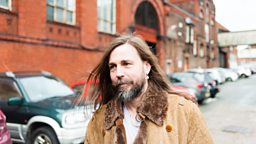 Mark Leckey at Liverpool Biennial venue Cains Brewery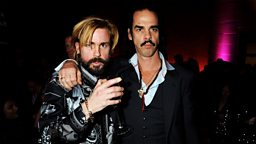 Mark Leckey and Nick Cave at the Turner Prize ceremony, 2008 / Getty Images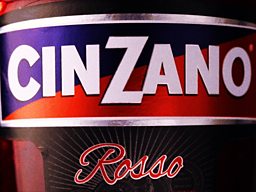 Film still / Mark Leckey, Dream English Kid, 1964 – 1999 / Photo courtesy of the artist and Cabinet London
So is a biennial arts festival any substitute for full employment? Of course not - but it's a lot better than nothing, and Liverpool is a great place to put it.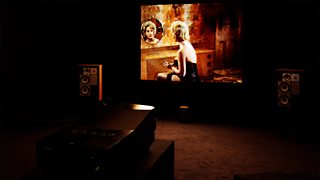 Anyone now can make art... they can do exactly what I do

Mark Leckey
'The thing I really love about Liverpool is that it has its own autonomy,' says Mark. 'It's a very independent city that looks out to the sea rather than in, to the rest of England. It has a different psyche.' Maritime and Celtic, Dublin and Belfast are its kindred spirits - not Birmingham or London.
Mark Leckey belonged to Liverpool's lost generation. He was born in 1964, in Birkenhead, a few miles from here, across the Mersey. His mum and dad both worked for Littlewoods, the local firm famous for its clothing catalogues and football pools. He left school at fifteen and drifted for a while before studying art at Newcastle Polytechnic ('It was easier for me to go to art school than it was to be on the dole').
After art school he travelled to America. He went to London and ran a market stall in Portobello Road. Finally, in 1999, he made Fiorucci Made Me Hardcore, an evocative video mash-up of the dance scenes of his youth, from Northern Soul to Acid House. 'I'm half analogue, I'm half digital,' he tells me. At 35, Leckey had arrived.
Mark was a Casual in his youth, part of that working class subculture of foppish football supporters (and football hooligans) who dressed like dandies in designer clothes. Mark followed Everton, home and away, and even abroad.
'I was quite aggressive as a youth,' he reveals. Those days are long gone, but his interest in the contrast between the Casuals' macho mores and their fey fashion sense endures. 'Their appearance was actually very camp - quite flamboyant and effeminate. That's why I still find them fascinating.' Today, his appearance is a weird mishmash of Casual and Hippy – gold chains, designer labels, long hair and a beard.
Leckey is instantly likeable and utterly intriguing, but I doubt he ever would have become an artist without the Internet. With his bizarre blend of scouse nous and self-taught intellectualism, this new medium was made for him. 'It changes the way we respond to the world, the way we know the world,' says this streetwise autodidact. 'That's the best time to be an artist, to be in the midst of a transformation.'
The Industrial Revolution spawned all sorts of strange artistic movements, from Surrealism to Futurism. If you want to know what new movements the information revolution will spawn, then Mark Leckey's internet collage should give you a few clues. There's something haunting about his work. It's about the ghost in the machine.
'Anyone now can make art,' he says. 'They can make a video and they can distribute it on YouTube. They can do exactly what I do.' So what makes Mark Leckey special? Well, his use of sources is inspired, and his editing is skilful, but he'd be the first to admit that anyone can make their mark on this democratic art form. Do you think you could do any better? Maybe you can. Everything you need is out there. So what's stopping you?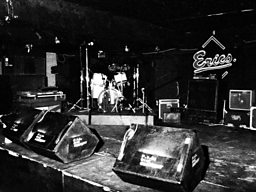 Film still / Mark Leckey, Dream English Kid, 1964 – 1999 / Photo courtesy of the artist and Cabinet London
Fiorucci Made Me Hardcore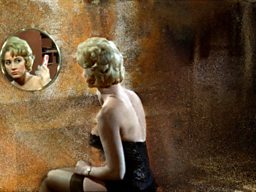 Film still / Mark Leckey, Dream English Kid, 1964 – 1999 / Photo courtesy of the artist and Cabinet London