Main content
13 things you didn't know about Frida Kahlo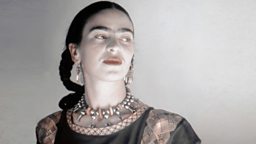 1. Her full name is Magdalena Carmen Frieda Kahlo y Calderón
She was born in 1907 in Mexico City.
2. She was a survivor:
Frida had polio when she was six and, at 18, was in a bus crash that almost killed her. Her boyfriend at the time said he found her, pierced in the stomach by a metal bar, covered by a bag of golden glitter that had burst in the impact.
3. She wanted to become a doctor:
Frida was to study medicine but, too ill to continue, took up painting in her long recuperation.
4. She married a man with a name even longer than hers:
Diego María de la Concepción Juan Nepomuceno Estanislao de la Rivera y Barrientos Acosta y Rodríguez. Also known as Diego Rivera. Frida met the artist when she was a student and they married in 1929. He already had children by three women, two of them his wives.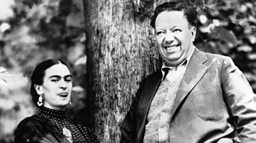 'The Elephant and the Dove.'
5. They made a striking couple:
Frida's mother noted the size difference, saying it looked like the union of an elephant and a dove.
6. She made her facial hair an icon:
In her self-portraits, Frida exaggerated her monobrow and moustache which were less obvious in photos of her.
7. She had a sharp wit:
Frida and Diego had many rich American patrons, whom they liked to provoke. When sitting next to Henry Ford, who had a reputation for being anti-Semitic, Frida asked "Mr Ford, are you Jewish?"
8. Edward G Robinson was a fan:
The film actor was one of the first to collect Frida's paintings.
9. As was Leon Trotsky:
Frida welcomed the revolutionary to Mexico in 1937, putting him up in her childhood home. Three years later, a Stalinist agent assassinated the exiled revolutionary with an ice axe.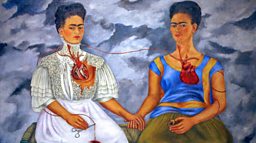 Las Dos Fridas by Frida Kahlo
10. She wore eye-catching clothes:
Frida adopted the traditional costume of Tehuana women, from the south of Mexico. When in San Francisco in the 1930s, children would ask her "Where's the circus?"
11. She divorced Diego in 1939:
But they remarried in 1940.
12. Around a third of her paintings are self-portraits:
When asked why, she replied, "Because I am so often alone....because I am the subject I know best."
13. She kept her zeal to the end:
When she died in 1954, she was working on a portrait of Stalin. Diego arranged for the Red Flag to be displayed with her coffin.