Main content
Everything you need to know about Get Creative Festival 2019
1 May 2019
The UK's biggest celebration of have-a-go creativity is back from 11-19 May 2019! With a new Feel Good Test offering a personalised formula to boost creative habits and hundreds of events taking place across the UK, the festival aims to give everyone the chance to Get Creative.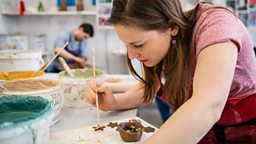 Hey Clay! | Photo: Iona Wolff
Get Creative Festival 2019
The annual Get Creative Festival - now in its fourth year - shines a light on innovative and inspiring creative activity across the UK. Last year's festival in March 2018 saw more than 1,400 events across the UK. 2019 is already a record-breaking year, with arts organisations and community groups hosting over 1,600 events where people can try their hand at something new and creative.
Every event is listed on an interactive map, to make it as easy as possible to find out what's on near you. Events uploaded so far include a wide range of activities, including quilting, film making, singing, book folding, embroidery, playwriting, life drawing, photography, dancing, handbell ringing and more.
Get Creative Festival is delivered in partnership with 64 Million Artists, Arts Council England, Arts Council of Northern Ireland, Arts Council of Wales, the BBC, Crafts Council, Creative People and Places, Creative Scotland, Family Arts Campaign, Local Government Association, Libraries Connected, Scottish Library & Information Council, Voluntary Arts and What Next?
Disclaimer
Activities are not organised by the BBC unless stated otherwise. Neither is the BBC responsible for the accuracy of the information provided. If you are under 18, ask your parent/guardian before taking part in any activity.
Take the Feel Good Test
In 2018 nearly 500,000 people took part in the Great British Creativity Test. Created in partnership with University College London and Tomorrow's World and led by Dr Daisy Fancourt, the test explored how creative activities can manage mood and boost wellbeing.
This year BBC Radio 3's New Generation Thinker and University College London Senior Research Fellow, Dr Daisy Fancourt - in partnership with UCL and The Open University - will reveal the results of the study and launch the Get Creative Feel Good Test.
Participants who take the Feel Good Test receive a personalised 'feel good formula' to re-boot their creative habits, maximising the potential for each individual to flex their creative muscles and improve wellbeing.
Get your Feel Good Formula
Discover how getting creative could improve your wellbeing with a ten-minute test, then get your personalised Feel Good Formula.
Get Creative on TV, radio and online
The BBC's networks across the UK are covering the highlights of the Get Creative Festival, with presenters talking to those involved and telling listeners how they can take part in events, workshops and classes near to them.
BBC News' Big Picture gallery once again celebrate Get Creative Festival week with a special themed gallery, this year inspired by taking part in creativity and wellbeing. Audiences can join in by sending their photographs inspired by the theme to england@bbc.co.uk or via social media using the tags #GetCreativeFestival and #BBCEngland. The gallery will publish a picture a day from those that have been submitted.
If you missed Celebrity Painting Challenge on BBC One you can catch up with the series, which features Jane Seymour, Laurence Llewelyn-Bowen, Phil Tufnell, George Shelley, Amber Le Bon and Josie d'Arby as contestants on BBC iPlayer.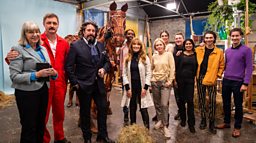 Celebrity Painting Challenge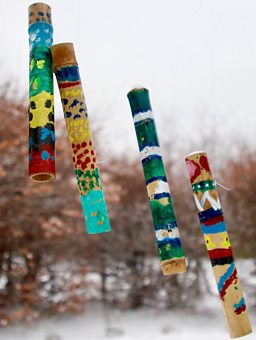 Gillian Bensemann's photo of artwork from Connaught Junior School in Bagshot, Surrey was featured in 2018's Big Picture gallery
Get Creative across the nation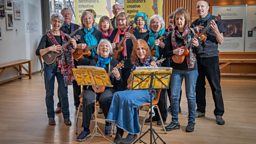 Edinburgh's U3A Ukulele Band are part of Luminate | Photo: Aly Wight
The Crafts Council's Hey Clay! returns for a fourth year. Hey Clay! is a national celebration that gives people the chance to unleash their inner potter over the weekend 17-19 May. Participants can use clay to make a variety of objects, from selfie tiles or pet portraits to decorated dishes and fantastical monsters.
In 2019 The Get Creative Festival is partnering with four other festivals that celebrate creativity in later life: Age of Creativity (England), Bealtaine (Ireland), Gwanwyn (Wales) and Luminate (Scotland) all offer a variety creative classes and workshops in their festival programmes.
Across the UK there are over a thousand events dedicated to encouraging have-a-go creativity. In Scotland, Mull's Tiroran Community Forest host workshops in spoon carving, felting, willow weaving, and in Glasgow head to the park for workshops in outdoor painting and photography.
In England you can take a singing workshop with Margaret Keys in Belper, try blackout poetry in Burnley or design a digital sculpture to be part of a virtual treasure hunt in Peterborough.
Across the Irish Sea, events include joining 200 Viking re-enactors as they showcase medieval crafts in Craigavon or a Createathon at Ulster Museum with drop-in workshops on henna art, clay modelling, beading, drawing, painting, digital VR, dancing, weaving and spinning, as well performances from the South Asian Dance Academy and Belfast Tango.

In Wales you can try your hand (and arm), at extreme knitting or explore the world of contemporary dance in Pontypridd. Voluntary Arts Wales, supported by Arts Council Wales, is offering is offering micro-grants to voluntary, amateur and community-based groups to help put on participatory events for the festival.
The Get Creative Festival takes place from 11-19 May 2019.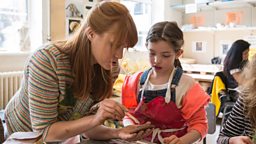 Hey Clay! Photo: Iona Wolff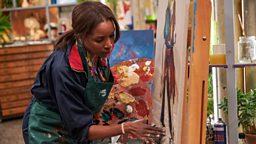 Josie d'Arby on Celebrity Painting Challenge
More information on Get Creative Festival
The BBC's online home for the Festival, with links to all programmes and features.