Main content
Almond Chocolate Mousse Cake
Ingredients
450g/1lb good quality dark chocolate 54-70%
250g/ 10oz butter, cubed
300g/ 12oz light soft brown sugar
4 large eggs
100g/ 4oz ground almonds
2 oranges, zest only
25g/ 1oz cocoa powder
50g/2oz self-raising cake flour or polenta
4tsp water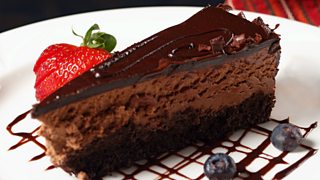 Method
Line an 8-9 inch spring form tin with baking paper.
Place the chocolate and butter in a large bowl over a pan of hot water, allow to melt slowly.
In a separate pan, heat together the water and sugar and boil rapidly until it becomes syrupy. Pour the sugar syrup over the chocolate butter mixture, and mix until smooth.
Separate the egg yolks and whites, and beat each separately.
The whites until they form stiff peaks. Add the egg yolks, mixing well between each additions. Then fold in the ground almonds, cocoa powder and self-raising flour.
Finally, fold in the stiff egg whites and orange zest, mixing gently. Pour into the tin, flatten the top and bake in the oven 170 degrees centigrade, gas mark 5 for 35-40 minutes.
This cake will remain soft in the centre, but with a crunchy top. Allow to cool, then serve with whipped cream or yoghurt, topped with fruit.