Main content
A One Show researcher's first recollections
by Rebecca Whitefoot, Studio Researcher
It's just gone 10am and we, The One Show team, are sitting in the Green Room talking about what we liked and didn't like about last night's show. When you're broadcasting live, five nights a week, it's important to have these minutes of reflection. It gives you a lift to receive positive feedback about your show but also to hear which bits, like a game with a celebrity guest, fell flat, so you can refine the essence of the idea for next time.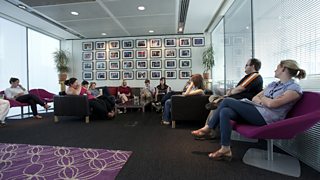 Tonight's producer then tells us what you and I can expect to see come 7pm. This is how our working day gets going. The morning meeting is a way of bringing the film teams, studio teams and management teams all together. I think it's hugely important, an anchor if you will. We are a big group, working away in a big busy office, filming up and down the UK, so it's often the only time in the day we are all in the same place. It's also an opportunity for anybody with an idea for a One Show film or studio item to pitch it. Sometimes my ideas come from an article I've read in the paper, or a radio phone-in. Other times it comes from a heated discussion I've had with my housemate about abolishing the one penny piece. I'm also a nosy parker; so my ideas also come from overheard conversations on the walk to work and the tube ride home. I think ideas can come from anywhere. It's just having the confidence to speak them out loud to the team which at first is intimidating.
Sitting in the morning meeting will be my assistant producer Ben, my producer, Kerene and me, the researcher. We get three days to prepare for a show, longer if it's a one hour extravaganza. There are five studio teams in total and we put together all the bits you see in the studio and sometimes the outside broadcasts.
Kerene will write the script and Ben and I will split our research. So how does the show get put together? A recent show went like this:
Ben is working on the interview structure for our guest, Chris Tarrant and I'm working on a piece about commandos in World War II which Dan Snow (one of our 'family members') will come and talk about in the studio. His chat comes off the back of a film about the elite fighting force, so it's got to give fresh insight.
I'd like Dan to go into more detail about the commandos' gruelling training at Achnacarry, like a terrifying night boat exercise that resulted in recruits getting seriously injured from live fire. I'm also arranging for some Royal Marines to give you an unarmed combat demonstration that has its roots in the World War Two training, pioneered by an ex-Shanghai policeman, William Fairbairn.
When I'm researching I draw upon a wide range of sources which I always check against a secondary source. The biggest boo-boo I can make as a researcher is allowing Dan or Matt and Alex to make a statement on air which isn't factually accurate. I'll use the internet to read news articles and browse trusted sites like The Commando Veterans Association which has a wealth of photographs and letters from World War II. I'll go through the BBC archive, watching and listening to any programme the BBC has ever made on the soldiers. I'll order books like Castle Commando by Donald Gilchrist and All In Fighting by Fairbairn for reference and stack them up on my desk. And of course, I speak to people. I've just checked my research for factual errors with military historian, Stewart Allan from National Museums Scotland and Pete Rogers from The Commando Veterans Association.
Next week Ben and I will swap which means I get to do... the celebrity chat! This is when I ring, say David Tennant or Brendan Coyle or Lesley Garrett and find out their opinions on the films whilst trying to uncover funny/ surprising/ personal/ moving/ untold stories that they haven't shared in an interview before, all in the time frame of about 10 minutes. Phew. It could be that Mr Drew from Educating Essex is applying to be a head teacher or that Brendan Coyle from Downtown Abbey really likes badgers because his grandfather used to read him badger stories. All true. I worked as a broadcast journalist before coming to The One Show, so I really love this part of the job. I'm testing the ground ahead of the show, discovering which questions will prompt a sit-up-and-listen response from the guests and which questions will trigger tumbleweed.
Another really good thing about being a researcher on The One Show is you get to learn about such a diverse range of subjects, from what pirates ate in the 18th Century to how you can deter burglars with home security. The most challenging thing about working on the programme is the tight turn around. But all the studio teams push against that. If Kerene wants a massive puppeteer dragon with knights to celebrate St George's Day, Ben and I will deliver. World's most expensive chocolate egg? No problem. Another reason I came to work on The One Show is that it's a live show with a distinct news angle which my dad in Hereford, who doesn't watch Newsnight or Panorama will tune in for. I feel I'm working on a programme which is massively including and relevant to all living the length and breadth of the UK. Our live element means we can be reactive, which also keeps me on my toes. So, when the legendary hairdresser Vidal Sassoon passed away, the film team went to work and covered the story on the show the next day.
Day four is my favourite day: show day. I like to get all my paperwork done and dusted the night before, so Ben, Kerene and I are ready to react to changes in the script. And there are changes. At about 11am we have our first script meeting with the editor, Sandy, the deputy editor, Gareth, the director and personal assistant. In this meeting, my 4-minute piece on the history of men's clothing can be ditched for a piece about the chemical PPD in permanent hair dye. This change can occur for a number of reasons – sometimes there's been a breaking news story and we need to cover it, other times there are legal reasons why we can't show a film and other times the item just isn't captivating enough. When this happens it's no good me being downhearted. I just have to refocus and transfer all my energy into making the new item factually accurate, informative and entertaining. At about 4pm we have a second meeting with the presenters. Changes occur in this meeting too but usually they're subtler – a question tweak, a different clip or photo, an added sound effect.
Show Day is also the day I get to work with the fantastic floor team and watch them in action. They manage the studio space, the props and guests. They transform the script from, well, a stapled document, into a seamless show. Whatever we give them: talking parrots, sword fighting pirates, smelly skunks, the world's largest corkscrew, they'll manage it effortlessly.
When we go live at 7pm I can sometimes be found in the studio watching the programme but if there is a 'call out' (when the presenters ask you to send in a picture) I will hop foot it to the newsroom. There the runners, Ben and I will be selecting, printing, mounting and marking the pictures up.
The following morning I'll watch the show back on my computer and read emails and Facebook posts that have come in from viewers. Then, it's time to get myself revved up for the next show - new ideas are needed and preparations must begin.