Main content
'It's possibly the biggest floating art gallery in the world!'
When your parent is a renowned artist, being able to see their paintings in a gallery setting is a special thing. Even better is when your artist parent was responsible for decorating nearly every aspect of a cross-channel ferry, providing what is essentially a floating art gallery.
Loop met with artist Lachlan Goudie, who went aboard the Bretagne ferry to explore the massive collection of his father Alexander Goudie's artwork.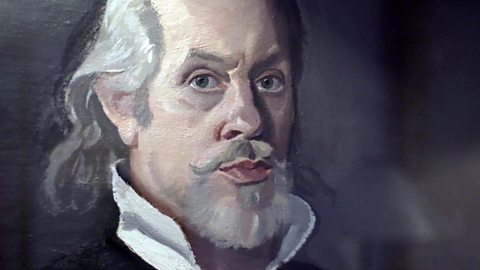 Lachlan Goudie shows the collection of his father's work housed on a cross-channel ferry.
Lachlan starts by showing how his dad was even responsible for creating the shell motifs on the curtains of each cabin, highlighting Alexander Goudie's keen eye for detail:
"Everywhere you see that my dad's attention to detail was something you can't escape."
The fact that the amazing designs on show are present in each and every cabin didn't escape Lachlan's attention:
"You have your own paintings on the wall everywhere throughout the vessel… that's just not what you're supposed to have on a cross-channel ferry."
Whilst exploring the wealth of artwork on board, Lachlan also noticed just how far-reaching his father's input was in the design of the ship:
"Under your feet you've got original artwork – the suggestion of waves and the sea bed in the carpet."
Lachlan admitted that, for him, the pinnacle of his father's work was the ship's restaurant:
"I think [the restaurant] is the most elegant room on the ship and frankly the most elegant dining room afloat. This is a distillation of everything my dad wanted to achieve on this ship.
"He wanted diners to come in to this space and almost feel the saliva glans begin to build as they looked at these paintings."
As well as the paintings on the wall, Alexander Goudie designed all the elements of the restaurant, with designs on the paper plates, napkins, sandwich bags, soap boxes, plastic bags and menus all showcasing Goudie's artistry.
Looking through the huge body of work on the ship also gave Lachlan the chance to reflect on his relationship with his father.
"He was a tough cookie… he could be a bit of a nightmare to be around. But he loved life and he loved painting.
"It was inspiring to be this person's son."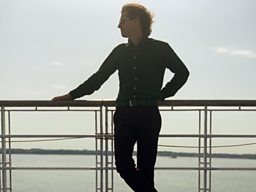 Lachlan Goudie on board Bretagne, the ferry that houses the large collection of his father's work
Lachlan Goudie visits his dad's paintings in storage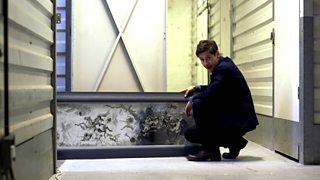 Lachlan Goudie returns to the art of his father – Alexander Goudie. (From 2013)
More from Lachlan Goudie
Artist Lachlan Goudie talks about his father's fascination with Robert Burns' Nannie Dee.

Lachlan Goudie traces the development of Scottish art and looks at its impact on the international art world.

Examining the life, work and legacy of Scotland's most celebrated architect and designer – Charles Rennie Mackintosh.
Latest features from BBC Scotland