Main content
Scone Palace 1: You are right - this is the fake.
In this particular case, the pontil mark at the centre of the base is the giveaway. The genuine models have polished marks and outer rims in their slightly rough, natural state. In contrast, this fake is the exact opposite, with a moulded pontil mark, which is rather coarse, and a polished outer rim.
The Whitefriars "Textured Range", designed by Geoffrey Baxter was gradually introduced from 1966 into the early 1970's. It remained deeply unfashionable during the 1980's. However after major exhibitions of Whitefriars Glass at Manchester City Museum and the Museum of London in 1996 and 1997, it emerged as the most popular British glass amongst collectors. Fakes and reproductions started to emerge about 2010.
Andy McConnell our glass specialist has some tips on what to look out for:
Only three Baxter vases have so far been faked. They are the Drunken Bricklayer, Hoop and Onion designs. They have been reproduced in a variety of colours but never in Whitefriars original ones.
The fakes are now quite common and generally sell for between £20-£30 approximately 10-15 per cent of the price commanded by an original.
Familiarize yourself with Whitefriars originals so you can spot rogue colours – a tell tale sign of a fake.
Look carefully at the texture of the glass. For example with fake Drunken Bricklayers the moulds some are blown in are less crisp and therefore inferior to the Whitefriars originals.
With the Onion vase look out for the incorrect colour – in the image here the vase on the left is a non-Whitefriars green.
With the Hoop vase, in the image here the fake in green on the left was formed in a mould carved with herringbone patterns – whereas the genuine version on the right in Whitefriars Kingfisher blue bears more random patterns.
Watch Andy's explanation to Fiona.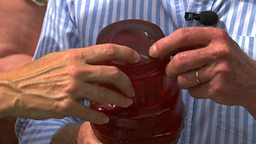 Close up detail on the base of Option red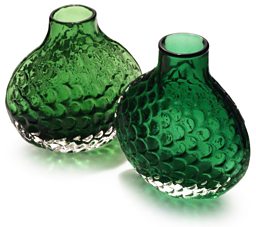 The Onion vase on the right is a non-Whitefriars green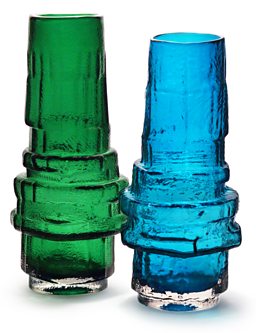 The genuine Hooped vase is in blue on the right