Main content
The BBC Food and Farming Awards 2018 Winners
BBC presenter Sheila Dillon and chef Andi Oliver announced the winners of the BBC Food and Farming Awards at the 18th annual ceremony on Wednesday 13th June.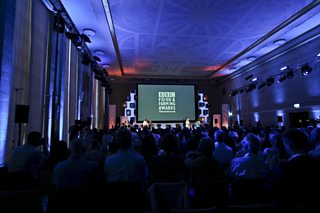 The UK's top talent from the food world including Blur bassist-turned cheesemaker Alex James, Matt Tebbutt, Grace Dent, Mark Hix, Liz Earle, Richard Corrigan and Russell Norman, gathered in Bristol to congratulate the winners and finalists.

Selected from thousands of public nominations, the BBC Food and Farming Awards celebrate the nation's greatest food and drink producers, cooks, farmers, shop owners. They are the exciting street food chefs, the forward-thinking farmers and the community cooks offering hope through food. This year's winners showcase the very best talent and entrepreneurship from right across the UK.
The awards will be broadcast across two episodes on BBC Radio 4 on Sunday 17th June at 12:30pm and Monday 18th June at 3:30pm.


Shelia Dillon, BBC Radio 4's The Food Programme presenter and BBC Food and Farming Awards judge, said; "More and more, we are seeing people choosing to eat consciously and growing more aware of where their food comes from. Our finalists this year really reflect that."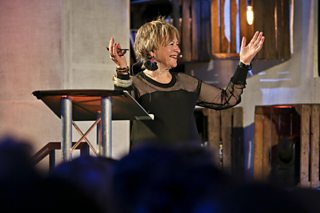 "We're seeing young and talented people moving into food – learning how to make charcuterie, setting up businesses in the heart of their communities – and through their food, these people are changing society."

"And what was incredible to see was the power of our daily bread…we had two, small bakeries win this year, who both care about quality bread and sharing this with their communities. At the root of it all is passion for good food that is accessible to everyone."
After co-hosting the BBC Food & Farming Awards for the first time last year, Andi Oliver, of BBC One's Saturday Kitchen, returned as Head Judge and personally judged the Best Food Producer category, alongside Sheila Dillon. Andi said "It was amazing to meet such talented people, who are not only producing delicious, thoughtful food – they are also spurred on to build communities and bring people together through their food."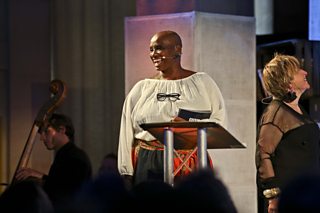 "That's what these awards are about…people just getting on with it and doing their thing because they're passionate about good, honest food for everyone."
"It's opened my eyes to the food people are making all around the UK and every time I returned to my restaurant after visiting the food producers, the chefs in my kitchen were very excited to see the treats I brought back with me! The nominees inspired all sorts of ideas for our menu and beyond AND reminded me just how much I love being in the kitchen inventing things!"
The 2018 Winners
BEST FOOD PRODUCER Small Food Bakery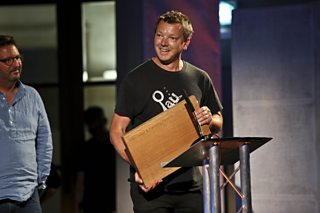 In the artist-led space of Primary Studios, Kimberley Bell bakes artisan bread and pastries. The bakery is focused on small batch, high quality products which use local, seasonal ingredients and no artificial additives. Kimberley also cooks meals for the Nottingham Food Assembly and supplies local produce for the organisation – encouraging customers to buy local and support small-scale farmers.
BEST DRINKS PRODUCER Burning Sky
Burning Sky was founded in 2013 by Mark Tranter. Located in a farmhouse in the South Downs, Mark's goal was to draw parallels between English and Belgian brewing traditions. To achieve this, the brewery installed oak vats or 'foudres' to age the beers in and a bespoke 'coolship', to cool hot wort and ferment the beers. Mark was voted 'Brewer of the Year 2014' by The Guild of British Beer Writers, and the brewery has been named 4th Best New Brewery in the World 2014 by Ratebeer.
BEST STREETFOOD/TAKEAWAY AWARD Manjit's Kitchen
In her grandmother's kitchen in Yorkshire, six year old Manjit Kaur was taught to cook vegetarian Punjabi food. In 2010, Manjit and her husband Michael opened Manjit's Kitchen – cooking vegetarian Indian streetford inspired by the Punjab. At first they catered for celebrations and events, then expanded into a chaat cart, then a converted horsebox and are now a permanent café and car in Leeds Kirkgate market. Their menu includes thali plates, pakora wraps, paneer wraps, masala dosas and curries.
BEST SHOP Peace and Loaf Bakery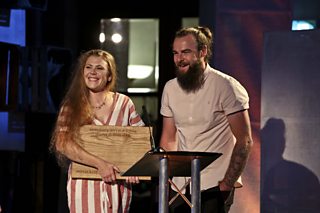 In 2015, Caroline and Lucas began baking artisan bread, cakes, pastries and hot food in their tiny kitchen and selling at food markets and tearooms, before opening their own Bakehouse in Barrow market. Using 100% green energy from Ecotricity, their ethos is to bake the traditional way with organic and local ingredients where possible, with no artificial ingredients or additives – and to raise their customer's awareness of what goes into the food they eat and the traceability of it.
BBC COOK OF THE YEAR Helen Boyce
Helen is a prison cook who works with inmates at the Hydebank Wood College and Women's Prison. After instigating an initiative which involved prisoners producing breakfast baps for sale to staff and inmates, the prison successfully applied for Social Enterprise funding which allowed them to create a fully operational 'pop up café' - The Cabin. Helen's team is made up entirely of female prisoners, cooking and serving the prison staff and inmates.
BBC RADIO 4 FARMING TODAY FUTURE FOOD AWARD Hands Free Hectare
Hands Free Hectare is aiming to grow crops using only robots and drones. It's a world-first project run by Harper Adams University and Precision Decisions to drill, tend and harvest a crop without operators on the machine and agronomists in the field. They have successfully drilled their second crop; a hectare of winter wheat and are hoping to improve the accuracy of their machinery, and therefore improve the yield at harvest next year.
COUNTRYFILE FARMING HEROES Aimee and Kirsty Budge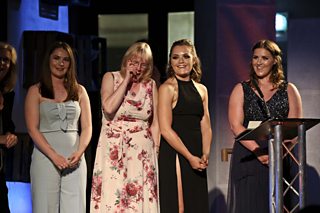 After their father passed away, sisters Kirsty and Aimee took over the running of their family farm on Shetland. As the seventh generation of their family on the farm, they have strived to continue the farm's success and are bringing new ideas to the farm too – thanks to speaking to other local farmers and learning at college. They have become Shetland's only monitor farm; testing their ideas out and sharing these with other farmers.
BBC WEST COOKERY TEAM OF THE YEAR Bristol Refugee Rights
Volunteers at Bristol Refugee Rights cook lunch for up to a hundred asylum seekers and refugees from all over the world every week at the Malcolm X Centre in Bristol. The charity has to fundraise to cover the cost of the food. They're not professional chefs but they create nutritional, flavoursome, fresh three course lunches which reflect the nationalities and religious requirements of their guests.
DEREK COOPER OUSTANDING ACHIEVEMENT AWARD Peter Hannan
BBC WORLD SERVICE GLOBAL FOOD CHAMPION AWARD José Andrés
FOOD HERO – IN MEMORY OF CHARLIE HICKS
In addition to the BBC Food & Farming Awards, the annual Bristol Food Connections Festival runs from the 11th-17th June 2018. The festival celebrates the communities and people of Bristol, with events across the city.