Main content
The Curry Guy's chip shop curry sauce recipe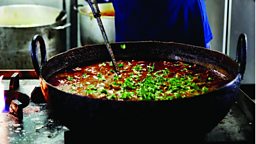 There's just something about chip shop curry sauce isn't there?
Dan Toombs aka The Curry Guy has revealed to Chris how to create your own delicious version at home. He says the key is in the base sauce and once you've made that, things are really easy!
Serves 4 - 6
Ingredients
2 tablespoons vegetable oil
2 medium onions – finely chopped
1 green apple – cored, peeled and finely chopped
1 tablespoon curry powder
2 tablespoons raisins
1 tablespoon tomato paste
2 tablespoons plain flour (optional, to thicken)
Curry base sauce (see separate recipe below)
Salt and pepper to taste
Juice of one lemon
Recipe
1. Fry the onions and apple in the oil over medium high heat until soft.
2. Stir in the raisins, curry powder and tomato paste.
3. Add the flour and stir well to combine with the other ingredients.
4. Pour in the base sauce and simmer for about five to ten minutes until you are happy with the consistency.
5. Blend well with a hand blender and season with salt and pepper to taste.
6. Check for seasoning, adding more curry powder if you like and squeeze in the lemon juice to finish.
The Curry Guy tells Chris Evans the secret to making a great curry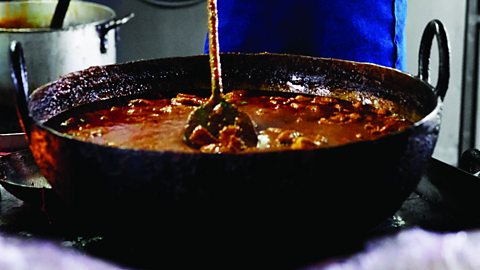 Dan Toombs on recreating real Indian restaurant recipes in his new book The Curry Guy.
The Curry Guy's Base Sauce
This recipe makes a large batch (enough for 22-24 servings) which can be frozen for up to three months.
Ingredients
2kg Spanish onions – roughly chopped
225g carrots – peeled and chopped
120g cabbage – chopped
100g red bell pepper – deseeded and diced
1 tin chopped tomatoes
9 tablespoons garlic and ginger paste
1 teaspoon salt
750ml rapeseed oil
3 tablespoons each of garam masala, ground cumin, paprika, ground fenugreek and ground turmeric
Recipe
1. Put the onions, vegetables, tomatoes and garlic & ginger paste in a large stockpot.
2. Pour in the oil and 1 litre of water.
3. Stir together, simmer gently for about 45 mins.
4. Add another 2 litres of water and stir in the spices.
5. Simmer for another 30 mins.
6. When oil has risen to surface and veggies are soft, blend for about 4 mins until sauce is smooth.
7. It'll be quite thick, for storage this is fine but when used in a sauce dilute it with water so it's about the thickness of full fat milk.
The base sauce can be used straight away, refrigerated for 3 days or frozen in 750ml portions for up to three months.