Main content
Shakespeare: Unplugged - Live Lesson
Watch the Live Lesson again
Bringing Shakespeare to life for a young audience
Working in partnership with the Royal Shakespeare Company, BBC Live Lessons is holding a very special Live Lesson tailored for a primary-aged audience.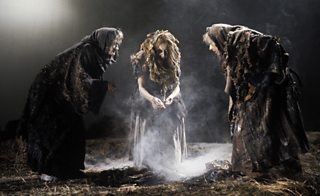 Designed to introduce upper Key Stage 2/2nd Level pupils to some of Shakespeare's most well-known plays, the lesson focuses on aspects of Shakespeare's language and characters, and teaches students how to turn those famous words and scenes into a performance or production of their own.
With special guests from the Royal Shakespeare Company and across the fields of acting, writing and directing, the lesson features iconic scenes from A Midsummer Night's Dream, Macbeth and Henry V.
Find out all about the presenters and guests in our Shakespeare: Unplugged Live Lesson.

Read the answers from the Royal Shakespeare Company to your questions sent in during the live programme.
Preparing for the Live Lesson
Related links
Shakespeare Week (shakespeareweek.org.uk) - 14th - 20th March 2016 - Shakespeare Week is a national annual celebration giving primary school children a great first encounter with Shakespeare coordinated by the Shakespeare Birthplace Trust.