Main content
Get Singing for BBC Music Day!
Get Singing encourages primary school children around the UK to sing together for wellbeing in playgrounds, assemblies and lessons on BBC Music Day on Thursday 26th September. It's a fun, simple way of celebrating musical creativity and promoting wellbeing.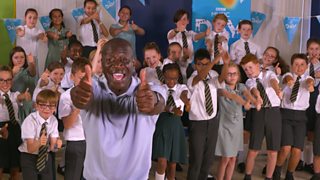 A thousand schools took part last year, and we'd love you to join us this year!
You don't need any preparation to join in. BBC Music Day has partnered with leading music and education experts to bring you brand new video resources for teachers to play out on the day, featuring the nation's favourite choirmaster Gareth Malone.
The video resources will be released in August so please keep an eye on this page.
In the meantime, you can watch the BBC Music Day 2018 video featuring vocal coach and singer, Wayne Ellington, to give you an idea of what Get Singing is all about!
Get Singing is a collaboration with BBC Education's Bring The Noise, Young Voices, Ex Cathedra, Sing Up, Chiltern Music Therapy, Music Action International and BBC Ten Pieces.
BBC Education's Bring The Noise is an ambitious new campaign to support primary schools, teachers and families to help young children take their first steps in music-making. Launching in September, Bring The Noise is aimed at the BBC's youngest audiences, aged 4 to 7 years, to encourage their love of music and to help time-pressed teachers introduce music-learning into their classrooms.
BBC Ten Pieces aims to inspire a generation of children to get creative with classical music, inviting children aged 7-14 to develop their own creative responses to ten pieces of music. The initiative has so far reached over four million school children across the UK, and won a BAFTA for the Ten Pieces II film.
Young Voices are the organisers of the world's largest children's choirs and believe passionately in inspiring the next generation to find their love for music, having staged hundreds of concerts across the globe since 1996, with choirs of up to 8,000 singers. In the UK, over 150,000 children take part annually in performances held at arenas across the country.
Sing Up places singing at the heart of education by providing a complete singing package through a digital music platform, termly magazine and training. The resources are designed to act as a complete foundation for musical learning across a school, enabling educators to cultivate strong communities and healthy, happy and confident students.
Ex Cathedra is a leading UK choir and Early Music ensemble, which includes an award-winning education, participation and community programme. Singing Playgrounds trains children to lead others in singing-play in their school playgrounds. The project has been implemented in schools across the UK and internationally.
Chiltern Music Therapy is a not-for-profit organisation dedicated to delivering award winning, evidence-based Music Therapy services that are accessible to all. Their joined-up pathway of services is designed so people can access their services at any stage and with any level of need.
Music Action International uses the power of creativity to overcome the effects of war, torture and armed conflict. It aims to reduce trauma and create empathy between refugees and people from all backgrounds through their national schools programme, Harmonise.
The BBC is not responsible for the content of external sites.