Main content
10 of the most surprising moments from Grounded with Louis Theroux
Lockdown has been a strange, difficult and disorientating time for all of us. Including the great Louis Theroux. But Louis decided to use his period of quarantine to speak to people he'd always wanted to interview. And, thankfully for us, he podcasted the results.
As well as providing hours of enlightenment and entertainment for us, it's helped Louis cope as well: "Doing the podcast kept me sane during lockdown. Being able to have long-form chats with people I admired or was interested in turned out to be the perfect tonic at a time when quite honestly, with everything going on in the world, I didn't know whether I was coming or going. Connecting with old friends and new friends at long distance, exchanging jokes and sometimes intimacies, and then distilling the best moments down - with the help of my Producer and Editor Paul Kobrak - it was a delight. Partly it was an excuse to have some time out from the family (don't tell my wife). But it was also a chance to feel a little bit useful at a difficult time for everyone.
The interviews have been consistently intriguing, revealing and hilarious. Here are a few of the most memorable moments from Grounded with Louis Theroux…
1. Jon Ronson runs errands with extremists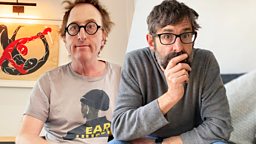 Both Louis and Jon have spent their careers talking to extreme characters and dominant personalities. And the nature of both their interviewing techniques involves spending a great deal of time with their subjects, this often leads to some quite odd situations. Jon made a documentary featuring the militant Islamist extremist Omar Bakri Muhammad in the 1990s which culminated in helping him to run errands, including a trip to Office World to get some photocopying done. It later emerged just how dangerous he was, and left Jon asking himself, "Should I have predicted that? Should I have done the tone slightly differently?"
2. Boy George has to explain himself
Louis was thrilled when his hero Boy George started following him on Twitter, but not so thrilled when George posted something along the lines of "What's Wrong With Louis Theroux?" As George explains, it was partly a joke, partly because he's a Gemini and partly due to living in the moment and feeling the need to express something that's on his mind, which he can later regret and remove. George reveals he's trying to be less confrontational on social media but does admit: "If you appear on my timeline with a comment, and if I disagree with what you're saying, I will hijack your tweet and say what I think."
3. Helena Bonham Carter nerfs her ex-husband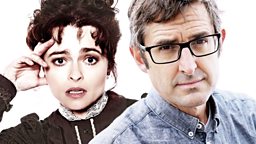 Helena was married to the film director Tim Burton and appeared in a number of his creations. But the stress of working and living together often took its toll on the couple. During the filming of Sweeney Todd, the couple would argue on set, causing Johnny Depp, playing Todd, to stare down at his razors in embarrassment. But they found a solution on Alice in Wonderland where they would use toy guns to fire foam bullets at each other when frustrated. "We'd shoot each other whenever we got annoyed, and then it was okay."
4. Lenny Henry thought a different man was his dad until he was 11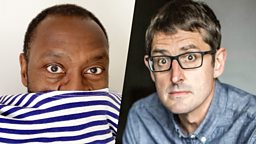 Comedy legend Sir Lenny Henry talks to Louis about his difficult childhood and trying to come to terms with the fact that his mum was often physically abusive towards him. He also discusses the fact that he thought a different man was his dad until he was 11 years old. He'd been raised by his mum's partner, but then was suddenly sent to help his "Uncle Bertie" every week, not knowing that this man was actually his birth father. He didn't share this information publicly until the release of his 2019 autobiography. "That was a massive thing for me," he says, "to have that in the open, 'cos I'd not spoken about that to anyone."
5. Rose McGowan reveals she was spied on by private investigators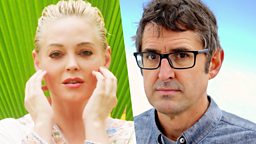 During a passionate and emotional interview, actor and activist Rose McGowan discusses her extraordinary life and her recent memoir, Brave, which in part details being one of the first women to go public with allegations of rape and sexual assault against the convicted film producer Harvey Weinstein. And though she felt brave, she didn't feel safe, moving from Hollywood to London to distance herself from the film industry that she considers "a deep cult" that "operates on a fear-based structure". When Weinstein heard about Rose's book, he used a private intelligence firm to spy on her and placed a million-dollar bounty on her manuscript. One woman she trusted turned out to be a private investigator that had been hired to get information from her. "It was chilling," she says.
6. KSI admits his book was a mistake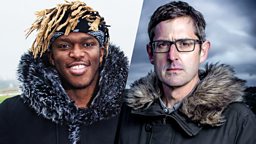 YouTube superstar KSI, whose videos have been viewed more than five billion times, reveals some of his regrets to Louis. One includes the book that he released, provocatively titled I Am A Bellend (it was not nominated for a Booker…). The book contained many anecdotes involving the more X-rated areas of the internet, which KSI now regrets. "I just wanted to be controversial and just annoy people… at the time I thought it was funny. If I could redo something, I'd definitely redo that and just never put it out there, ever." Not only does he not enjoy what is in it, he also admits to Louis that he's never actually got around to reading it.
7. Miriam Margolyes gets intimate
During a freewheeling, frequently shocking chat with actor and activist Miriam, she explains to Louis how she gets a kick from shocking people with what she says: "I enjoy that moment of danger, I suppose." So, it comes as no surprise that the conversation repeatedly veers towards the decidedly raunchy, including one tale involving a man and a tree that can't be repeated here. Miriam also quizzes Louis on some very particular areas of straight sex involving where certain parts of the male anatomy go during the conjugal act. It's quite something.
8. What people said to Troy Deeney in prison changed his life
Troy describes how, just as his football career was taking off, he kicked someone in the face during a fight on a night out and was sentenced to jail: "I was embarrassed and ashamed of it, but it happened, and I can't change it." In prison, he says, "people just told me I was an idiot, and that's what I needed." He remembers them saying, "You've got to understand how big of an opportunity you've got. Not only for you, but to show young kids from around our area that they don't have to be like us." After that, he says, "I just decided that I was going to give it a real good go."
9. Gail Porter gets jealous of a ghost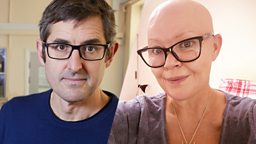 One of Gail's early television jobs was working on a ghost hunting show looking for deceased celebrities such as Frank Sinatra and Jim Morrison. Gail was the programme's resident sceptic, but that didn't mean she didn't get spooked. During an overnight stay in the solitary cell at Alcatraz, the show's resident psychic picked up the spirit of a former inmate. Gail was scared and then slightly put out as this ghost wanted to get romantic with the psychic but had no interest in her. Or, as she succinctly puts it, "I couldn't even get laid by a ghost."
10. Chris O'Dowd admits the Imagine video backlash was justified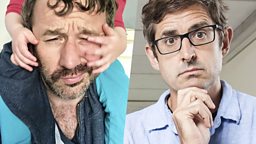 The lockdown brought us all together in different ways. Our weekly appreciation of the NHS, video-calling with friends and relatives, and checking in on vulnerable people around us. But early in the quarantine, social media united in mockery as various celebrities, including Chris, sang along to John Lennon's Imagine in a fairly cringe-worthy way. As he explains, it was the first wave of "creative diarrhoea" that occurred when artists, used to being constantly busy, suddenly had nothing to do. "In terms of my interpretation of it, I think the backlash was justified," he admits.