Main content
'The strangest room I've ever been in in my life' — shocking scenes inside a murder victim's home
On paper, Seacroft seems idyllic. Located on the outskirts of the village of Inverkip, the cottage enjoys a quiet location and stunning views across the Firth of Clyde. But this home was not a peaceful haven; in fact, it was recently at the centre of one of Scotland's most disturbing murder trials and an astonishing benefits scam.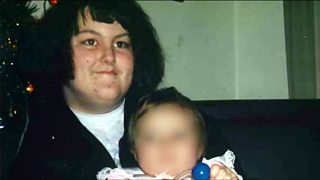 Teenager Margaret Fleming was last seen in 1999 (Image copyright: Crown Office)
Seacroft was Margaret Fleming's home. A vulnerable teenager with learning difficulties, she had moved there to live with her carers Edward Cairney and Avril Jones soon after the death of her father. So when she seemingly vanished without a trace, the house became a focus of the search to find her.
The last independent sighting of Margaret was in December 1999. For the following 16 years Cairney and Jones maintained Margaret was alive, but the police investigation resulted in the couple being charged with her murder. Jones was also charged with fraudulently claiming £182,000 in benefits from the time of Margaret's disappearance to 2016.
A new series, Murder Trial: The Disappearance of Margaret Fleming, has unprecedented access to their trial at the High Court in Glasgow and hears from witnesses and personnel involved with the case.
One of those is Sgt Chris McKay from Police Scotland, who visited Seacroft when a social worker raised concerns about Margaret.
As he returns to the house, Sgt McKay recalls that visit and his first impressions of Edward and Avril.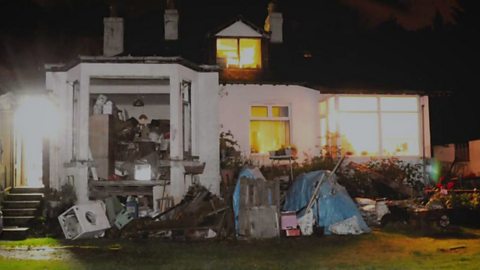 Sgt Chris McKay returns to the house where he first met Edward Cairney and Avril Jones.
"I can still remember standing here on that night in question," he says.
"He [Edward] would control the conversation. He wouldn't allow Avril to speak. You could tell she was extremely nervous. That's when you're thinking 'Hold on, something's not right here'."
Derelict conditions
The house itself is in a state of squalor: furniture is upturned, windows broken and the floor littered with debris.
As Sgt McKay wanders through the building he opens a door to what he describes as, "the strangest room I've ever been in in my life".
The floor is filthy, strewn with baskets and basins, the walls are bare and covered in green mould. But the most striking thing about the room is that the back wall is missing, leaving the house open and exposed to the elements.
"This is now a derelict property," explains Sgt McKay, "but this isn't far off what my cops and I were actually dealing with when we first came in. It was so run down and so neglected."
Sgt McKay and his team explored the house as they tried to piece together Margaret's movements.
"Our job from the outset was to find her, which is what response cops do. That's what we do on a daily basis, ordinarily.
"But this wasn't any ordinary case."
On BBC iPlayer
Two-part documentary about the investigation and trial of two carers accused of murdering 35-year-old Margaret Fleming and claiming benefits in her name for 16 years.
Latest features from BBC Scotland