Main content
BBC Scotland Poet in Residence
Introducing, Rachel
Have you ever played Pictionary with an artist? My not-quite-grandfather (he was the father of my aunt who wasn't my mum's sister, if you know what I mean) was a gorgeous man and a wonderful painter, and he was utterly terrible at Pictionary. While my eight year old cousin had managed to win the game by scrawling one wonky circle with one smaller, even wonkier circle and two short vertical lines in it, my not-quite-grandfather had barely sketched the whisper of a curly tail (the answer, of course, was a pig). So. Never have the artist on your team for Pictionary.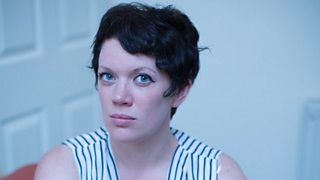 All of which is a roundabout way of saying that it might take a poet a while to write a blog. Too much overthinking. But I'm going to try! I'm very, very excited to be starting as BBC Scotland's first Poet-In-Residence, in collaboration with the Scottish Poetry Library, from October 2015. Over the next three months, there will be workshops, field trips, conversations, performances and, of course, poems galore. I'll be using the blog here to keep you updated on various adventures and thoughts, and hopefully get some poems up too.
Things about me that you might not know.
No, I'm not Scottish. I grew up in a small seaside town in Northern Ireland called Donaghadee, right on the Irish Sea. I could see Portpatrick from my bedroom window.I've lived in Edinburgh for 4 years and 10 months. I think of Scotland as my home. I don't always know what that means, but I have spent some time thinking about it.I started to write poetry from an early age, probably about 9, I think. Maybe before, but I don't remember any of them, and that's probably as well. Then I went to University to study English Literature, and didn't write anything for 10 years. I owe a lot to the spoken word scene in Edinburgh for reigniting the fire in my belly, and for helping me to learn and develop.I used to play the bassoon. I started to learn when I was 9 (a lot of things seemed to happen when I was 9), which meant the bassoon was about the same size of me. I wasn't very good, but I enjoyed it. I stopped when I was 17. However, I think it gave me a lot of lungpower. This means I sometimes talk in loud sentences and ramble on and on...My favourite poet changes all the time. I think this is a good thing: there are always poets that you come back to, but as you change, the poets you like will change. At the moment, I'm reading a lot of Naomi Shihab Nye, who I saw perform at Edinburgh International Book Festival this summer. In addition to her poems – which are wonderful – I love what she has to say about poetry. She says about the use of poetry that it, among other things, should ''continue to encourage a sense of civility among us, and a sense of curiosity about one another's lives''. I think this is pretty much spot on.
Alrighty. Here goes nothing. See ye soon.
Rachel McCrum, October 2015.
A series of poems written by BBC Scotland's Poet in Residence