Main content
The results of the vote to find your favourite Scottish novel
The classic novel Sunset Song, by Lewis Grassic Gibbon, is Scotland's Favourite Book.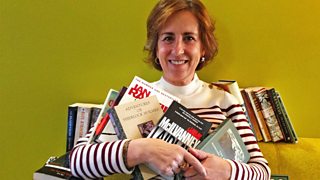 BBC Scotland conducted a public vote throughout most of August 2016 in partnership with The Scottish Book Trust and The Scottish Library and Information Council.
The 30 books on the longlist, comprised only of novels by authors born or based in Scotland, were selected by a panel of judges curated by Scottish Book Trust.
Here is the complete longlist in order:-
The top ten
| Position | Book and author |
| --- | --- |
| 1 | Sunset Song by Lewis Grassic Gibbon |
| 2 | The Wasp Factory by Iain Banks |
| 3 | Lanark by Alasdair Gray |
| 4 | The Thirty-Nine Steps by John Buchan |
| 5 | The Prime of Miss Jean Brodie by Muriel Spark |
| 6 | Harry Potter & The Philosopher's Stone by J.K. Rowling |
| 7 | Trainspotting by Irvine Welsh |
| 8 | Knots & Crosses by Ian Rankin |
| 9 | The Adventures of Sherlock Holmes by Arthur Conan Doyle |
| 10 | The Private Memoirs and Confessions of a Justified Sinner by James Hogg |
Positions 11-30
| Position | Book and author |
| --- | --- |
| 11 | Laidlaw by William McIlvanney |
| 12 | Life After Life by Kate Atkinson |
| 13 | The Strange Case of Dr Jekyll and Mr Hyde by Robert Louis Stevenson |
| 14 | The Testament of Gideon Mack by James Robertson |
| 15 | The Wire in the Blood by Val McDermid |
| 16 | The Vanishing Act of Esme Lennox by Maggie O'Farrell |
| 17 | The Cone Gatherers by Robin Jenkins |
| 18 | The Trick is to Keep Breathing by Janice Galloway |
| 19 | Morvern Callar by Alan Warner |
| 20 | Under the Skin by Michel Faber |
| 21= | Garnethill by Denise Mina |
| 21= | How Late It Was, How Late by James Kelman |
| 23 | The Panopticon by Jenni Fagan |
| 24 | Trumpet by Jackie Kay |
| 25 | An Oidhche Mus Do Sheol Sinn (The Night Before We Sailed) by Angus Peter Campbell |
| 26 | Rob Roy by Sir Walter Scott |
| 27 | The Cutting Room by Louise Welsh |
| 28 | The White Bird Passes by Jessie Kesson |
| 29 | So I Am Glad by A.L. Kennedy |
| 30 | Imagined Corners by Willa Muir |