Main content
Comedians Jack Dee and Romesh Ranganathan join You're Fired
We are excited to announce that Jack Dee will be taking the reigns as the new host of BBC Two's You're Fired and You're Hired - the companion show to BBC One's The Apprentice – with fellow comic Romesh Ranganathan joining as a regular panelist alongside the business experts and celebrities who appear each week to reflect on the outgoing candidates' performances.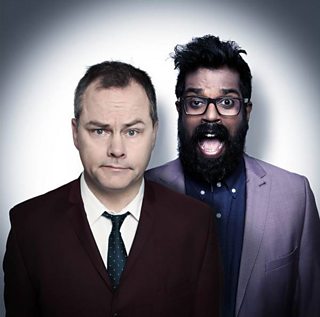 Funny men Jack Dee and Romesh Ranganathan will bring their unique take on the highs and lows of The Apprentice
Jack enjoys a special empathy with the candidates as he has been through the process himself, taking part in 2009's Comic Relief Does The Apprentice. Jack made it into the final boardroom only to be beaten by Michelle Mone of the women's team.
Jack says: "I'm very much looking forward to hosting You're Fired and hope that the luckless candidates will see me as the friendly face at the end of a difficult time in their lives."
Romesh adds: "As a massive fan of The Apprentice this is very exciting for me. I love You're Fired and am looking forward to putting all the questions to the candidates that people at home want to see asked. I also have a number of business proposals of my own that I think Lord Sugar will be pretty interested in…"
The Apprentice and You're Fired return to the BBC later this year.