Main content
How to make your social media skills pay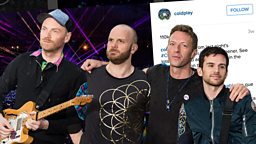 You don't need a million YouTube subscribers to turn the internet into your full-time job.
In fact there are loads of ways to get paid for your social media skills!
We sat down with some of the pros who look after huge social media profiles to find out how you can follow in their footsteps.
1. Understand the people you want to work for
The Anchorman (not his real name - obviously) has known Coldplay from before they had a record deal, and reckons that the first step to nabbing a career in social media is to really understand who you want to work for.
It's a great way to make your fans feel part of your world
He isn't the only person who tweets from Coldplay's account - the band all use it too.
But when the boys are writing their next album, or are busy playing Radio 1's Big Weekend, it's his job to make sure they stay in touch with more than 60 million online fans.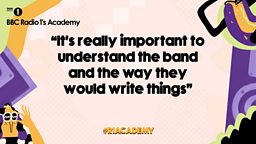 "If you give your social media to someone who doesn't understand your voice, and doesn't share your values, then they're not going to represent you properly."
"For example, you'll never see American spellings on a Coldplay account because they're an English band, and it's important to have an English voice."
2. Let content do the work for you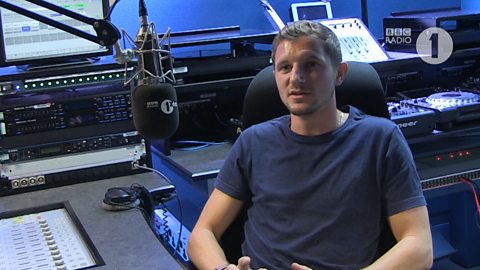 BBC 1Xtra's social media producer Alex Manzi tells us what makes a good post
Alex works for 1Xtra so his job means getting people to watch and listen to all the great things 1Xtra do - that includes videos and events as well as radio shows.
Make sure you're leading with your best content
He says you should let the content lead what you post. If you want to post for a similar company that might mean short teaser videos of longer programmes or exciting pictures from big events.
3. size doesn't matter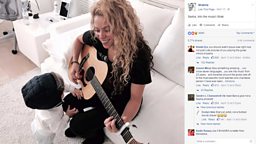 Chris Salmon is responsible for the second-biggest Facebook page in the world.
But although it's his job to post to more than 100 million Shakira fans, he doesn't think your own follower count matters - at all.
"It's about your ideas and your ability."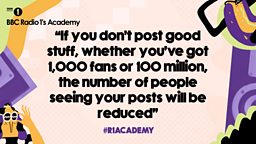 "If you want to get into social media as a career, look at what other people are doing, and how they're doing it well."
"You need to think 'I think that tweet's rubbish, and the reason I think it's rubbish is because...' or 'that idea is brilliant, because...'"
"If you really know your stuff, and read up on it, you've got a really good chance of getting volunteering work and building up your CV at record shops or local festivals"
Innocent Drinks spend a lot of time tweeting about stuff that's nothing to do with drinks. That might sound pointless but Helena Langdon, who runs Innocent's social media, says "Nobody goes on Twitter to follow brands who just want to sell them stuff."
So if you sell drinks, but nobody wants you to sell them stuff on Twitter... what do you do?
...so they do sneak some mentions of their drinks in there, but Helena says it works because they do it in a natural way.
We talk to people online in the same way we'd talk to our mates at the pub
"We always make sure we talk to people online in the same way we'd talk to our mates at the pub...
"People want to follow accounts that are genuinely interesting, and that's what we try to be. We've always found that if we talk to people online the way real people talk to each other, they're much more likely to talk back."
5. Remember who you're posting to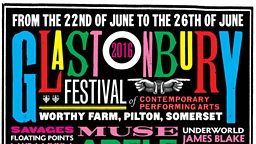 As if looking after Shakira's fans wasn't hard work enough, it turns out Chris Salmon works on Glastonbury's social media too.
And for our final tip, he says that Glastonbury is a great example of creating social media with your audience in mind.
We've got significantly more followers than can come to the festival, so you have to think about people who are and aren't there
"We're in this amazing position where we sell all our tickets, so we don't have to promote ourselves"
"If you're posting for people on site, it's important that you also acknowledge people who aren't on site" - that's why Glastonbury has three separate Twitter accounts.
And by the way, not everybody on social media speaks English. Your language skills could come in really useful here.