Main content
New Build Fire Safety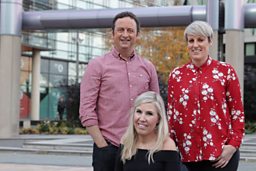 NEW BUILD FIRE SAFETY
Watchdog Live investigates new homes built where essential fire barriers, which inhibit the spread of fire, are either missing or incorrectly installed.
Britain's most profitable housebuilder, Persimmon Homes, has admitted that hundreds of its new build homes in the South West were constructed with sub-standard fire protection.
Potentially dangerous fire safety issues were also uncovered at four homes on a Bellway Homes estate in West Lothian. And we heard how a fire at the Old Tannery Bellway Homes development in Canterbury destroyed almost 50 homes and raised concerns around fire safety at the development.
According to an industry expert, missing or poorly installed fire barriers 'like driving a car without an airbag'.
Lack of fire protection puts homes and lives at risk should fire break out, giving the people inside less time to escape, experts have told us.
Statement from Persimmon Homes
In October last year we established that in a number of timber frame properties in our South West region, cavity barriers were missing or installed incorrectly during construction. As soon as the issue came to light we launched an investigation to identify the extent of the problem and to immediately rectify any affected properties.
We are taking this very seriously and have taken extensive action since the issue was discovered. To date, we have written to c. 3,200 home owners in the South West region to inform them of the issue and to arrange inspection of their property. A dedicated team has been established to carry out the inspections and to deal with any remedial work, which is normally carried out immediately and typically takes less than an hour. We have performed over 2,700 inspections to date. The process of notifying home owners and arranging inspections is ongoing.
We are focusing on the South West where the majority of our timber frame properties are built. But to be confident that we know the extent of the issue we are carrying out sample inspections in the 10 other Persimmon operating businesses which utilise timber frame construction. Incidence of the issue so far has been limited to a couple of sites but the inspection programme is continuing. We are following the evidence - if these inspections indicate that we need to inspect every timber frame property then we will do so.
We have established a dedicated national helpline number - 0800 915 0980 - which any homeowner with a concern can call for more information and to arrange an inspection of their property. They may also contact us via email at cavitybarriers@persimmonhomes.com. Contact details can also be found on the Persimmon website at www.persimmonhomes.com/cavitybarriers
This should not have happened and we would like to apologise to all affected homeowners and assure them that we are doing everything we can to rectify the issue swiftly. We are taking this very seriously, we have a clear action plan in place and we are addressing the problem in a structured manner. Stephanie Barwise QC, who has been appointed to conduct the Independent Review of Persimmon's business, has confirmed that the issue of cavity barriers in Persimmon properties will be within the scope of the review.
Cavity barriers are a mandatory Building Regulation requirement, specified in building design. There has been a clear failure to follow an established three-stage inspection procedure involving the installer, Persimmon as developer, and the independent third-party body providing Building Control. This is unacceptable and we have already made changes to ensure it cannot happen again.
Cavity barriers are only one part of a suite of measures in place in every new built home to ensure fire safety, including smoke alarms, escape routes, fire retardant materials and measures to support the fire and rescue service. All of these are important. We have taken independent expert advice on the issue from a fire safety specialist and they have confirmed that the action we are taking is appropriate.
Statement from Bellway Homes
West Lothian
Until last week Bellway were only aware of one property where concerns had been raised with the cavity barriers fitted to the cavity walls. This property is currently under joint investigation by the NHBC and Bellway, and we will address any non-conformance which may be discovered through this investigation.
Unfortunately, Bellway has not yet received the full report for the properties inspected by Watchdog's appointed surveyor but we have since been contacted by two of the respective homeowners and we will arrange an inspection from a suitably qualified expert, to allay any concerns they may have.
As a responsible builder, Bellway takes our customer's safety extremely seriously and we will investigate and address any raised concerns immediately, where there is perceived to be an imminent danger to persons or property.
The Old Tannery
A fire at the Old Tannery development in Canterbury started on 4th July 2015. The fire service carried out an investigation into the cause of the fire at this time but the results were inconclusive. Any homes damaged during the fire were repaired over the course of the following months and affected residents were rehoused for the duration of these works.
Further remedial works were subsequently identified and Bellway is working closely with the NHBC to complete these works and to minimise any disruption to the homeowners on the development.
Investigation on new home builds that have fire barriers missing or incorrectly installed