Main content
Welcome to the concrete playground
Concrete, cold-steel, high platforms and sharp edges aren't usually what spring to mind for the ideal children's playground, but they were the climbing frames which accompanied the explosion of Brutalist architecture in post-war Britain.
The structures, if not the materials, are being reproduced in more Health and Safety-friendly pastel foam at the home of the Royal Institute of British Architects as it pays homage to Brutalism, the 'monstrous carbuncles' architecture that continues to divide fifty years after its popularity has waned.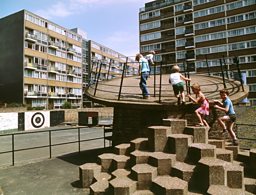 John Donat RIBA Library Photographs Collection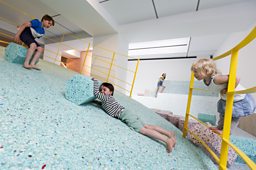 Children exploring RIBA's hard yet soft Brutalist Playground
Turner Prize nominees Assemble and artist Simon Terrill have created The Brutalist Playground, a hands-on installation designed to be crawled over as a way of exploring post-war design for play.
The original playgrounds evoke a disappearing world of concrete mazes and windswept walkways

Simon Terrill
"The original playgrounds evoke a disappearing world of concrete mazes and windswept walkways. Like a Brechtian stage set rendered in concrete, they speak to a time before soft play and highly regulated public space," said artist Simon Terrill.
"The recreation of these forms is a kind of inverted hyper-Brutalism. Playable structures reveling in the sharp edged bush hammered concrete forms they reference."
If clambering over slides and platforms isn't quite your thing, a 'Day of Play' on Saturday 8 August offers computer-design workshops, construction challenges, colouring-in sessions and the chance to add your own building to a plasticine city as way of exploring the architectural movement which most famously has given us The National Theatre in London and Erno Goldfinger's Trellick Tower. Entry is free.
The artists have closely studied photographs of long-lost concrete playgrounds at the foot of Brutalist towers which grew up around London, especially looking at modern-day attitudes to risk.
There has been a recent shift in attitude towards Brutalist architecture. A style once misunderstood and dismissed as ugly is now enjoying a growth in popularity due to a new-found respect for its socialist principals and its nostalgic draw.
"Few areas of English Heritage's work are as disputed… some still view the buildings of the era as concrete monstrosities, others as fine landmarks in the history of building design," said Simon Thurley, chief executive of English Heritage, the guardians of Britain's building past.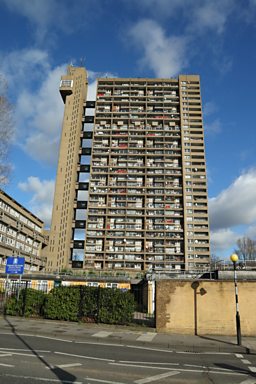 Trellick Tower, London by Ernö Goldfinger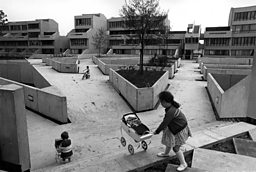 Tony Ray-Jones / RIBA Collections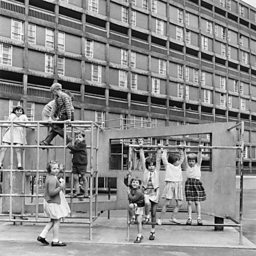 Park Hill Sheffield 1963 (c) Arch Press Archive RIBA Library Photographs Collection
The cornerstones of Brutalist building
Rough unfinished surfaces
Unusual shapes
Heavy-looking materials
Massive forms
Small windows in relation to the other parts
RIBA's Day of Play is on Saturday 8 August, 11am - 5pm at 66 Portland Place, London – for more information and info on how to register for this day of free activities, visit the RIBA website.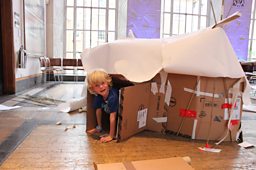 A cardboard city of dreams
Brutalism –The Hard Facts
Brutalism flourished between the 1950s and 1970s and can be seen as a reaction by a younger generation to the lightness, optimism, and frivolity of some 1930s and 1940s architecture. With the end of the Second World War in 1945, authorities had the challenge of rebuilding war-ravaged Britain on a tight budget. Brutalism was the answer.
In an interview with the Financial Times, Chief Executive of the World Monuments Fund Britain Jonathan Foyle said Brutalism can be seen as a very positive movement with the main goal of functionality. "Brutalism must be taken in context; after the war, a lot of housing was needed in a hurry, it was designed with the best of intentions.. It's a very optimistic style," he said.
"The purpose of the building and what happens inside is the important part – the outside is merely the envelope that wraps it up."
The term 'brutalist' comes from the French, béton brut, or raw concrete, rather than from the word brutal as you might think. Although concrete was one of the main materials used in the movement, other hard martials were also utilised including steel, glass and brick.
The Brutalist approach was all about showing off the materials from which the building was constructed, with sharp angles, rough surfacing and exposed services.
Brutalist Pioneers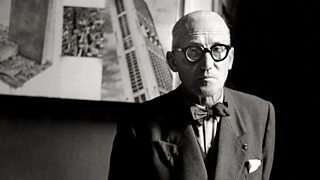 Le Corbusier
Swiss-French Le Corbusier, was constantly reinventing himself (starting with his name). He spearheaded high-stakes projects around the world, and focused on how architecture could raise the quality of life of poor people who lived in slums.
Ernö Goldfinger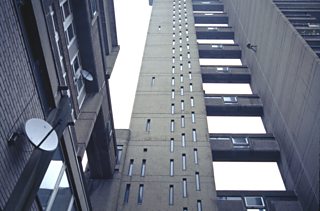 Hungarian-born architect Ernö Goldfinger studied archetecture in Paris before moving to London in 1934. He won praise for austere, yet sensitive projects and even today his famous Trellick Tower is an icon of the West London skyline.
Sir Basil Spence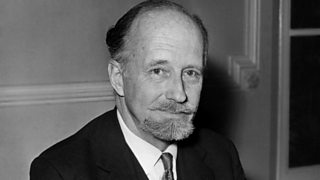 The Scottish architect who designed the Beehive building in New Zealand capital, was one of Britain's most celebrated Modern architects of the post war era. His work was categorised as Brutalist when he shifted to making social housing in the late 1950s.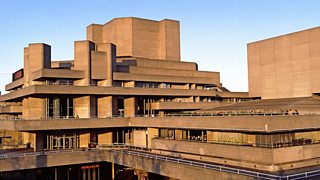 Sir Denys Lasdun

Sir Denys Lasdun was an English architect behind many of London's most iconic brutalist buildings including the Royal National Theatre on Southbank. He used rough textures in his concrete forms, in particular wood 'shuttering' casting the concrete in situ so that the finish takes on the wood's grain.
Peter and Alison Smithson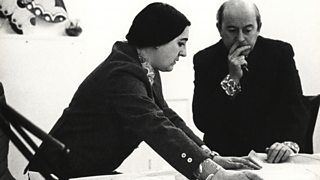 This highly influential English husband and wife architectural partnership pioneered New Brutalism. They were behind the controversial Hunstanton Secondary Modern School in Norfolk which was completed in 1954 when the couple were still in their twenties.