Main content
The Jane Austen superfan
Jane Austen died 200 years ago but the author is a literary icon for modern day superfans for whom she provides words of wisdom and comfort.
For Sophie Andrews her love of Austen is about escapism, a passion for Regency costumes and a love of Jane's literary wit and wisdom.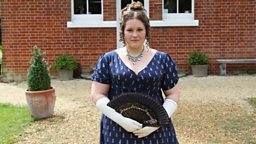 Bonkers about bonnets
Sophie Andrews from Reading discovered a passion for Jane Austen when she was nine-years-old after watching the 2005 film version of Pride and Prejudice.
She was a little too young to fully understand the nuances of the language but, as Sophie grew up, she fell completely in love with Austen.
Sophie became a true Jane Austen fan six years later after studying the novel for her English GCSE when she became enthralled by its clever, witty, and enjoyable plot.
From that point on, she was completely hooked and went on to read Sense and Sensibility, Emma, Persuasion, Northanger Abbey and Mansfield Park. She also sought out the many TV programmes and films with Austen connections.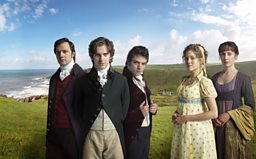 Sense and Sensibility - TV adaptation
After discovering the Jane Austen online community, she was encouraged by her new friends to begin her blog, Laughing With Lizzie, which now has thousands of followers.
From that point on, there was no going back and her passion for Jane Austen has grown and grown.
Because of her personal journey with Jane over the past six years, Sophie has come to regard Jane as her friend.
Colin Firth as Mr Darcy in Pride and Prejudice
Personal connection
Jane Austen has also been a significant help in Sophie's life - she feels that she has a strong personal connection with the author.
Sophie founded the Jane Austen Pineapple Appreciation Society and attends Regency Balls most weekends.
"Attending balls is one of my favourite pursuits. It can make you feel as if you are in one of her novels for an evening!
"When reading Jane's letters to her sister or to friends and family members, you really feel as though you are getting to know her personally, as if she is talking to you. It is so easy to become immersed in her world."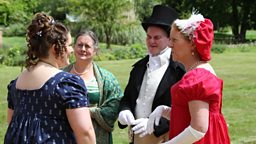 Sophie Andrews greets guests at the Jane Austen ball
Through a shared love of Austen, she has also made many friends all over the world, from France, USA and Australia to Korea and even Syria.
"It is hard to explain," says Sophie. "But it really feels as if she is there with me, attending the balls, listening to the talks, enjoying a picnic with my friends - and I think all Janeites feel the same.
"Jane is such a powerful presence for us all, and we can never forget how much we all owe her, nor that we are all attending these events because of her. I think that is why we think of her as our friend, part of both our local and our global friendship circles."
Jane Austen has helped Sophie to deal with her own personal issues:
"Not long after I had found Jane - or Jane found me - I went through a very difficult and emotional time: a serious illness in my family, and a very tough time at school. Eventually, my own health suffered. Jane was my saviour during this time; reading her novels was an escape from the real world.
"The world Jane paints in her novels is an ordinary but happy one, with happy endings too. She says herself, 'let other pens dwell on guilt and misery'.
"I love to dive into her world, and be surrounded by her wonderful, often amusing characters and her straight-forward but elegant world, and forget real life for a few hours.
"Jane has been a very good distraction for me, and from my health problems, and I can't imagine my life without Jane now, nor would I want to.
"My emotional and personal journey with Jane is not unusual. Many people I have met and spoken to have had a similar experience with Jane, her novels being an escape for them too and helping them through difficult times in their lives.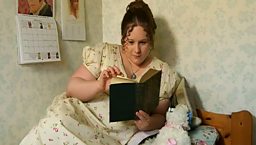 Sophie Andrews reading Jane Austen
"I believe the humour and happiness of her novels draws people in. It is an escape to an ordered society, a very 'British' lifestyle.
"Of course, Jane Austen had a big revival during the First World War, when troops were reading her novels in the trenches, reminding them of the country and way of life they were fighting for.
"I think this is why people have found solace with Jane and continue to come to her novels to escape."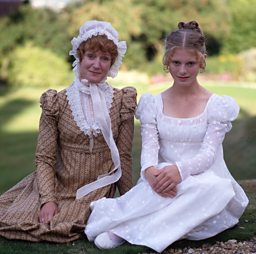 Becoming a superfan
Superfan Sophie has read Jane Austen's books many times – she has read Pride and Prejudice 14 times.
Sophie keeps an extensive Austen library with different editions of the novels, a collection of memorabilia and a Regency wardrobe. She has more than 100 different editions of Pride and Prejudice alone.
Sophie believes that Jane Austen is more relevant today than ever.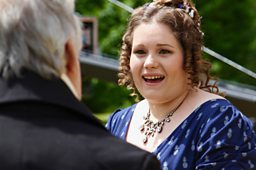 Sophie loves a Regency ball
"The themes and some of the issues which the stories revolve around are still relevant - problems with money, family relationships and for many, the hope of finding love. These have been the main concerns of ordinary people throughout time and are likely to continue to be so.
"Jane herself feels relevant as a person; she was very modern for her time and is considered an early feminist, feminism still being an important message today.
"Her heroines were mostly strong women, who knew their own mind and did not always conform to the expected behaviours of the day."
'My Friend Jane' follows Sophie as she arranges her first Austen Ball in the historic Regency property of Rownhams House in Southampton.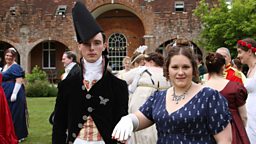 Sophie with fellow Jane Austen fan Zack Pinsent
"I am very much looking forward to the ball, which will be my first in the role of hostess. The location is perfect, so many of my friends will be there, and I think it will be a very enjoyable occasion.
"We have a talented group of live musicians and the dances that have been chosen are from the time Jane was alive, ones we believe she danced herself.
"I personally don't like to focus on her death, but more on a celebration of her life and how her legacy still lives on 200 years later."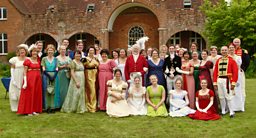 Sophie Andrews pictured with fellow Janeites