Main content
Antiques Roadshow is coming to Cromer Pier on Thursday 24 May
What story will you bring?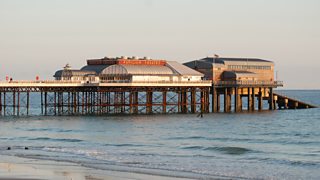 BBC One's Antiques Roadshow will be celebrating the Great British seaside as it heads to Cromer Pier in Norfolk on Thursday 24 May
It time to dust off your family heirlooms and dig out those car boot bargains for a great day out. Many of Britain's leading antiques and fine arts specialists will be on hand to offer free advice and valuations to visitors.
Doors open at 9.30am and close at 5.00pm. Entry to the show is free, everyone is welcome, and no tickets or pre-registration is required. For parking arrangements please check our website.
Visitors are welcome to just turn up on the day but they can also share their stories about the special items they are bringing along using Share Your Story on the Antiques Roadshow website. Visitors are also asked to use Share Your Story to tell us about any large/heavy objects as we are unable to offer assistance on the day with these items.
Alternatively, email: antiques.roadshow@ bbc.co.uk or write to Antiques Roadshow, BBC, Whiteladies Road, Bristol BS8 2LR.
How to get to Cromer Pier
Public transport:
Bus
X44 / x40 From Sheringham – Cadogan Road, Cromer
X44 / x40 From Norwich – Cadogan Road, Cromer
Train
18 mins on train North Walsham – Cromer
48 mins on train from Norwich – Cromer Station
CH4 / CH5 Coast Hoppers from Holt
Cromer Pier is 0.5 miles from Cromer Rail Station
Parking:
Public Parking is Runton Road car park
61-63 Runton Rd, Cromer NR27 9AU
Shuttle bus:
There will be a free shuttle bus to the esplanade from the car park with disabled access, which should also be used by those with large/heavy items, as there is NO DROP OFF POINT
Parking is charged at £5 per day
Disabled parking:
There are a number of disabled parking bays at Runton Road car park. The shuttle bus to the esplanade has disabled access.
If you require help from the esplanade to the event please inform a steward at Runton Road car park, who will radio ahead and try to ensure a buggy is waiting for you at the drop-off.
If you require help during the event please inform a steward who will be able to assist.
Essential information:
This is a public location so dogs are permitted
There will be a road closure on New Street and Jetty Street.
In the event of adverse weather, the event will partially be relocated to Evington Lawns, Prince of Wales Road/Runton Road close to park and ride drop off.
The locations for Antiques Roadshows in 2018