Main content
The Couch to 5K Challenge - #MakeYourMove
Couch to 5k is back with a new trainer, Laura....but in a new home! Click here for the new and updated page. We'd also love it if you'd join our Facebook community group where you can share your progress stories and get advice on progressing through the weeks with other members.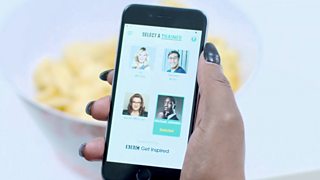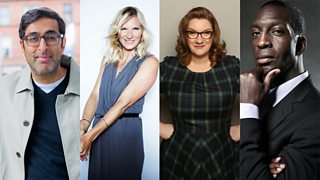 Think you can't run? Surprise yourself.
Just because you don't run doesn't mean you can't. If you can walk for half an hour, chances are that you can pick up the pace and give running or jogging a try.
BBC Get Inspired has teamed up with Public Health England's One You campaign to bring you the Couch to 5K programme. It has been especially designed for people who have done little or no running.
In this 9 week plan, you will work on your running 3 times a week. By the final week you will be running for half an hour, or approximately 5K.
And you won't be on your own - choose your trainer from some familiar faces. Radio DJ, Jo Whiley; comedian and actor, Sanjeev Kohli; 13 time Olympic and World Championship gold medallist, Michael Johnson and comedian Sarah Millican will talk you through your run and support you every step of the way.
This challenge builds in time and effort, so you'll constantly be impressed with what you can do if you push yourself a little.
The challenge in a nutshell
| Your | Why |
| --- | --- |
| Aim | To run 3 times a week for at least 30 minutes (approx. 5K). |
| Benefits | Running at any speed will get your heart pumping. Running regularly, or 3 times a week, will increase your fitness so you don't feel so out of breath. Plus it's great for boosting your mood and feeling energised. |
| Goal | The programme is 9 weeks long but take as long as you need. It is fine to repeat weeks, but try not to skip any weeks. You don't want to do too much too soon or else you'll get burned out. As long as you keep on moving you'll find the more you can do the more you'll want to keep it up. |
| Next steps | The Couch to 5K plan is great way to start running. Once you are running regularly the key is to keep running 3 times a week. Read the Get Inspired guide (below) for ideas on how to keep it up – whether you want to register for a race or get more social, there are loads of ways to impress yourself now that you are a runner! |
Don't forget
Enjoy the new you that you've become.

Jo Whiley
Track your results - motivation looks different for everyone, but nothing helps you to see progress like looking back at how much you have achieved.
If you would like to keep a manual diary, print this C25K tracking sheet and keep notes.
Need more convincing?
Imagine the finish line in the distance.

Michael Johnson
Starting the Couch to 5K plan not only means that you are helping yourself, it also puts you in a club of millions. There are people all over the UK who are completing or have completed the programme.
The simplest, purest form of exercise there is, and the building block for most other sports.