Main content
The football team, formed in the shadow of famine, that fought xenophobia and raised money for impoverished immigrants
The potato famine of the mid-1800s brought about great hardship for the people of Ireland. From a population of 8 million, 1 million died from effects of starvation and a further 1 million emigrated in search of a better life.
An estimated 13,000 Irish families settled in the Cowgate area of Edinburgh. Their arrival led to the creation of one Scotland's oldest football teams: Hibernian Football Club. The club – known to football fans as Hibs – had charity at the very heart of its creation.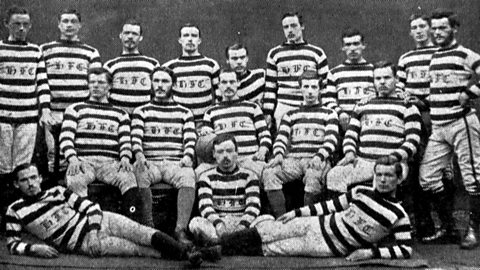 Rev Richard Coles learns how one of Scotland's oldest clubs was started by Irish migrants.
Fighting anti-Irish sentiment
In 1875, local priest Canon Hannon set up Hibs to alleviate boredom among the highly-condensed population of young Irish men.
Hibs initially found it difficult to get a game against other Scottish teams due to anti-Irish sentiment. They also found it difficult to register with the Scottish Football Association (SFA); they were refused each time they applied.
The persistence of Canon Hannon eventually paid off, however. On Christmas Day 1875, local soon-to-be-rivals Heart of Midlothian agreed to play a game against Hibs — a move which eventually led to Hibernian Football Club's admission to the SFA.
Canon Hannon's charitable gesture in starting up Hibs raised a lot of money for the impoverished Irish community in Edinburgh.
This early example of a football club both raising money for charity and providing outreach to immigrant communities is something that persists to this day.
Another charitable football team
Danish side FC Nordsjælland became the first club to donate 1% of their match day revenues to charity.
Latest features from BBC Scotland
The classic 15-round battle between two Scottish boxing legends.

Aneela McKenna wants more people from ethnic minorities to get on a bike.

A life coach explains why being in nature can help us feel calmer.

Environmental activist Laura Young shares her tips.

Celebrate the Scots who have gone above and beyond during the pandemic.

A letting agent cautions against rash decision making.

Melanie Nazareth believes this is a crucial moment for the world.

Can hypnosis cure people with chronic conditions?

Former submariners reveal the realities of underwater confinement.

Yasmine Chaudhry was violently assaulted in the wake of the terrorist attack.

The birds change their behaviour as summer draws to a close.