Main content
Nailing it! One girl's creativity is at her fingertips
Expressing your creativity and individuality can be a challenge day to day, particularly if you're in a job that you're not finding inspiring.
For Kate Simner, working as a contracts administrator, a creative outlet was literally at her fingertips. "I was finding the work very repetitive, it was one of those jobs where you do the same thing every day", she says, "and when I had to wear business dress every day it really helped to have this ridiculous manicure looking up at me from my keyboard".

Kate's sister helped to kick-start her love of crazy nails when she gave Kate a kit for Christmas. At first, Kate drew inspiration from the hundreds of others sharing their nail art on Instagram and Tumblr via nail art hashtags, and taught herself more advanced techniques by following tutorials on YouTube – such as marbling, using water with several different colours of polish to create a random pattern, or ombré - a technique to fade colours into each other using a sponge.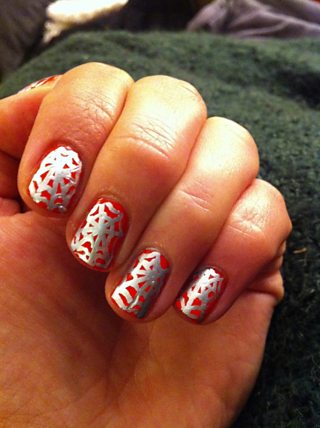 Kate's Halloween-themed spider web nails
It's a small way of bringing art into your world…a way of being creative that's accessible to everyone
Now that Kate has more experience, she experiments and tries out whatever comes into her head. Inspiration could come from fruit, famous art, a new type of polish or pen, or from special occasions. Kate comes up with a different rainbow-themed creation every year for the Brighton Pride festival to show her support. And she always creates themed Halloween nails, which this year will compliment her handmade Miss Havisham wedding dress costume. Along the way there have been hits and misses – Kate wouldn't recommend repeating the mistake she made one year at Halloween where she used silver marker pen to create spiders' webs: while the effect looked amazing, she then spent weeks trying to scrub it off.
And her creative skills don't stop at amazing nails: Kate also makes crochet 'Amigurumi' animals to give to friends and family – something she also taught herself to do after being given a kit as a Christmas present by her sister. Kate hadn't tried crochet before, and wasn't very good at knitting, but took to Amigirumi immediately, describing it as "quite quick and quite immediately satisfying – you can crochet a cute little animal in just a couple of evenings while also watching TV".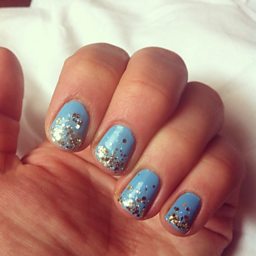 Glitter nails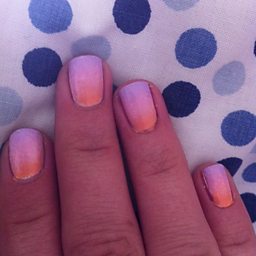 The ombre effect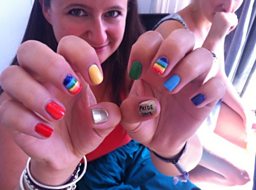 Kate and her Brighton Pride nails
Now working as an education assistant, and in a more creative environment, Kate doesn't necessarily consider her nail creations an art form but says "it's definitely something for you if you're arty or creative or want to do something artistic - it's an unintimidating way of doing that. For a lot of people, the idea of sitting down with a sketchbook and deciding you're going to draw can be quite intimidating – but this isn't".
She's able to show off her nails and impress the young people she works with on her blog Fresh Paint Job.
"It's a small way of bringing art into your world…a way of being creative that's accessible to everyone. Adults suppress it because they think they're not very good – but if it goes wrong, you can always just get rid of it and start again – which I do all the time!" she says.
To get you going, Kate has shared a tutorial for newsprint nails:
You will need: Base coat, top coat and nail polish – pale is best. Also an emery board, nail varnish remover, a bottle of gin, and a newspaper.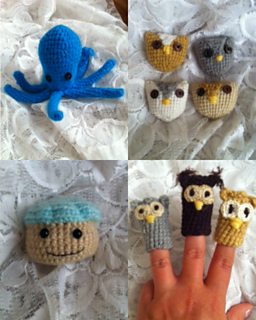 Kate's Amigurumi
Meet the world-record holding crafters making a crochet Christmas project

One of a handful of aspiring artists whose painting was chosen for the Royal Academy's Summer Exhibition

A retired designer who painted a Canaletto-style painting, replacing the buildings with those of his home town

A jewellery designer who discovered a love for digital printing and uses it as a way to relax and to cure jet-lag

A dedicated mum and knitter who makes retro tank tops for her rugby- mad son and his friends to add a splash of style to the stands

A stitcher who joined a sewing group to meet like-minded people. She's made tea cosies and draught excluders as gifts and hopes to move to dressmaking

A stroke survivor who has used painting, music and writing to rehabilitate. He shared his first self-portrait using his affected hand with Get Creative

A keen cross stitcher and crafter who uses it as a way to relax and wind down after a day content producing for Get Creative