Main content
Alex
Twenty-year-old Alex from Misbourne Valley was selected for the challenge following his involvement with Owl Camp, a project funded by BBC Children in Need.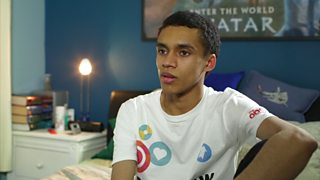 Alex suffers from a rare skin condition called Xeroderma Pigmentosum (XP) meaning his skin is hypersensitive to UV light and unable to undo the damage it does to his skin. Just minutes of exposure can lead to a serious risk of skin cancer, even on an overcast day. To go outside in daylight Alex must wear protective clothing covering any exposed skin, including a custom-made visor which he'll use on the rickshaw.
Since the age of six Alex has been going to Owl Patrol, a project founded by his mother and funded by money raised from BBC Children in Need. The camp is for young people across the UK who have XP and their siblings, providing both daytime and night-time activities to help young people feel less isolated and develop friendships with those in a similar position.
Speaking of the challenge, Alex said: "Because of XP I've only recently learned how to ride a bike, but I've picked it up quickly and am confident that I'll be able to tackle the rickshaw. It's great to know that what I'm doing will help benefit the lives of young people across the UK. Pudsey's done a lot for me, and now it's time to give something back."