Main content
BBC Proms in Binaural Sound
If quality of sound is important to you when listening to classical music, you may be interested in this experiment we've been doing at the Proms. Enhance your headphone listening experience with the immersive audio clips at the bottom of the page, and read more about the trial below.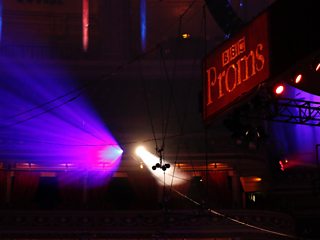 The 3D microphone array used to produce binaural sound from the Royal Albert Hall.
BBC Research & Development has rigged an additional microphone array at the Royal Albert Hall this season and is using it to record three-dimensional sound. Using new audio processing and production techniques the research team has combined this new mic array with the existing complement of Radio 3 microphones to create binaural mixes of some wonderful Proms performances.
The shape of the human head, shoulders and ears informs how we perceive sound and binaural processing emulates that effect to create a 3D audio sensation for headphone listeners. The effects vary between listeners but we hope you'll get a sense of height and width in the music, with the Royal Albert Hall acoustic surrounding you. You might even hear the sounds as though they are outside your head, much like actually being at the Proms.
Read more about the binaural mixing process here and more about BBC R&D's work on binaural broadcasting here.
How to listen
A selection of binaural mixes from the Proms is available following the links below. Use your normal headphones or in-ear buds, but make sure you wear them correctly for the binaural effect to work properly - with the left earphone on your left ear and the right earphone on your right ear.
The Binaural Proms Collection