Main content
Orson Welles' Voodoo Macbeth: A forgotten diversity landmark
22 March 2018
Macbeth is back in the spotlight, with new productions in the National Theatre, featuring Anne-Marie Duff, and the Royal Shakespeare Company, starring Christopher Eccleston. Here we look back at a landmark staging of the Bard's work: Orson Welles' all-black 1936 production.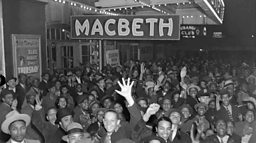 The opening night of Orson Welles' Macbeth at the Lafayette Theatre in Harlem, 14 April 1936 | WPA Federal Theatre Photos
Before Orson Welles made the film often hailed as the best of all time, 1941's Citizen Kane, he was responsible for one of the most significant moments in theatre's history. His 'Voodoo' Macbeth, as it became known, launched Welles' career and marked a crucial moment in theatrical diversity.
The 150-strong cast were all black and the majority had little previous acting experience
Produced out of the Lafayette Theatre in New York's Harlem, Welles' Macbeth transported the action from Scotland to an island that resembled Haiti, because he felt that would be more appealing to the Harlem audience. The Highlands were replaced by the jungle and the witches became voodoo priestesses, joined by real life witch doctors from Africa's Gold Coast.
Welles reportedly requisitioned 12 black goats for the witch doctors to sacrifice in order to turn their skins into 'devil drums'. In keeping with Macbeth lore, the witch doctors warned that touching these drums would lead to a curse being bestowed, and stories - possibly apocryphal - began to circulate of a stage hand who fell to his death after defying this.
In 1955 Welles told the BBC about another example of the witch doctor curse in his Sketchbook series. This time it was an unfavourable critic, Percy Hammond of the Herald Tribune, who died shortly after one of the cast offered to "make beri-beri on this bad man".
The 150-strong cast were all black and the majority had little previous acting experience. The production was part of a government programme called the Federal Theatre Project which was aimed at boosting employment and opportunities during the depression. It gave black actors the opportunity to play 'real' acting roles rather than crude racial stereotypes.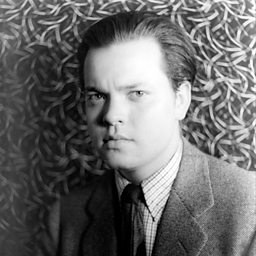 Orson Welles in 1937 | Photo: Carl Van Vechten/Alamy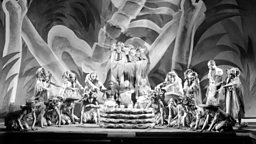 Voodoo priests on stage in Welles' Macbeth | WPA Federal Theatre Photos
However, Welles faced protests from within the black community who felt that he was making a mockery of his cast, whilst Shakespeare purists felt that it mocked threatre's traditions. Ultimately both were proved wrong and Welles' production was a resounding success with both black and white audiences.
By all odds my great success in my life was that play.

Orson Welles
Welles told the BBC in 1982 that: "By all odds my great success in my life was that play, because the opening night there were five blocks in which all traffic was stopped. You couldn't get near the theatre in Harlem.
"Everybody who was anybody in the black or white world was there. And when the play ended there were so many curtain calls that finally they left the curtain open, and the audience came up on the stage to congratulate the actors. And that was magical."
Welles achieved something that Hollywood is still striving for today, at a time when segregation in the theatre was still the norm and America was still under the grip of the Jim Crow laws segregating those of colour.
After an audience of 10,000 flocked to Macbeth on its opening night on 14 April 1936, Welles' production completed a 10-week run at the theatre and then toured America to sold-out, racially mixed audiences.
This moment in history may have been overshadowed by the success of its director, who was just 20 years old at the time, but the production deserves to be celebrated as one of the most historically important stagings of Shakespeare's masterpiece.
More on Orson Welles
Things you might not know about Welles' first and classic film.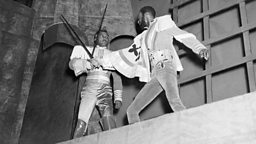 Macbeth (Maurice Ellis) and Macduff (Charles Collins) from the Broadway run | WPA Federal Theatre Photos
Arts highlights on BBC iPlayer
Exploring the work of the first black female film director to direct a $100-million film

Highlighting the work of artists with disabilities to mark the signing of the Disabilities Discrimination Act

The Oscar-nominated actress gives a singing masterclass