Main content
'What is a human being?' Sculptor Antony Gormley figures it out
30 September 2016
From the Angel of the North to his cast iron figures gazing out to sea near Liverpool, Antony Gormley has a lifelong obsession with the human form and its many representations. In his latest work, Fit, the sculptor has transformed the South Galleries of White Cube Bermondsey into a labyrinth of 15 chambers in order to explore how we measure ourselves against the scale of our built environment. WILLIAM COOK talked to the prolific Gormley about his desire to reflect humanity in his artwork as he prepared to open the exhibition.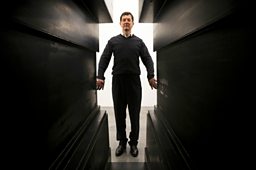 Antony Gormley with one of his works titled 'Passage', part if his Fit exhibit, at White Cube, Bermondsey I Photo: JOEL FORD/AFP/Getty Images
Here at White Cube in Bermondsey, Sir Antony Gormley RA is busy installing his latest one man show. Crates of artworks are stacked along the corridors. Men in forklift trucks are shunting heavy sculptures to and fro.
It's a perfect forum for an exhibition by Britain's greatest living sculptor. His artworks make you reassess the space around you, and White Cube Bermondsey is one of Britain's most exciting exhibition spaces: Europe's biggest (and coolest) commercial gallery, in a Dickensian enclave of South East London.
The works aren't celebratory statues of the great and the good – they're simply saying. Here is a human presence.

Antony Gormley
Antony Gormley is most famous for his monumental human figures, most notably the Angel of the North, in North East England, near Gateshead. At first glance, the pieces in this show seem more abstract, more geometric - but if you take time to look at them, their humanity emerges.
The highlight of the show is Sleeping Field – 580 huddled figures, recalling the rough sleepers he saw on the streets of Calcutta when he was a young man, and all the displaced people around the world who've hit the headlines in recent years.
Amid the bustle of this instillation, I sat down with him for half an hour to ask him about making sculpture. This is some of what he had to say.
'The works aren't celebratory statues of the great and the good – they're simply saying, "Here is a human presence. What is a human being, and where do we fit in the scheme of things? Where do we fit within nature?"'
Gormley is talking about Another Place, his artwork on Crosby beach near Liverpool, which consists of a group of figures staring out to sea. However he could be talking about any of his other artworks.
They all ask the questions Gaugin asked: Where do we come from? What are we? Where are we going? 'Another Place was my meditation on immigration,' he explains. 'I see the migration crisis – and indeed the increased mobility of all human beings, whether they are refugees or tourists – as a premonition of the necessary changes that will happen when half the world is too hot to dwell in.'
As you can probably tell from all of this, he's a philosophical sort of fellow. 'Gormley talks like a well-read professor,' wrote Nadja Sayej in the Guardian. 'Just like sitting in a university lecture, one feels like falling asleep while interviewing him.' I couldn't agree less. Sure, he loses me a few times, and he uses some long words I don't understand, but it's actually rather refreshing to meet an artist who's so keen to grapple with life's big questions.
Sculpture is the most elemental, the most eternal of all the art forms. If a sculptor can't engage in some harmless philosophising, I mean to say, who can?
Antony Gormley was born in 1950, the youngest of seven children. His father was Irish, his mother was German. They were devout Catholics. They sent him away to Ampleforth, the so-called 'Catholic Eton,' a boarding school run by Benedictine Monks. His work isn't overtly religious, but it is intensely spiritual. Catholicism gave him a grounding in the importance of the human figure. His work shares the same reverence for the human form.
He also shares the Christian vision that every individual is unique and precious – Christlike, if you like. 'What is our connection and what is our responsibility to the displaced? It's an extraordinary time when people go to the Mediterranean to sunbathe on golden beaches, while in the same sea thousands upon thousands of migrants from Africa and the Middle East are dying.'
Gormley went to Cambridge University to read Archaeology, Anthropology & Art History, but then his life took a different turn. He went to India for three years to learn about Buddhism and meditation.
How India helped shape Gormley's perspective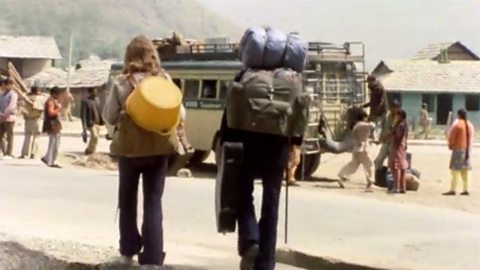 Gormley discusses the importance of his Indian experience and making sense of his life.
When he returned home he studied at three of Britain's best art schools: St Martin's, Goldsmiths and the Slade, where he met his wife, the artist Vicken Parsons. They have three children.
'For me, art is a sounding board. It is a mirror in which we can hopefully see our natures, and I think that's what it's always been.'
His first major work, Bed, was made of 8000 slices of Mother's Pride, but it was Field, his immense crowd of clay figures (35,000 of them) which caused the biggest sensation. In 1994, he won the Turner Prize. Since then his career has prospered. His timeless forms punctuate the British landscape, and countless landmarks around the world.
'For me, art is a sounding board. It is a mirror in which we can hopefully see our natures, and I think that's what it's always been.' He admires Rodin, but he feels closer to Stonehenge and Easter Island than Baroque sculptors like Bernini.
As he says, you're never going to get better art than the Chauvet Cave Paintings of 30,000 years ago. 'Those first grapplings with being in the world, in the company of other bodies in space, other animals – they're such a profound meditation on our nature, in nature, and they still are, for me, the finest expression of what art can do, in terms of linking imagination and reality.'
It's time to go. 'I'm not so bothered about where I fit in the great scheme of things,' he says. 'For me, all of the work has got nothing to do with statues – it's just saying, as a standing stone would say, here is a marker in space and time against which you can measure your own mortality. And I guess that's the job that sculpture has always done.'
Fit by Antony Gormley runs at White Cube, Bermondsey, until 6 November 2016.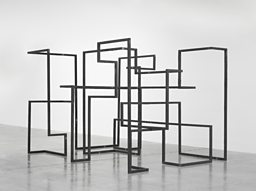 RUN (2016) by Antony Gormley I © Antony Gormley, photo © White Cube, Ben Westoby
What Do Artists Do All Day?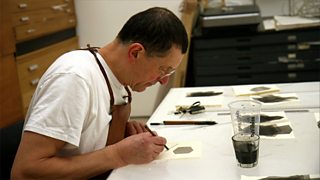 From BBC Four's What Do Artists Do All Day? Antony Gormley talks about finding silence and solace his studio.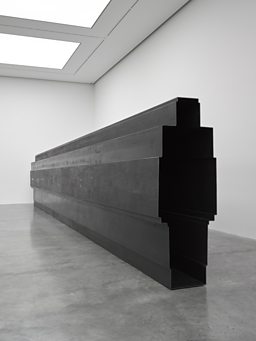 PASSAGE (2016) by Antony Gormley I © Antony Gormley, photo © White Cube Ben Westoby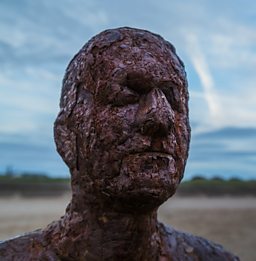 Head and shoulders of an Iron Man at Another Place on Crosby beach near Liverpool. © Getty Images
More on the BBC
BBC Four's Focus on Sculpture season explored the work of a series of influential British sculptors.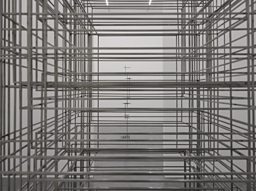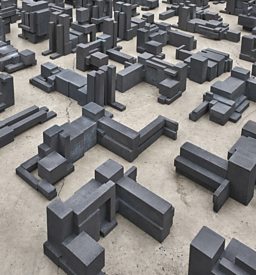 Sleeping Field (2016) by Antony Gormley I © the artist, photograph © Stephen White, London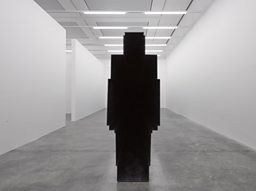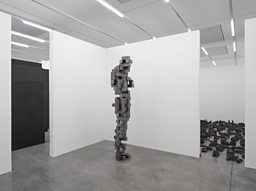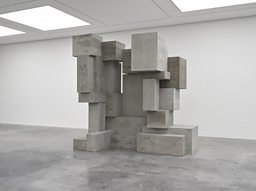 BLOCK, 2016 I © Antony Gormley, photo © White Cube Ben Westoby