Main content
6 Surprising Stories from the Home Front in World War One
Since 2014 the audio drama Home Front, which was commissioned by BBC Radio 4 to mark centenaries of World War One (WWI), has been highlighting events and ways of life in Britain through WWI many of which have been forgotten to popular history.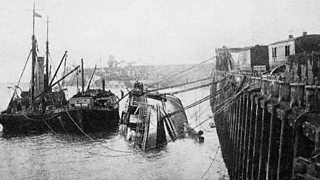 A troopship in flames
The opening episode of the drama's final season brings to life the dramatic events of 24 September 1918 on the Kent coast of which very little record exists. While docked at Folkestone Harbour and awaiting soldiers to embark, a British Army troopship called HMT Onward unexpectedly went up in flames. The fire was so fierce the ship had to be scuttled. For weeks afterwards it lay on its side in the harbour until a complex salvage operation could take place to right the damaged ship.
There is very little record of these dramatic sights and they went entirely unreported by newspapers at the time due to wartime censorship. One account exists in a book published after the end of the war by Dr Carlile, a local Baptist minister, which details how the fire is thought to have started.
Professor Maggie Andrews, consultant historian for Home Front said, "There are so many aspects of life on the home front during the First World War that we know very little about." She explained that government restriction or newspapers' own self-censorship would have prevented an event like the scuttling of HMT Onward from appearing in the press.
Here are more surprising histories of life in Britain during WWI chosen by members of the Home Front team who discovered them through making the drama.
Jiu-Jitsu-trained Policewomen
Chosen by Ciaran Bermingham, producer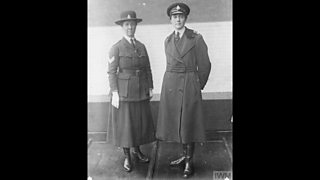 Before WWI, women's rights campaigners had been calling for there to be female police officers. But only once the war had brought on a moral panic over the behaviour of women did the first policewomen appear. Alongside expected training such as first aid and police court procedure, policewomen were also taught the martial art of jiu-jitsu.
A number of these pioneering policewomen would have already known this method of self-defence from their time as militant suffragettes. As their campaign for votes for women grew more extreme they used jiu-jitsu to defend themselves against the police and others who tried to disrupt their activities. With the outbreak of WWI, suffragettes suspended their campaign and some women went from fighting the law to enforcing it. That said, they were not allowed to make arrests.
Traumatised soldiers re-enacting battle
Chosen by Sebastian Baczkiewicz, writer
In 1918 soldiers were filmed pretending to "go over the top" and into no man's land on Dartmoor. Titled The Battle of Seale Hayne, it is thought to have been inspired by the 1916 film The Battle of the Somme which was captured by two cameramen embedded with the British Army. But story of the Seale Hayne film has an additional element: everyone in the film is a convalescing soldier who is recovering from being traumatised by war.
The sequence was the idea of the maverick Dr Arthur Hurst who was in charge of Seale Hayne Military Hospital near Newton Abbot in Devon. Hurst attracted controversy when he reported that he and his team were achieving rapid cures with their patients while many other doctors were having little success with their shell shock treatments. The Battle of Seale Hayne is further evidence of Hurst's unconventional approach and pioneering spirit.
Who was Arthur Hurst?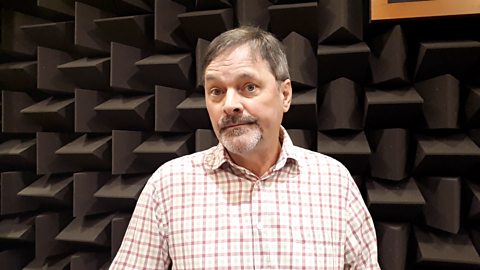 Actor Mark Heap discusses his role in Home Front; the pioneering doctor, Arthur Hurst.
Elsie Knocker
Chosen by Sarah Daniels, writer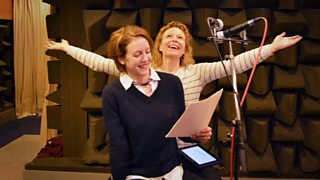 You couldn't make up a better name for a fictional female character that broke the mould but Elsie is a real person. In fact, she was a celebrity during WWI for her ambulance driving and nursing on the front lines in Belgium. Alongside her friend Mairi Chisholm, Knocker was granted an initial 24 hours by the Belgian Government to pick up wounded at the Front which was extended to 20 months.
Through sheer bloody-mindedness Knocker and Chisholm set up the first nursing station at the Front. In 1916, this strategy was adopted by military medical services with the introduction of clearing stations. Knocker and Chisholm were the only women to work at the Front and became the most photographed women of the war. A statue of them was unveiled in Belgium in 2014.
Thousands of Chinese labourers
Chosen by Shaun McKenna, writer
After initially being a neutral country in WWI, China supported the Allies by providing labourers which freed up troops for front line duty. Overall, about 100,000 workers were recruited by the UK, 35,000 by France and 50,000 by Russia. Enrolled with the payment of 15 Chinese dollars, labourers carried out jobs behind the lines like repairing vehicles, maintaining roads and railways, and unloading ships and trains.
In April 1917 a camp for Chinese labourers opened in Folkestone in Kent. Over 94,000 Chinese passed through the town on their way to France while a steady number of 2000 remained there, working at military hospitals and at Shorncliffe Camp. The labourers were kept very separate from the rest of the town and the vast majority of them returned to China after the war ended. The only evidence that they were ever in Folkestone is the six graves in Shorncliffe Military Cemetery.
'More dangerous than firing a gun'
Chosen by Hannah Ratcliffe, assistant producer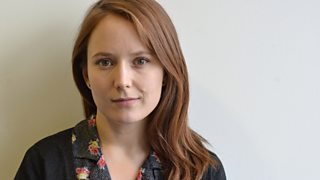 During WWI around 1m women staffed munitions factories and it was dangerous work. With huge amounts of explosive materials on site, the risk of a catastrophic accident was high. Hundreds of people, the majority of which were women, were killed in disasters at munitions factories in Britain.
Speaking to the BBC about a munitions factory in Essex, community historian Jonathan Catton said working in the most dangerous parts of the factory "was probably more dangerous than firing a gun, in a sense."
It is very hard to arrive at the total number of women who died due their time making munitions. Factory explosions went under-reported or not reported at all, plus hazardous working conditions, which included heavy-machinery and poisonous chemicals, caused serious accidents at work and long-term health problems.
Home Front's fifteenth and final season launches on 24 September 2018 on BBC Radio 4 and as a podcast. All of Home Front's episodes are available for 10 years and can be found here.