Main content
Steel-plated survivor: How Hyeonseo Lee escaped the horrors of North Korea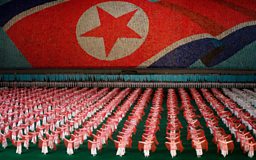 North Korea's The Mass Games - one of the world's largest choreographed events (Jonas Gratzer/LightRocket via Getty Images)
First-hand accounts of perilous defections from brutal dictatorships aren't supposed to be funny. But Hyeonseo Lee's pioneering memoir The Girl With Seven Names contains great humour alongside its shocking evocation of the North Korean regime's surveillance, torture, privation and propaganda.
Lee describes her shrewd mother making extra money smuggling goods from China, including crystal meth, which she recommends as being "great for [spotty] skin. Mix it with water, wash your face with it and it'll clear up in no time."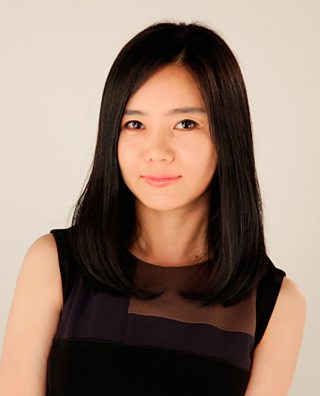 I thought there was a loyalty to the government. In fact, it's fear

Hyeonseo Lee
Lee chronicles life under Kim Il-Sung, Kim Jong-Il and Kim Jong-Un: marching to school in formation; resorting to smuggling, bribing and back-door dealing to survive; coming of age in a society where children denounce their own classmates, colleagues spy on colleagues and families inform the secret police about their neighbours' activities.
But The Girl With Seven Names is not just a chilling, occasionally wry portrait of life in North Korea. It is the first ever account of one teenager's defection from the regime in 1997, followed by years of brute survival as an illegal alien in China, evading the police and changing identity multiple times, before gaining asylum in South Korea in 2008.
A personal and political account which reads like a thriller, it prompted frenzied interest among publishers, eventually winning a six-figure deal.
Lee's achievements are all the more remarkable because her defection was not a carefully planned, politically motivated statement but the result of casual teenage inquisitiveness.
She explains, "I was growing up in Hyesan, right by the closest North Korea–China border. China was just across the river: you could see across. So I was curious. On the river, on both sides, you have houses, then mountains. I wanted to know what was on the other side of the Chinese mountains."
When Lee made her move in 1997 she had already begun suspecting that the great claims made about her country by its leader – then Kim Jong-Il – were false. During the famine of the mid-1990s she witnessed people dying in the streets and orphaned children picking through rubbish for food.
Young female soldiers read a memorial script in Pyongyang (Jonas Gratzer/LightRocket via Getty Images)
She says: "There were power cuts all the time, while I could see that China across the border had streetlights. I thought, maybe my country isn't the best in the world.
"I thought there was a loyalty to the government. In fact, it's fear. If you speak bad words about the government, in the middle of the night you and your whole family will disappear and be sent to a prison camp. There are spies even between a husband and wife. My mum taught me to be careful what I said. She said, 'Walls have ears and fears have eyes'."
The Girl With Seven Names skilfully demonstrates the mixed consequences of Lee's defection. She doesn't see her mother or brother for a decade and has nightmares every night from 1997 until 2008; her 'freedom' puts her family in danger in North Korea and condemns her to the possibility of being exploited, betrayed, interrogated by the police, cheated by corrupt officials and intimidated by gangs in China.
North Korea is still my homeland, my country. I suffered on the outside because I was alien, without identity

Hyeonseo Lee
Many of Lee's survival strategies do not work. Instead she lies and hustles, saved by luck and an ability to stay calm under pressure. To make matters even more dramatic, Lee eventually breaks her mother and brother out of North Korea too.
Yet defection has a long psychological fallout as their tightly controlled existence as a relatively well-placed family is replaced by a hardscrabble life in anonymous, hyper-commercial Seoul.
Meeting Lee in London it's hard to square the confident, charming and vivacious young woman in front of me with the "steel-plated survivor" she had to become, the identity-concealing defector riddled with "bouts of self-loathing", the driven escapee whose TED talk about her experiences has been viewed more than 4 million times but who beats herself up for "not doing better and achieving the next thing".
When I ask why she eventually settled in South Korea rather than going further away, she looks askance: "North Korea is still my homeland, my country. I suffered on the outside because I was alien, without identity. I was nobody. I was in the worst situation, fighting for everything, to survive.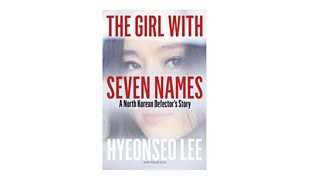 "I believe I'll see the reunification of North and South Korea in my lifetime and that defectors should play a role in rebuilding the country. In the long run, I want to return to North Korea, because that's where I belong."
The Girl With Seven Names is published by William Collins.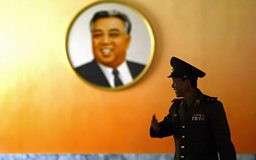 Portrait of former leader Kim Il-Sung (Peter Parks/AFP via Getty Images)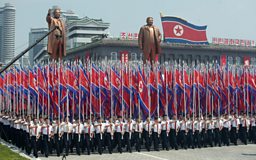 Military parade marks the 60th anniversary of the Korean war armistice (Ed Jones/AFP via Getty Images)
'The Kims rule by making everyone complicit in a brutal system'
An extract from The Girl With Seven Names:
Sympathetic people I'd met in China would sometimes express their bewilderment that the Kim dynasty had been tyrannising North Korea for almost six decades. How does that family get away with it? Just as baffling, how do their subjects go on coping?
In truth there is no dividing line between cruel leaders and oppressed citizens. The Kims rule by making everyone complicit in a brutal system, implicating all, from the highest to the lowest, blurring morals so that no-one is blameless.
A terrorised Party cadre will terrorise his subordinates, and so on down the chain; a friend will inform on a friend out of fear of punishment for not informing.
A nicely brought up boy will become a guard who kicks to death a girl caught trying to escape to China, because her songbun [perceived loyalty and honour] has sunk to the bottom of the heap and she's worthless and hostile in the eyes of the state.
Ordinary people are made persecutors, denouncers, thieves. They use the fear flowing from the top to win some advantage, or to survive.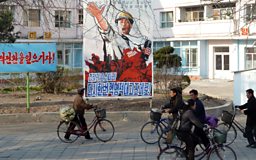 Propaganda poster on a street in Kaesong, North Hwanghae Province, close to the border with South Korea. (Stringer/AFP via Getty Images)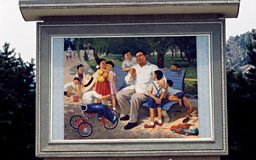 Mural in Pyongyang of Kim Il Sung (Meißner/Ullstein Bild via Getty Images)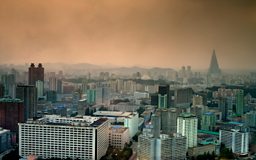 A skyline view of the capital city of North Korea, Pyongyang (Jonas Gratzer/LightRocket via Getty Images)