Main content
Nicki Chapman's 20 Fave Pop Songs
"It was so hard selecting my favourite pop songs as they seems to change from day-to-day, month-to-month, but here are some of my 'current' favourites which seem perfect for Summer..."
This has to be the ultimate pop tune, so grab your hair brush and feel free to sing along in the mirror! These five feisty ladies exploded onto the music scene, and my life, back in 1996 and introduced to us platform trainers, a sprinkling of various spices, a great dollop of 'girl power' and who can forget their ZigaZigAh....
Michael Jackson - Thriller
He was the King of Pop, so it would be a travesty if MJ was not included somewhere in my list. No other artist has contributed to music and dance in the way he did. MTV. He owned it. I was going to pick a Jackson 5 track but the impact Thriller had globally is hard to ignore. Will we ever see a talent like him again? Probably not. Brilliant album, outstanding single and the best video in history. Discuss....
Heaven 17 - Temptation
Now here's a tune that takes me back to my teenage years growing up by the coast in Kent. It always seemed to be on heavy rotation at that time, whether it was in a club, pub or on the radio. My girlfriend Krista and I sang the two lead vocals, she took the male lead whilst I attempted the high notes. A career in the music industry clearly beckoned, though mercifully in front of the mic...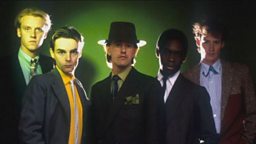 We're straying into ballad territory here, but it's still one of the greatest pop tunes in my opinion and it cemented Take That's position as one of the most successful boy bands of all time. I was with the boys when that iconic black and white video was shot at a famous film studio in the UK. My memory of those two days was freezing cold with rain. The guys didn't complain once. Unlike me.
Madonna - Holiday
We have to include the First Lady of Pop - but which track? Decisions, decisions, decisions! This one has to get my vote as Holiday was where it all began - 31 years ago can you believe?! And she's still grabbing headlines and we're still talking about her to this very day.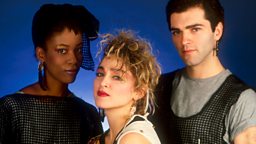 Elvis Presley vs JXL - A Little Less Conversation
What can I say, it's the King of Rock & Roll with a twist. Here's a brilliant remix of the original 1968 single which hit No 1 in at least 10 countries in 2002. I have visions of Elvis wearing his black leathers. I'll leave it there.
If ever there was an artist I would want to look like, it's her. A video I adore, it's this one. And a track I wish I'd written and sung. Don't worry, it would never happen! This is my guilty pleasure and I can hear it time and time again.
Belouis Some - Imagination
Now some of you of a 'certain age' should remember this single - it got to No 7 back in 1986. For others, well just listen to that intro...what a hook! Around the time of this release, I was working in a bar and my lasting memory of pulling pints all summer long was to this record. It was never off the pub's jukebox. Remember those?! I thought I'd include it as music and memories always go hand in hand. Plus the smell of hops...
I was first introduced to this band when I saw them perform this track in Delhi at a huge Indian Music Awards, with over 100,000 people singing along to every word. It really was quite something! Gwen is an extraordinary performer and I adore this track.
Daniel Bedingfield - If You're Not The One
Now some might argue I'm including ballads in my top poptastic playlist. And this is an uber ballad. But pop to me means 'popular', and this was an enormous hit. So it deserves to be here. My rules. Not only does DB (no, not David Beckham) have the most fantastic voice, but it's the vulnerability in his vocal that gets me every time. I saw him perform this track live at an award ceremony. Faultless. Pass the lighter....
Pharrell Williams - Happy
In decades to come, when someone is asked to name one of the most outstanding songs of the 21st century, Happy will be included in that list. It will stand the test of time. Guaranteed. I don't think I can really add any more. Except to say if it doesn't put a smile on your face and a tap of your toe, I feel sorry for you.
Well, as the sun keeps playing cat and mouse with us this summer, I decided to include my own rays of sunshine with this suggestion. It has the feel good factor and is annoyingly catchy. And to me is the perfect summer pop toon!
Dead Or Alive - You Spin Me Round (Like a Record)
If I close my eyes and think of growing up in the 1980s this track would literally be spinning round my head. Open my eyes and I see a truly eccentric and androgynous performer - with backcombed hair, wild outfits and makeup to match. No, not Madonna rocking the 80s look, but Pete Burns. Time to hit the disco.
Adamksi ft Seal - Killer
I have a real soft spot for this song and Adamski or Adam. When I joined MCA Records in the promotions department - my first job in the music industry - this was one of the first tracks I ever promoted. After limping into the charts, it's popularity just grew and grew until it became a huge acid house smash. Acid House but still under "Pop" in my vocabulary.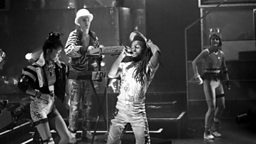 Beyoncé - Crazy In Love ft. JAY Z
Now this is one lady who knows how to strut! Strong, dynamic, talented and the ultimate performer. I was lucky enough to see Beyonce at an intimate gig at London's Shepherd's Bush Empire the day after she headlined and blew everyone away at Glastonbury. This was the first time I'd seen her and she was still on a high (her words not mine!) from that gig. I worked in the music industry for 20 years or so, and this is the artist I would have loved to have worked with. Somehow I don't think she needs my help!
Robin Thicke ft T.I. Pharrell - Blurred Lines
I'm going to side-step all the controversy around this song. I just love Blurred Lines as a single. Simple.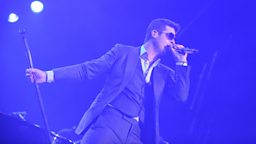 Genesis - Land of Confusion
I think Genesis was the first band I ever saw live. I remember being 17 years old and was beyond excited. This was living the dream!! My boyfriend and I drove all the way to the NEC in Birmingham to see them. This gig, miles away from where I lived, was a real education. It opened my eyes to a whole new world and changed my life. Who would have known that later on in my career, I would get to meet and work with one of my teenage heroes, Phil Collins.
Blondie - Call Me
Although they originally came out of the New York punk scene, Blondie were a fusion of pop/new wave and disco. I adore strong female singers and Debbie Harry has it all. Sexy, sassy and such a distinct style. The first woman in music that I adored, aged 11. I wanted to be and look like her. One has to aim high.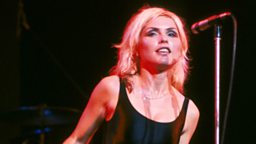 Black Box - Ride on Time
It felt like this song dominated the UK charts for months, if not years, although surprisingly, I rarely hear it now on the radio. So to correct that, I'm including it on my pop playlist as one of my ultimate classic pop tunes. This sums up the late 1980s for me. In a good way.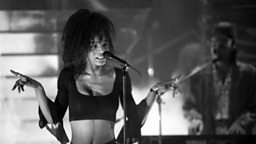 S Club 7 - Don't Stop Movin'
Mention this band and people normally smile. An S Club song brings out something that many people try to suppress. An irresistible urge to sing along, whether they have any ability or not. I was involved with this seven piece from the very beginning, so they, and their brilliant pop tunes, will always be close to my heart. And who can forget how many times an S Club 7 song has been murdered in a 'TV audition'. They might be pop tunes but that just goes to show how difficult they are to sing...