Main content
Jonathan Dimbleby's Seven Surprising Moments from Any Questions?
Jonathan Dimbleby, the current and longest-serving host of the debate show, gives us a small selection of memorable moments from over three decades in the chair.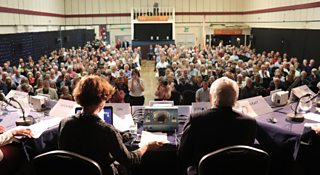 Any Questions? panellists are put to the test since they never know what they are going to be asked in advance.
1. First night nerves
My very first programme was on 5 September 1987 in Wash Common, Berkshire, with a panel that included Norman Tebbit and Roy Hattersley. As chair of the programme, I am supposed to make the panel feel at ease at the idea of going on stage. Waiting in the wings, I thought I was doing rather well until Roy Hattersley, then Deputy Leader of the Labour party, said: "Don't look so worried Jonathan, it will be all right on the night!"
2. Holding it in
Backstage nerves get to the best of us and I remember one occasion when Antonia Fraser and Enoch Powell were waiting to go on the stage. Fraser turned around and said: "I must have a pee." Powell, with that unmistakable Midlands accent retorted, rapier-like: "Antonia, there is no time and in any case I think you will find that a full bladder helps remarkably to concentrate the mind."
3. Egg-xit
In January 1991, at the height of the Gulf War, we were in Manchester with a panel which included Liberal Democrat Menzies Campbell and Cecil Parkinson, former Conservative party chairman. Parkinson was going out of his way to provoke a group of women protesters in the audience who began to throw eggs at the panel. They clearly were not members of the English cricket team – not a single one hit him – and that only provoked Parkinson to a greater show of mocking mirth!
Women protesters in the audience began to throw eggs at the panel.
4. Behind bars
Any Questions? visits all sorts of venues – aircraft hangers, hospitals, schools, churches – and, in the early nineties, we did a programme from a prison in Thetford. Our audience consisted of young lifers, some there for murder or GBH, with prison officers sat beside each of them.
After we had come off air, the inmates crowded around me on stage without their guards. One of them confronted me, saying: "I want to ask you something because we're quite cross here." I felt a moment's alarm. He continued: "My question was: why do we only hear Test Match Special now on Long Wave?" I had no answer for him but felt very relieved!
5. Stuck in the snow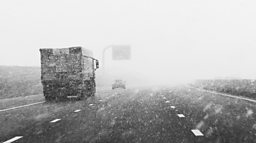 We broadcast all over the country in all weathers and occasionally our travel arrangements don't quite go to plan. One week we were in Cumbria and the snow was coming down thick and fast. Norman Fowler, then chair of the Conservative Party, was stuck in terrible traffic on the motorway. Fowler had to do the programme on his mobile – the engineers brilliantly patched a line from London back to Cumbria so the panel could hear him.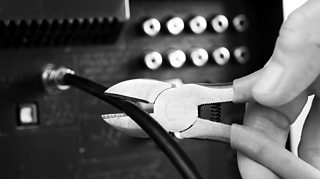 I went to him first because the phone batteries used to run out very quickly. You could hear the pounding noise of lorries thundering down the motorway behind him. Fowler's first words were: "Good evening Jonathan, I find myself at something of a disadvantage here."
Jack Cunningham, then Shadow Foreign Secretary, cut in as quick as you like, saying: "Of course you are, you are in the Cabinet which is ruining the country!"
6. Schoolboy sabotage
We rely on the talents of our BBC technicians to get us on air every week in all sorts of places. Before satellite trucks, we used to be reliant on a BT landline for the programme to be sent back live. On one occasion, we got to the middle of the programme and suddenly the line went dead. We had fallen off air.
Someone had cut the lines. The culprit was found – a student who had a grudge against the school. Soon afterwards, the head teacher called me to ask if I'd like the sixth former to be punished by not allowing him to take his A-levels. I replied : "It's not my decision – perhaps the best option would be to make him take his A-levels." I had nothing more to say.
7. Going off track
David Owen, former leader of the Social Democratic Party, was always inclined to take charge. We were doing a programme in Devon and he was certain he knew the way to the venue from the pub where we had eaten beforehand. I had already gone ahead to the venue to help sort the questions so Owen said he would lead the rest of the panel to the village himself.
Unfortunately, he led them to a village with a similar name to the one which was hosting us and in the opposite direction! The panel got to the stage just in time!
BBC Radio 4's flagship political programme Any Questions? has turned 70. The series, which began on 12 October 1948, is celebrating its birthday with a special live programme broadcast from the Houses of Parliament featuring a panel and audience all under 30. And an Archive on 4 programme looks back at the show's rich history.

Current affairs on Radio 4
Topical discussion, trom a different location each weeki, with questions posed by the audience.

Jonathan Dimbleby and guests celebrate 70 years of the famous political debate programme.

Nick Robinson talks about what's really going on in British politics.