Main content
The amateur filmmakers whose home movies help tell the story of 20th Century Scotland
By Matt Pinder, Producer/Director

For over a hundred years, the people of Scotland have been filming themselves.
Across generations, 'home movies' have recorded our lives and loves: from our first steps to our furthest travels and everything in between.
Today, we take for granted the ability to record our lives on tiny digital cameras and mobile phones. In Scotland's Home Movies, however, we look back to the 'golden age' of home movies shot on cine film by our parents, grandparents and great grandparents.
Unearthed from attics and cupboards across the country, home movies from the 1920s to the 1980s reveal an alternative, more intimate, history of Scotland.
Scots on film
In the early 1920s, cine cameras were hand-cranked, mechanical and cumbersome. They were also expensive — too expensive for all but the wealthiest.
On Arran, 95-year-old Lady Jean FForde recalls her childhood through the films her mother shot around their family home, Brodick Castle.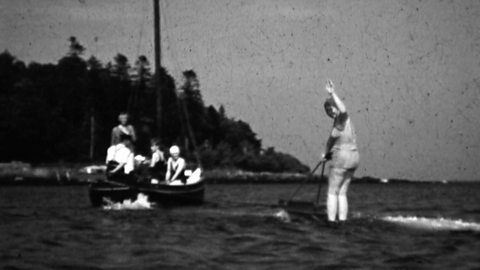 Lady Jean Fforde remembers her childhood with the help of her mother's home movies.
In Aberdeen, Alan Stott's father ran a camera shop from the early 1920s. His films are an unofficial history of old Aberdeen and illustrate just how dramatically Scottish culture, fashions and landscape have changed.
Throughout World War II, film stock – like everything else – was rationed, but rare home movie footage from the era records what day-to-day life was like in the country's towns and villages. The films of John Prentice who ran a chemist shop in Lanark, show how life carried on during the war and how communities came together to keep up morale.
The 1950s brought a growing sense of optimism to Scotland. World War II had been a long and difficult conflict. Peace came as a huge relief and people celebrated by embarking on new relationships. The result was a sharp rise in births – a baby boom. If ever there was something people wanted to record it was their children. More and more people fell in love with movie-making.
Shortly after their marriage in the mid 1950s, Robert and Jessie Simpson from Erskine set out on the journey of a lifetime. Their epic adventures running a tea plantation in India are all lovingly captured in family home movies from the time. With the arrival of smaller and easier to load cameras, you could now make movies anywhere you chose to go.
Even though travelling abroad was becoming more accessible, for most people, holidays at home were still the norm and despite the weather, Scotland had it all — from the wonders of the Highlands to the family-friendly Butlin's resorts in Ayrshire. Naturally, people wanted to record these happy times and the travelogue became a home movie standard.
In the 1960s, revolutions in youth culture, music and fashion transformed the look and feel of the country. After all the post war hardships, there was a sense that anything was possible. The confidence of the era filtered down to its children. All over Scotland 'free-range' kids were given space and time to explore the world at their own pace.
In Dundee, Dave Broderick discovered his late father's old cine films in a drawer. Much of their content, including his parent's wedding, he'd never seen before. In an emotional first viewing, Dave sees himself as a young boy growing up in the soot-covered tenements of west Dundee. While photographs capture individual moments, it's these films of family and friends doing things together that most movingly evoke our memories.
By the mid 1960s, home movie-making was a cultural phenomenon with people from all walks of life taking up the hobby. Super8 was the new format, with a quality and texture that now seems forever entwined with our memories of the time.
If the 60s seemed to be all about optimism, the 70s were blighted by turmoil. Strikes, inflation, power cuts and the conflict in Northern Ireland brought shocking daily headlines. But 70s home movies tell a different story and memories of this much-maligned decade are often surprisingly affectionate. In Fife, Dave Brunton caught the movie-making bug. His family films from the 70s and 80s capture all of the lurid fashions, the wild Hogmanay house parties and a romantic first foreign holiday with his wife Maureen.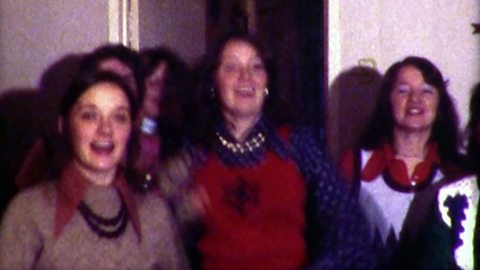 The Brunton family remember a New Year's house party from the 70s.
Over the 100 years since consumer film cameras first became available, the world has certainly moved on.
Just as governments, fashions and other social trends have come and gone, so too have the methods we use to record ourselves — but what we film, the things we want to remember, have largely stayed the same.