Main content
Five key moments from Angelina Jolie Pitt's Takeover
Angelina Jolie Pitt set the agenda as the final guest editor in our Woman's Hour Takeover Week 2016
"I probably wouldn't have made it this far if I was a refugee"

Angelina Jolie Pitt
Her focus was women who survive sexual violence in conflict, only to find themselves ostracised by their communities
We also learned about women's health issues in refugee camps around the world - and how Angelina is educating her own children about their backgrounds.
On refugee camps
How do women who are forced to abandon their homes with their children and what little they can carry, adjust to life as refugees, where the average stay in a camp is estimated at 17 years.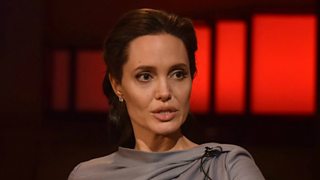 "It's just the worst possible situation"

Angelina Jolie Pitt:
And how do they deal with routine health conditions such as asthma, or the complications of pregnancy?
On sexual violence in conflict
With the lasting impact of sexual violence stigmatising women caught up in war zones, further damage is inflicted when rape is carried out by soldiers sent to protect them.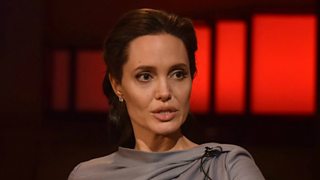 "I'm disgusted by it..."
In 2014 it came to light that UN Peacekeepers were responsible for violating women and girls, with further allegations this year.
As a special envoy to the UNHCR, what was Angelina's reaction?
On educating her children
With three of her adopted children orphaned by war, how does she talk to them about the world they were born into?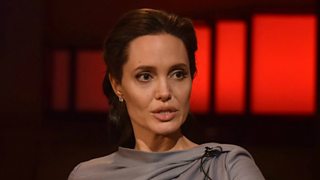 "I never want them to look at these people and feel pity"
In her house refugees are seen as heroes facing difficult situations and are met with admiration and respect.
On her children's interests
Her children don't show an interest in following their parents, Angelina and Brad, into acting.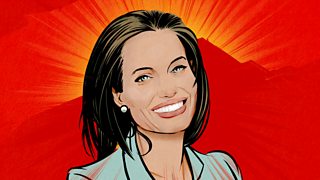 "You don't know who your children are until they tell you"
They're more likely to try their hands at music, and are learning a range of languages from Russian to Arabic and sign language.
The Angelina Effect
In 2015 Angelina was placed at number three on Woman's Hour's Power List. This award was in recognition for her influence on women, following her decision to have preventative surgery on her breasts, ovaries and fallopian tubes after she had discovered she carried the gene associated with the cancer that had led to her mother's death.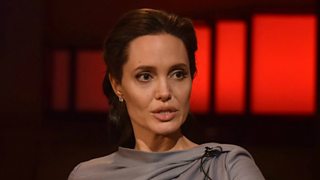 Why had she been so open about her decision?
Kim Cattrall, Nimko Ali, Bishop Rachel Treweek, Michelle Mone and Jacqueline Wilson takeover the editing of Woman's Hour.

Lauren Laverne and guests in intimate, frank and funny late night conversation.
The first ever female pundit in men's football talks about who inspires her.

Scots Maker poet Jackie Kay talks about complex grief.