Main content
Planet North
Single-use plastics, fast fashion and deforestation are just some of the ways in which human impact is having a detrimental effect on our planet. Can the action of young people across the North of England help towards a better future for our planet?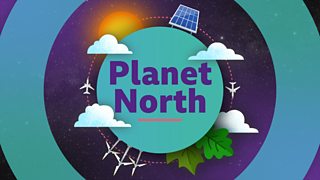 Planet North is an exciting project bringing together local BBC radio stations from across the North. Together we will put the spotlight on current challenges and potential solutions to climate change and the environment.
Here you will find big discussions about how and why the planet is changing, meet our 'Planet North Champions', who will explore what we can all do about it.
We also want to know what you are doing too. Have you been making re-usable face masks? Maybe you've gone completely plastic free. We've teamed up with Upload so you can let us know. Click here to upload your images, videos or audio.
What's on?
Planet North Launch Show
A panel of special guests including actor and presenter Cel Spellman, senior presenter and executive producer of The Sista Collective podcast Jessie Aru-Phillips, and physicist, oceanographer and broadcaster Dr Helen Czerski.
Together with our Planet North Champions, we'll look at how climate change is impacting the environment around us. We also want to know what you are doing to help the planet where you live.
Planet North Champions
We've teamed up with a group of young people from across the North of England to tell us what is happening to the environment where they live and what they are doing to make a difference.
Our Planet North Champions are passionate about the environment and the challenges facing our planet. You can find out more about them here.
Manchester Science Festival 2021
The festival will run from Friday 12 February – Sunday 21 February 2021 with a packed programme that explores our changing climate and ideas for a better world.
Produced by the Science and Industry Museum, the festival will explore the role of science, technology and communities in finding solutions to one of the world's most urgent challenges.
Witness some of science's most cutting-edge developments in the fight against climate change. An unmissable line-up includes premieres and immersive arts, fashion, food, theatre and sustainable living experiences, as well as the chance to talk to leading scientists and climate campaigners during a series of special events and debates. 
Upload
If you live in the North of England and have been making a difference to the planet, however big or small, then we want to know about it.
We want to know: What are you doing to help the planet where you live?
Whatever the idea we want you to upload any kind of content: audio, video, text or images. We especially love video and audio. 
We're working with local BBC radio Upload teams, who will watch, read or listen to everything you upload and what catches their attention will go on air or on our digital platforms.
Whether it's your first creation or you've been quietly making stuff for years, upload it.
Click on the local BBC radio station taking part in Planet North for more information