Main content
Vote for your favourite Hottest Record of 2014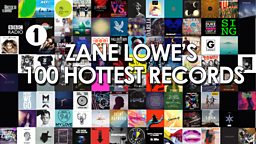 Pick your Hottest Record of 2014 from 100 of Zane's Hottest Records of the year below.
Make your selection and Zane will count down to the Hottest Record of 2014 on Radio 1 starting at 7pm on Monday 1st December, with the Number 1 revealed on Thursday 4th December.
The vote closes at 9pm on Thursday November 27th.
If you want to keep the tracks you love, add them to your Playlister before you hit Vote Now.
Once you've made your selection you'll need to scroll all the way to this bottom of the page and hit "vote now".
Remember - you only have one vote so choose wisely
Now head over to BBC Playlister, where you can remember your favourite Hottest Records from the vote and add them to your personal playlist.