Main content
Sweet Pear William
Diana Henry demonstrates how to make pear flavoured vodka.
Sweet pear William
Putting a golden pear in a glass jar, covering it with clear liquid, then looking at it, magnified by the glass, seems such a magical thing to do.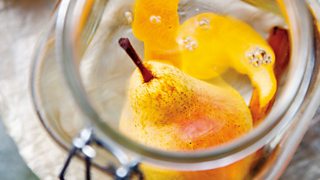 Sign up to the Cook the Perfect newsletter, or subscribe to our free download, to be kept up to date with all cookery items.
Ingredients
Fills 1 x 1.2 litre (2 pint) jar
1 ripe Williams pear
1 cinnamon stick
½ whole nutmeg
1 piece organic orange zest (without any white pith)
800 ml (1 pint 7 fl oz) vodka or eau de vie
225g (8oz) caster sugar
Preparation method
Put the pear into a large preserving jar with the cinnamon, nutmeg and orange zest. Pour over the alcohol. Leave on a windowsill for about a month.
Now add the sugar, shake and reseal. Leave for four months before you try it, shaking from time to time. You can leave it for more than a year; it just gets more mature and delicious.
How to use
You can obviously just drink this neat, but it's also delicious added to whipped cream to eat with pear or apple tarts, or baked fruit.
More food on the BBC
Browse our selection of recipes from top chefs, cooks and food writers who have joined us on Woman's Hour .

Download this interview, or subscribe to the Cook the Perfect...downloads .