Main content
Brazilian fried cheese cubes and Caipirinha drink
Brazilian fried cheese cubes and Caipirinha drink
Chef and co-author of a new book 'Brazilian Food', Luciana Bianchi, showed Jenni how to cook the perfect Brazilian snack of fried cheese cubes with sweet chilli sauce. The golden, crispy-skinned cubes packed with melted cheese, combined with the sweet and sour flavour of the chilli sauce, are a perfect combination with a caipirinha cocktail (see below).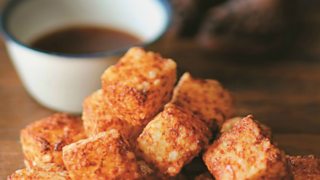 Sign up to the Cook the Perfect newsletter, or subscribe to our free download, to be kept up to date with all cookery items.
Fried cheese cubes with sweet chilli sauce
Ingredients:
Serves 8
* 500ml whole milk
* 250g queijo de coalho or halloumi cheese, grated
* 250g granulated tapioca flour
* pinch of salt & white pepper
* vegetable oil, for deep-frying
* Sweet Chilli Sauce, to serve
Preparation Method
1. Gently heat the milk to scalding point in a small saucepan.
2. Combine the grated cheese and tapioca in a bowl. Slowly add the hot milk, stirring constantly to prevent lumps forming.
3. Add the salt (you may need more or less depending on the saltiness of the cheese, Halloumi is already salty) and pepper and continue stirring until the mixture thickens.
4. Line a baking tin with cling film and pour the cheese mixture into it. Cover the surface with more cling film to prevent a skin forming. Leave to cool, then refrigerate for at least 4 hours.
5. Preheat the oil to 180°C in a deep-fat fryer or heavy-based saucepan. Take the cheese mixture out of the tin and cut into cubes. Deep-fry in small batches until golden brown. Alternatively bake the cubes in a preheated oven at 190°C (375°F), gas mark 5.
6. Serve hot with a sweet chilli dipping sauce.
Tips and Techniques:
1. You can find Tapioca flour in any Brazilian grocey store as well as online.
2. You can use any hard cheese like halloumi or cheddar instead of queijo de coalho
This recipe is by the chef Rodrigo Oliveira and is taken from the book 'Brazilian Food'.
Caipirinha Drink

This is the classic Brazilian cocktail and goes perfectly with the fried cheese snack. The key ingredient is Cachaça, an alcoholic beverage made in Brazil and distilled from local sugarcane.
* 1 lime, sliced
* 2 tbsp caster sugar
* 4–8 ice cubes, crushed if you prefer
* 60ml cachaça
Put the lime and sugar in a big glass or cocktail shaker and crush with a pestle.
Add the ice and cachaça and mix well to combine. Serve in a small, clear glass tumbler.
Tips:
Be creative when preparing your caipirinhas and try using other fresh fruits. Tangerine, lime and lemon; orange and ginger; and passion fruit caipirinhas, for example, are all popular in Brazil.
More Food on the BBC
Browse our selection of recipes from top chefs, cooks and food writers who have joined us on Woman's Hour...

Download this interview, or subscribe to the Cook the Perfect...downloads