Main content
Survivor's guide: Parking on private land
Parking on private land can be a stressful and expensive business. One of the reasons for this is increasing use of Automatic Number Plate Recognition (ANPR) cameras. They can be found outside supermarkets, retail parks and even fast food restaurants. They enable private parking companies to keep tabs on exactly how long you've spent in their car parks and provide photographic evidence if you exceed the time you've paid for.
It's important to remember that these companies have no legal power to fine you, something only the police or councils can do. In fact, they are not even allowed to use the word penalty. But some private parking companies can make their parking charges look very similar to official penalty charge notices.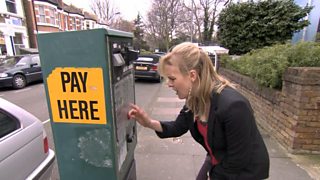 When the police or local authority issue a fine, it will often be labelled as a PCN, a Penalty Charge Notice, and it may come in an official yellow cellophane wrapper. Some private companies now use similar packaging and even label their notices with PCN, but this time it stands for Parking Charge Notice. Others even use the term 'enforcement' but they don't have any enforcement powers.
Solicitor Martin Lee tells us that these parking charge notices are not backed up by law but rather, they are invoices, a "demand for payment because the car parking company says you've breached their terms and conditions."
It is the law of contract that governs the relationship between the parking company and the customer. It can be argued that if you break the terms and conditions of the car park, they should only be able to claim for the actual money lost but it seems that many companies ask for huge payments that then often rise if they aren't paid within a certain time period.
Civil Enforcement Ltd runs the car park at the KFC car park in Sutton, where drivers are told they must not enter the car park when the restaurant is closed. But the signage telling them this is located inside the car park itself along with the opening times of the restaurant making it impossible to know before you enter the car park whether you will receive a parking notice.
The car park at a McDonald's in Enfield is run by MET Parking Services Ltd who issued a driver with a parking charge notice for overstaying. What they failed to notice is that she visited the restaurant twice that day. But their ANPR cameras only recorded her leaving the car park on the first visit and returning for the second. By using the photos the wrong way around, they tried to charge her for the whole time she wasn't in the car park.
Click here for advice on what to do if you receive a parking charge and know you're in the right or believe a mistake has been made.
Company responses

Civil Enforcement Ltd told us: When contracted to manage private or council owned car parks, our role is simply to help manage the flow of cars using that particular site to ensure there is sufficient availability for customers, local residents and businesses to make use of it, and to deter others from abusing the system. Systems such as ANPR (Automatic Number Plate Recognition) have been designed to make parking easier and more efficient, not as a hindrance. We are proud to be audited by both the DVLA and BPA as well as being an Approved Operator of the BPA.
We are recognised for the positive contribution our technological developments have had on the industry.
In relation to the KFC car park in Sutton-in-Ashfield, Nottinghamshire, we are contracted to provide a bespoke system which supports this business and protects its trade. As the car park is positioned at the entrance to a busy main shopping area, the manager and staff of KFC would regularly arrive to find they could not park, let alone any customers wishing to use the restaurant. For this reason, it was necessary to prohibit parking outside of KFC's opening hours.
From standing outside the site's entrance, there is clear signage visible demonstrating that parking regulations are in force, in addition to the signage inside the car park itself. Our system is designed in such a way that it allows motorists sufficient leeway to enter the car park, decide they do not wish to stay and leave, without being charged.
KFC told us: There are parking restrictions outside many of our restaurants to ensure there is space for our customers to park while our stores are open. We are aware of the out-of-hours issue at our Sutton-in-Ashfield restaurant, and while we do not own or operate the car park, we have been in touch with Civil Enforcement to try and find a solution.
Met Parking Services Ltd told us: We accept that this charge notice, which was issued over a year ago, was issued as the result of an administrative error. In this instance, as there had been no correspondence received from Ms Bull or her partner during this time, we were unaware of the error until you brought it to our attention. The parking charge notice has now been cancelled and we have extended our apologies to Ms Bull and her partner.
Errors such as this one are extremely rare and we take our quality control very seriously, constantly striving to improve systems and procedures. Our appeals process is an important part of our quality control and is the key channel for motorists to log any case of dispute. Each appeal is investigated, taking into account all evidence available to us at that time and any mitigating circumstances. Should any appeal alert us to a potential error surrounding the issuing of a parking charge notice, the appropriate corrective action is immediately taken. Unfortunately in this case, without any sort of appeal or correspondence being received by Ms Bull or her partner, an investigation was not triggered.
McDonald's told us: In an effort to make sure there are always parking spaces available for our customers, we have parking restrictions in place at just over 100 of our restaurants. These parking restrictions are managed by one of two industry-approved operators, MET Parking Ltd and UKPC.
The restrictions were put in place following problems ranging from minicab drivers using our car parks as waiting bays between fares, to people leaving their cars for several hours while using nearby amenities.
In each of our restaurants where parking restrictions are necessary, we work with our approved contractors to make the parking policy as fair and as clearly communicated as possible.
The British Parking Association told us: It is important that a motorist understands clearly the process they must go through when receiving a ticket issued by a BPA Approved Operator on private land. I have therefore set out the options available below:
1. When a motorist is issued with a ticket they must decide whether they are in the right or the wrong and make a choice of whether to pay or appeal.
2. If a motorist believes that they are in the wrong then they should pay the charge– taking advantage of the discount offered by the operator for early payment – the lowest they will be asked to pay.
3. If the motorist believes that they are in the right and that the ticket should not have been issued then they should appeal to the operator stating their case.
4. If the operator accepts the motorist's case then the ticket will be cancelled and the motorist will owe nothing.
5. If the operator does not accept the motorist's case then the motorist will be informed and offered the opportunity for an independent appeal to POPLA.
6. At this point, the motorist has another choice – they can still pay the charge at the discounted rate or they can appeal to POPLA - but will lose the opportunity to pay at the discounted rate should they choose to do so.
7. If the motorist wins at POPLA then the ticket is cancelled and the motorist will owe nothing.
8. If the motorist loses at POPLA they then have another choice. They can pay the full charge or ignore the POPLA decision and face potential court action. If they choose to ignore the POPLA decision and are taken to court it is likely that it will cost them even more in terms of money and time.
I would like to reiterate the point that POPLA offers motorists a simple, free appeals service for parking tickets issued on private land. The BPA continues to lobby for its adoption across the whole of the UK to make it available to all motorists, including those who park at railway stations, airports and other places where POPLA may not currently be offered or available.
Regardless of whether they park in private car parks, Council car parks or on-street, motorists should always park properly and always check any signage displayed to make sure they know and understand the rules that apply. This is especially so if they are visiting for the first time - in order to acquaint themselves with the prevailing Terms & Conditions for parking. They should also always ensure that anything that needs to be displayed, such as a voucher or a permit, is properly displayed and visible from outside the vehicle.
An operator may decide to pursue a parking charge through the courts system if POPLA rejects an appeal and the motorist chooses not to pay. Motorists should not assume otherwise, even though operators have not always resorted to court proceedings in the past. An operator's confidence regarding court proceedings may increase once an independent service has rejected the motorist's appeal. I should tell you that BPA Approved Operators are considering their options to increase court activity by taking advantage of the streamlined small claims court procedures now available to them.