Main content
Antiques Roadshow is coming to Wrest Park on Thursday 19 July
What story will you bring?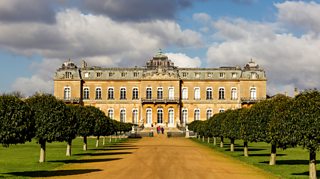 BBC One's Antiques Roadshow will be filming at Wrest Park, near Luton on Thursday 19 July.
Fiona Bruce and the team of Antiques Roadshow experts will be waiting to welcome you, so dust off your family heirlooms and dig out those car boot bargains and bring them along for free advice and valuations to visitors.
Doors open at 9.30am and close at 5pm. Entry to the show is free, everyone is welcome, and no tickets or pre-registration is required. For parking arrangements please check our website.
Visitors are welcome to just turn up on the day but they can also share their stories about the special items they are bringing along using Share Your Story on the Antiques Roadshow website.
Alternatively, email: antiques.roadshow@bbc.co.uk or write to Antiques Roadshow, BBC, Whiteladies Road, Bristol BS8 2LR.
Travelling to Wrest Park
By car
3⁄4 mile East of Silsoe off A6, 10 miles South of Bedford.
Use satnav postcode: MK45 4HR Latitude: 52.007832 Longitude: -0.41492969
There will be plenty of free parking is available please follow the instructions of our parking attendents.
Disabled visitors may park in the disabled parking bays within the walled garden close to the visitor centre.
Public transport
Bus
Stagecoach 81 daily
Train
Flitwick 4 miles
Bedford 11 miles
Tours around Wrest Park's Gardens
If you're visiting Antiques Roadshow at Wrest Park on Thursday 19 July why not join historian Dr Andrew Hann on a free tour of the park's Great Garden.
Learn about the evolution and change of the gardens over the centuries, the impact of garden designers such as Batty Langley and 'Capability' Brown, and the history and heritage of Wrest Park's magnificent monuments and statues.
Wrest Park Heritage Garden Tours
1100-1200 The garden through time, looking at its evolution and development
1200-1300 The history of Wrest's Park's garden buildings, statues and monuments
1400-1500 The owners of Wrest Park and their influence on the gardens
1500-1600 The garden through time, looking at its evolution and development
*The tour of the Great Garden will start from the Orangery. The tour is on a first come basis and max 20 people per tour.
**The walking tours take a minimum of 45 minutes and while the paths should be accessible for people with mobility issues please note this could change with weather conditions.