Main content
The Doctor and the Dalek Game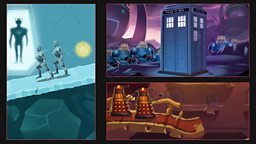 The Doctor and the Dalek is a thrilling tablet and desktop game, featuring Peter Capaldi as the Doctor, and Nicholas Briggs, the voice of the Cybermen and Daleks. In a stand-alone story from Doctor Who and Wizards vs Aliens TV writer, Phil Ford, the Twelfth Doctor finds himself thrown into a dangerous quest with his most devious of enemies, and needs your help!
The TARDIS materialises amidst a deadly pursuit through space – a Dalek Saucer is bearing down on a Cyber-ship, exterminating blasts illuminating the darkness! But from that Cyber-ship emanates a distress call – from a Dalek! On freeing the battered Dalek from his Cybermen captors, the Doctor finds himself taking his new unlikely ally on a mission to save all of creation from destruction at the hands of his greatest foes.
From the icy Cyber-tombs of Telos, to the vile Clone Chambers of Sontar, the Doctor and his Dalek sidekick must obtain the fragmented elements of an ancient artefact, which when combined can activate the terrifying sun-shattering weapon, the Starbane!
By working as a team, the Doctor and the only good Dalek in the universe must prevent the Starbane falling into the wrong hands. But can the Doctor trust his oldest enemy when the fate of all creation hangs in the balance? Join The Doctor and the Dalek to find out! Only with your help can the universe be saved!