Main content
From Glasgow to the outer reaches of the galaxy… 8 key moments from Peter Capaldi's stellar career

As the celebrated Scottish actor turns 60, we look back at some of the ups, downs and surprising turns taken by Peter Capaldi on his road to stardom.
From fan to star
Today every fan has the opportunity to talk about their favourite show online. But it wasn't always so.
I wish I'd known that one day the geek would inherit the Earth.

Peter Capaldi
In the days before the internet, magazine letters' pages were one of the few places for people to discuss the shows they loved.
Back in 1974, when he was just 15, Peter Capaldi put pen to paper and wrote to the Radio Times praising it's coverage of the show he would go on to star in 39 years later – Doctor Who.
The megafan admits he didn't take very good care of his memorabilia though.
'I had a huge collection of Doctor Who books, autographs and pictures, but I threw them all away to go and drink lager and eat curries. That was silly, wasn't it?'
2. Drama school reject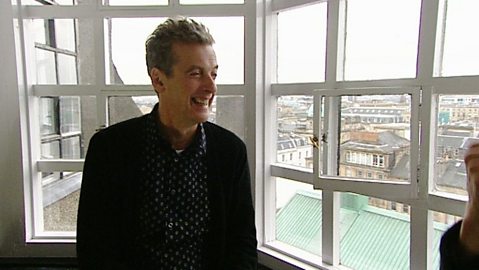 Actor Peter Capaldi tells artist and playwright John Byrne why he went to art school.
Art school alternative
Peter Capaldi set his sights on a place at one of the famous drama schools in Britain, the Royal Academy for the Dramatic Arts, better known as RADA.
They said, 'Your eyebrows are too active and your face expresses too much'

Peter Capaldi on RADA rejection
But they didn't want him.
So instead Capaldi switched tacks and went to the Glasgow School of Art and studied Graphic Design.
On stage
Capaldi didn't give up on the idea of being a performer though.
Her strange habits her strange hobbies / Made strange noises in the night

Outer Limits by The Dreamboys
In the early 1980s he was the frontman in a post-punk band called The Dreamboys.
While they released a single, recorded live at the Hellfire Club in Glasgow, the band weren't widely acclaimed.
'We were the only band John Peel never gave a session to in Glasgow,' Capaldi once complained.
Capaldi wasn't the only Dreamboy to eventually find fame.
Drummer Craig Ferguson would go on to become a major star in the US as the host of a late night network talk show.
4. Stand up attempt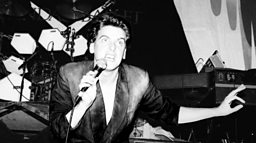 Capaldi was an energetic performer. (Photograph © of Shapers of the 80s)
5. From post-punk to Pennan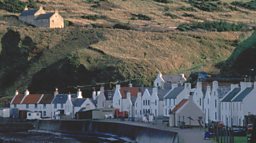 The village of Pennan had a starring role as the fictional village of Ferness
Local Hero
Stand-up comedy did help him break into acting.
Capaldi was hired to support Spandeau Ballet on tour in 1982.
Bill Forsyth, the writer and director of Gregory's Girl, was in the crowd at their Glasgow gig.
He liked the looked the look of the young comic and offered him the part of wide-eyed Danny Oldsen in his upcoming film, Local Hero.
Yet Capaldi was not to become a household name until more than two decades later.
6. Oscar win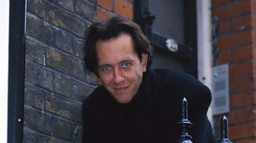 Withnail and I star Richard E Grant played Franz Kafka in Capaldi's film
When Kafta met Christmas
In the 1990s, Capaldi wrote and directed an Oscar-winning short film, Franz Kafka's It's a Wonderful Life.
But despite this seal of approval from Hollywood, Peter's directing career didn't kick on as he'd hoped.
'A year after winning the Oscar, almost to the day, I was directing a dog food commercial.'
'I was standing in a field in Rickmansworth, close to the M25, up to my knees in mud, looking for the best spot.'
'It was a dog food ad and it couldn't pay for a location scout.'
'I thought to myself, 'This is a long way to have fallen'.'
7. Foul-mouthed enforcer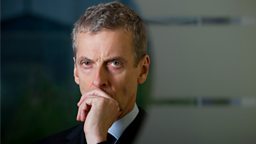 Capaldi starred in Armando Iannucci's political comedy The Thick of It from 2005 to 2012
The Thick of It
Malcolm Tucker, the foul-mouthed spin doctor, entered Peter Capaldi's world just in the nick of time.
All these hands all over the place! You were like a sweaty octopus trying to unhook a bra

A rare unsweary Malcolm Tucker line
'I was on the verge of giving up acting because the business is so fickle.'
'One year was so bad for me and my wife that we were going to have to sell our house until Elaine decided to change career and earn some money.'
8. The Doctor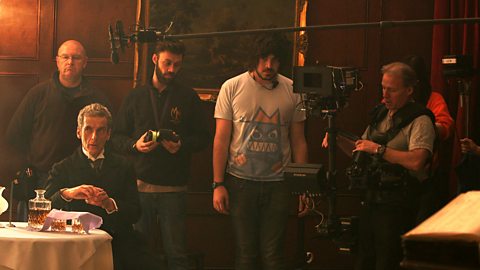 A new series and a new Doctor, could a trip behind the scenes be any more exciting?
The leap from spin to space
Although they are extremely different shows, Capaldi says The Thick of It was good preparation for joining Doctor Who.
'Armando Iannucci and his team of writers created a whole world that was unfortunately a very accurate reflection.'
'I think his method of working taught us a lot about acting and changed me completely as an actor.'
'When you're doing something like Doctor Who, you try to bring some of that immediacy to the work. So, he did prepare me.'
There was surprise when Capaldi, an actor in his 50s, was cast as the Doctor in 2013.
'I read in the paper that Matt [Smith] was leaving. I just thought I wasn't in that race at all.'
'I thought the role was going to keep going in a younger direction.'
Peter Capaldi's final appearance as The Doctor
Latest features from BBC Scotland